Practitioners Introduce Falun Gong at Niagara Falls
Oct. 4, 2020 | By a Minghui Correspondent in Toronto
(Minghui.org) After the pandemic calmed down in Toronto in August, Falun Gong practitioners resumed their activities at Niagara Falls during the weekends. Many tourists showed great interest in learning Falun Gong and asked for information about group exercise sites near their homes. Some tourists and locals learned the Falun Gong exercises on the spot from practitioners, while others bought Falun Gong books to study.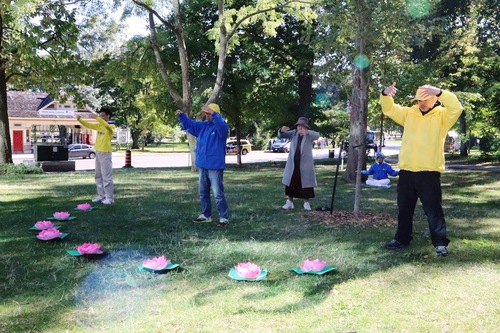 Practitioners demonstrate Falun Gong exercises in Niagara Falls State Park.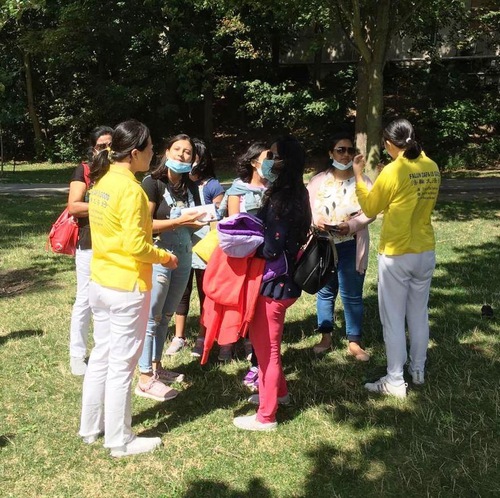 Tourists learn about Falun Gong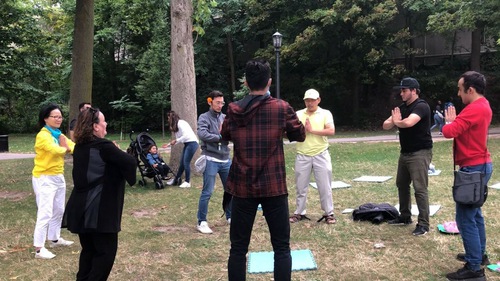 People learn the Falun Gong exercises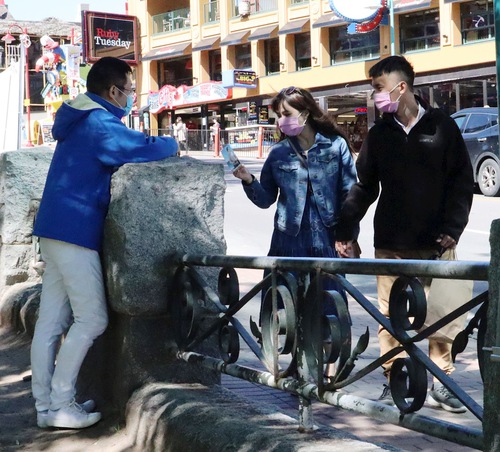 A practitioner tells a couple about Falun Gong
"We Will Bring Falun Gong Back to India"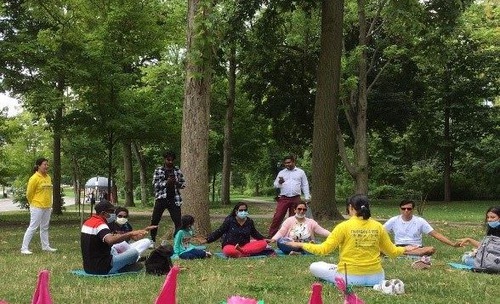 Tourists from India learn the Falun Gong exercises
A group of tourists from India became interested in Falun Gong. They sat down to learn the meditation exercise and meditated to the music for 20 minutes. A practitioner talked with them afterward and told them about Falun Gong in more detail and shared paper lotus flowers with them. Everyone in the group was happy to learn about Falun Gong and planned to join a local exercise group when they returned to India.
Police Officer Learns the Falun Gong Exercises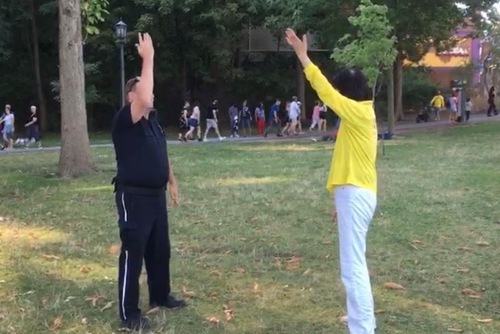 A police officer learns the Falun Gong exercisesCCP agents had interfered with Falun Gong practitioners' activities at Niagara Falls in the past by calling the police. The police officers who responded to the calls ended up learning about the benefits of Falun Gong and about the Chinese Communist Party's (CCP) persecution. Police officers have assured practitioners that they had done a great job and are welcome to continue their peaceful activities.
A police officer who used to have a leg injury learned the fourth Falun Gong exercise and said he wanted to read the English version of Zhuan Falun.
Tourist Witnessed the CCP's Persecution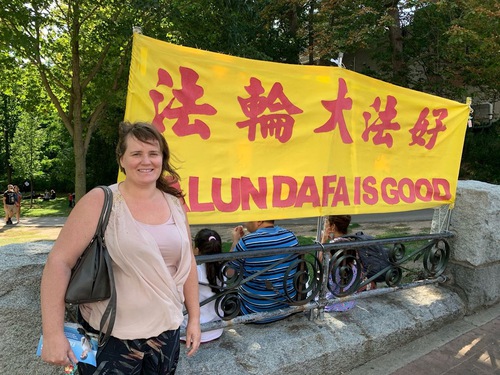 Lindsay witnessed the persecution of Falun Gong on Tiananmen Square.
Lindsay, a tourist from Hamilton, told a practitioner that she was supportive of Falun Gong and had witnessed Falun Gong practitioners being beaten and arrested by Chinese police on Tiananmen Square many years ago.
"I taught in Beijing for a week in 2000. My friend and I visited Tiananmen Square on October 1. We saw hundreds of people around us, either doing meditation or holding each other's hands. A lot of police in uniforms or plainclothes came over. They struck Falun Gong practitioners in the head and kicked them. Old and young people alike were knocked down. Several buses rushed to the square. The police had obviously prepared for it. Some policemen violently pushed these people into the buses," she recalled.
Lindsay remembers seeing an elderly man who had been knocked to the ground and was bleeding. He seemed to have lost consciousness. A policeman was still kicking him in the head and then dragged him into a bus. "It was the most terrible thing I have ever seen. I started shaking and crying, and took many pictures. A policeman shouted at me in Chinese. He took my camera and pulled out the film." Lindsay said these people were probably thrown into prison or killed, but there was no news about the incident. It took her eight hours to calm down. She has been supporting Falun Gong's work to end the persecution ever since.
"We'll Continue to Practice"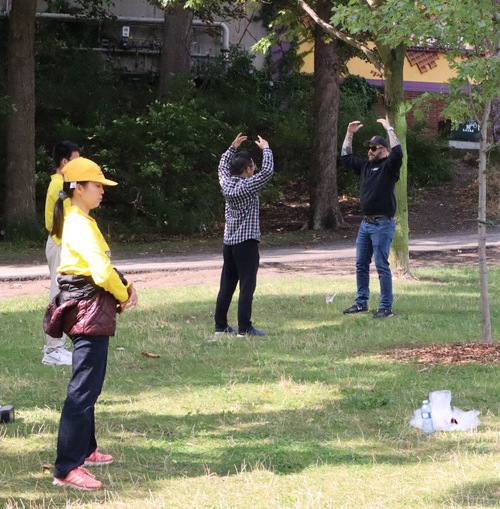 David (first from right) learns the second Falun Gong exercise.
Local residents David and his wife Victoria learned all five of the Falun Gong exercises on the spot. David said he had been feeling stressed recently, but felt much more relaxed after doing the exercises. He said he could feel energy flowing through his body as he did the exercises.
Victoria said that society needs Truthfulness-Compassion-Forbearance. They both said they wanted to read the book Zhuan Falun and learn more about Falun Gong. They told practitioners that they would continue to practice.
Cristina and her husband had come from Brazil to visit Niagara Falls. They both learned the Falun Gong exercises on the spot. "My heart has been heavy with my grandpa's death, but I was drawn to this calming atmosphere as soon as I got here. The exercises made me feel comfortable and calm. It's great! I'll certainly continue to practice," Christina said. She exchanged contact information with practitioners and planned to join the group exercises on Sunday.
Len and her five-year-old daughter from Waterloo happened to pass by the activities. Her daughter learned the meditation right away. Len told practitioners that her daughter was interested in meditation. After learning about the benefits of Falun Gong, Len planned to take her daughter to the group exercise session on Sundays.
A Russian woman told a practitioner, "I completely understand Falun Gong's situation because I come from a Communist country. It's terribly hard, yet admirable, that you have stayed firm in your belief in China. The Communist Party promotes atheism, but I believe God exists. My son was born with his legs crossed. It may have something to do with cultivation practice in his previous life." The woman was appalled by the CCP's atrocities of harvesting organs from living practitioners. She took a newsletter to learn more about it and wanted to do something to help the call for justice.