Three Typhoons Hit Northeast China Where Persecution of Falun Gong Still Runs Rampant
Oct. 29, 2020 | By Shan Lin
(Minghui.org) Three typhoons hit northeast China in September 2020, including the provinces of Heilongjiang, Liaoning, and Jilin, within two weeks. The first, Typhoon Bavi, swept through Jixi City in Heilongjiang Province, reaching the Beaufort scale of 12 (highest level, above 70 miles per hour), knocking down trees and ripping off roofs. 
Known as mature tropical cyclones, typhoons often strike Southern China and Taiwan. There were no typhoons this year that directly targeted Taiwan, reported Radio France Internationale in early September. Typhoon Bavi, the first major typhoon to strike Northeast China since 1949, was formed near the Philippines, bypassed South Korea and Japan, and caused major damage in North Korea.
"Does a typhoon have eyes and know where it intends to hit?" asked one netizen on social media. 
Major Blow to Agriculture
From videos shared by locals on Twitter (banned in China, but accessible through firewall cracking software), it was seen that bridges were destroyed, roads were blocked, and houses were submerged by flooding. 
More importantly, since the storm struck at a critical time for agriculture, the wind and heavy flooding leveled crops, which will greatly reduce the harvest of grain, fruits, and vegetables this year.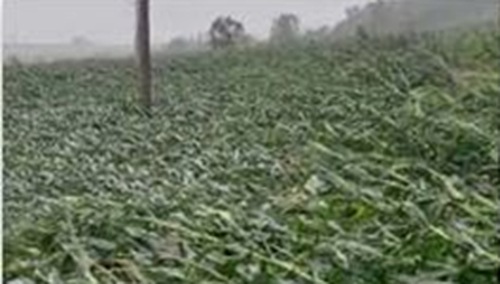 Crops leveled after Typhoon Bavi.
Typhoon Haishen, the third after Bavi and Maysak, was the first super typhoon this year, with wind speeds reaching 155 miles per hour.
With three typhoons in a row, even successful early crops—such as corn—are hard to harvest, since the harvester cannot enter the soaked land. With the corn crop spoiling in the field, crops to be harvested in autumn are also facing serious uncertainties. 
This disaster will likely affect all of China. According to data from the U.S. Department of Agriculture, China's Northeast is the country's most important source of soybeans (41% of nationwide production), corn (34%), and japonica rice (30-50%).
Underlying Reasons
With such an unprecedented disaster, plus other calamities in China this year including the coronavirus pandemic, major flooding, drought, and locust plagues, many people are wondering what has gone wrong.
The ancient Chinese believed that disasters that befall the human world are brought about by the divine and are related to the interactions between heaven and mankind. 
The concept was well documented in a number of ancient Chinese classics. That is, going against the way of heaven in the human world would precipitate disasters. If emperors and officials deviated from the law of heaven in their governance, the divine would visit disasters upon the human world, and if they failed to repent and mend their ways, the divine would bring about even greater disasters to mankind and other unusual phenomena would appear. Therefore, ancient officials always put morality as the top priority in their governance, especially when disasters struck.
Chinese Communist Party (CCP) officials in modern China, however, are often known to ignore morality and put themselves before the people they're supposed to serve. Li Chuanliang, former Deputy Mayor of Jixi who fled to the United States earlier this year, said his home province of Heilongjiang Province was riddled with corruption.
There are also other reports about rampant corruption in other parts of China. In Liaoning Province, for example, massive bribery and cases of fraud emerged in 2016 during the elections of the provincial Party committee, the Standing Committee of the National People's Congress, and the National People's Congress. Some candidates provided fabricated documents to get on the ballots, while others bribed people to get votes. In the end, 955 people were investigated. Among them, 45 elected representatives for the National People's Congress were invalidated, and 454 elected provincial representatives were also disqualified. And these are merely what has been reported and known to the public. The real situation could be much worse. 
Corruption is not the only crime that CCP officials commit. During the past 21 years, many have been following the central government's order to persecute Falun Gong, a peaceful meditation based on the principles of Truthfulness, Compassion, and Forbearance. Many officials view their participation in the persecution as a shortcut to accruing political capital and advance their political careers. As such, they have spared no efforts in arresting and sending innocent Falun Gong practitioners to prison and other detention facilities. 
The three provinces in northeast China, including Heilongjiang, Jilin and Liaoning, are notorious for persecuting Falun Gong practitioners.
The now-defunct Masanjia Labor Camp in Liaoning Province, for example, was used as a model labor camp by the Ministry of Justice to suppress Falun Gong practitioners and force them to renounce their belief. Heilongjiang Women's Prison in Heilongjiang Province is also very brutal in torturing practitioners. Jilin Women's Prison in Jilin Province also saw unprecedented human rights abuses of Falun Gong practitioners. 
According to the Minghui website, over 4,000 Falun Gong practitioners are verified to have lost their lives during the persecution, though due to the difficulty in getting information out of China, the actual number is likely to be much higher. The three provinces in Northeast China are in the top four provinces for numbers of deaths of Falun Gong practitioners, with Heilongjiang registering the most death cases across China (591), followed by Liaoning (570), and Jilin in fourth place (498).
Human Rights Abuses Against Falun Gong Practitioners
When practitioner Mr. Yu Songjiang was held at the Qinglongshan Brainwashing Center in Jiansanjiang, Heilongjiang Province, a guard told him, "We will torture you the same way spies are treated, until you mentally collapse."
Torture reenactment: a practitioner's eye is kept open during sleep deprivation.
In his testimony, Mr. Yu wrote that guard Jin Yianpeng used toothpicks to keep his eyelids open when he was subjected to sleep deprivation. When he accidentally closed his eyes when the toothpicks slipped, guard Sheng Shusen came in and saw this. "We won't let you sleep tonight!" he yelled. A third guard, Mo Zhenshan, said the same. They then played loud music on their phones to keep him awake. 
Mo said to Mr. Yu, "If you write statements to [renounce Falun Gong], you can go home. Otherwise, you will be sent to prison." That night, Mr. Yu lost consciousness three times due to the torture. Still the guards kept beating and kicking him.
According to a senior official in Heilongjiang Province who referred to the above guards as "scums," officials are aware of the torture of practitioners, but nonetheless allow the torture to continue. Sheng once said to a female practitioner, "If you do not give up your belief, I will strip you naked and have a few strong men rape you!"
Another guard Fu Yanchun directly admitted, "I'm a beast, not a human" and, "Here is the mafia!"
Despite the illegal imprisonment and brutal torture of practitioners, CCP officials often prohibit lawyers from representing practitioners. One such example happened in March 2014 in Jiansanjiang, Heilongjiang Province, when many Falun Gong practitioners were arrested and sent to Qinglongshan Brainwashing Center. 
When the practitioners' families, fellow practitioners, and lawyers went to seek their release, they were met with retaliation. In particular, four lawyers, seven more practitioners, and several family members were arrested and tortured. The lawyers were later given 15 days of detention, and four of the seven practitioners were indicted. While this case drew close attention from some overseas news media, spokespersons of the Chinese Foreign Affairs Ministry denied the existence of black jails (unofficial places of detention) such as Qinglongshan Brainwashing Center. 
These cases are not isolated. In some areas of Northeast China such as Dalian City in Liaoning Province, government employees are evaluated on their participation in the suppression of Falun Gong. There are also rewards for average citizens. Anyone who reports a practitioner to the police could receive up to 100,000 yuan. 
Perpetrators Face Consequences
Falun Gong practitioners strive to become better citizens by following the principles of Truthfulness, Compassion, and Forbearance. When those in power persecute law-abiding practitioners for upholding their faith, the perpetrators may face serious consequences. 
Yang Chunyue was head of the 610 Office in Chifeng City, Inner Mongolia. Since the persecution of Falun Gong started, thousands of practitioners were arrested and held in detention centers, brainwashing centers, and prisons under his directive.
Yang died of brain cancer and his son died in a car accident. 
There are similar cases. In August 2005, the Sihe Town police in Fuxin City, Liaoning Province arrested 15 practitioners. Meng Qingyan, director of a local police station, was awarded for the arrest. "I will fight Falun Gong until I die!" he called out in a meeting. That night, he died of a heart attack. 
Four officers from the Huadong Police Station, also in Fuxin City, arrested practitioner Ms. Yin Yingchun when she put up banners bearing messages about Falun Gong. When ransacking her home, officers took everything they could and even some decorative flowers as "evidence" in their attempt to charge her. As a result, the police station received a Third-Class Team Award. Not long after that, the police station director needed heart stent surgery. "Don't tell others about this," the director said to his family, "Otherwise, people will say I received karmic retribution [for persecuting Falun Gong]."
Liu Wanquan, director of the Zhizhushan Police Station in Fuxin City, beat Mr. Huang Xiaojie in an attempt to force him to renounce his belief in Falun Gong. In addition, Liu also beat Mr. Huang's mother, sister-in-law, and cousin, because they had helped Mr. Huang. He also forced them to pay fines. When Mr. Huang tried to escape an illegal arrest, Liu ordered officers to shoot him. He was shot in his left calf. In the end, Mr. Huang was jailed for 8 years. 
Two years later, Liu Wanquan was investigated for corruption and received a 12-year prison term. Later on, news came that he was diagnosed with cancer in prison.
It is sad that these perpetrators met with consequences for their involvement in the persecution of Falun Gong. We sincerely hope that those who are still persecuting Falun Gong will stop doing so and will thus secure a better future for themselves. 
Related Article in Chinese: