Once Incarcerated 14 Years for His Faith, Jilin Man Faces Prison Time Again
Oct. 21, 2020 | By a Minghui correspondent in Jilin Province, China
(Minghui.org) Having barely survived decades of persecution for his faith in Falun Gong, a 44-year-old man, who now looks much older than his actual age, was tried again on September 28, 2020, following his latest arrest in a police sweep.
Mr. Tan Qiucheng, a Changchun City, Jilin Province resident, was arrested on August 15, 2019, at his rental apartment. His roommate, Mr. Fu Decai, was also arrested for practicing Falun Gong. The police searched their residence and put black hoods on their heads before taking them away. Mr. Fu's ID, debit card, and 850 yuan in cash were confiscated.
Although Mr. Fu was later released, Mr. Tan was sent to the Siping City Detention Center, where he has been held since. He was tried in a joint case with another 15 practitioners arrested on the same day by the Lishu County Court. The court replaced the presiding judge three days before the hearing on September 28, without notifying the practitioners or their lawyers. The practitioners weren't allowed to talk during the hearing and most of their family members were barred from attending the trial.
The other 15 practitioners who were tried with Mr. Tan are: Mr. Hou Hongqing, 49; Mr. Han Jianping, 58; Mr. Jiang Tao, 46; Ms. Zhang Shaoping, 51; Ms. Cui Guixian, 56; Ms. Liu Dongying, 55 and mother of Ms. Cui's son-in-law; Mr. Li Changkun, 76; Ms. Zhou Liping, 62; and seven members from one extended family (Mr. Meng Xiangqi, 37, his father Mr. Meng Fanjun, 59, his mother-in-law Ms. Fu Guihua, 55, his sister-in-law Ms. Yu Jianli, 30, her husband Mr. Wang Dongli, 40, and Mr. Wang's parents Mr. Wang Kemin, 69, Ms. Wang Fengzhi, 69).
Past Persecution
Mr. Tan took up Falun Gong, an ancient spiritual and meditation discipline, in October 1997. He credits the practice for helping him to quit many bad habits, including smoking, drinking, and gambling. Because of not giving up his faith when the Chinese Communist Party began to persecute Falun Gong in July 1999, Mr. Tan has been repeatedly arrested and detained.
Ten Months of Forced Labor
In October 1999, Mr. Tan, then 22, went to Beijing to appeal for the right to practice Falun Gong and was arrested. He was later given ten months at the Jiutai Forced Labor Camp.
Tiger Bench, Sexual Harassment, and Electric Shocks
Mr. Tan was arrested again on September 22, 2001, for distributing informational flyers about Falun Gong. Three police officers beat him, causing his face to become swollen and his eyes to bleed.
After taking him to the police station, one officer knocked on his testis with a glass beer bottle. They later subjected him to various forms of torture, including the tiger bench, electric shocks in his armpits, and "flying airplanes" (forcing him to bend down while lifting his arms). The officers also poured water onto his body and then shocked him with electric batons.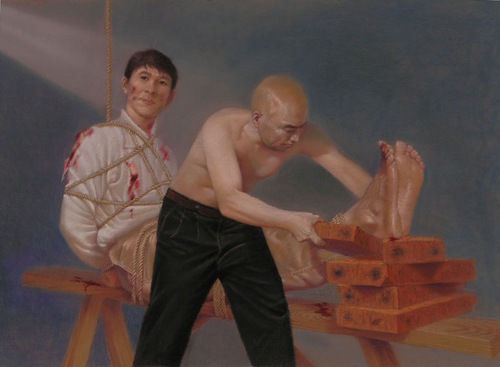 Torture illustration: tiger bench
Mr. Tan was sent to the Tiebei Detention Center the next day. He held a hunger strike for 15 days to protest the persecution and was force-fed.
Sentenced to 15 Years
After six months of detention, Mr. Tan was tried in March 2002. The judge didn't allow him to say anything during the hearing. One bailiff threatened him, "If you dare to say things in your court session, just wait to be fixed afterward." The judge later sentenced him to 15 years.
Upon arriving at the Jilin Province No.2 Prison, Mr. Tan was sent to the strict management team, where he was forced to sit on a wood plank from 5:30 a.m. to 7: 20 p.m. every day. He had to keep his upper body straight. If he moved a little, the inmates would beat him. After a few days of such torture, he had blisters on his buttocks and had difficulty walking.
In October 2003, the Jilin Prison installed new bed frames in the solitary confinement to torture practitioners. In the new torture against those practitioners who refused to renounce Falun Gong, the guards would tie them in a spread eagle position on the bed and then remove the support beneath, leaving them hanging in the air. The guards also stretched their limbs from time to time to increase their suffering.
Mr. Tan wasn't spared from the torture, as he refused to write the statement to renounce Falun Gong.
On the verge of death, he held a hunger strike to protest the persecution. Although the guards didn't leave him hanging in the air anymore, they still kept him restrained in the bed in a spread-eagle position. After two months of torture, his wrists were severely torn and had pus oozing out. His back was bruised due to the lack of blood circulation. And his muscles had atrophied and he had much difficulty walking.
Between 2004 and 2007, Mr. Tan was subjected to such extreme stretching torture once every year.
In May 2009, he was sent to the strict management team and tortured again, after the inmates found he was listening to Falun Gong lectures. The guards interrogated him in attempts to find where he got the mp4 that had the lectures. Mr. Tan refused to answer and held a hunger strike for 15 days. The guards ordered the inmates to force-feed him. The inmates pried open his mouth with a wood club and caused his front teeth to fall off.
Mr. Tan was targeted again in a prison-wide brainwashing campaign against Falun Gong practitioners in February 2012 and deprived of sleep.
By the time he was released on November 23, 2014, two years ahead of time, he had lost much of his hair and both the upper and lower front teeth. The scars on his wrists are still visible today.
Related reports:
Mr. Tan Qiucheng in Critical Condition as a Result of Torture in Jilin Prison
Tan Qiucheng from Yushu, Jilin Province Illegally Sentenced to Fifteen Years Imprisonment
Sixteen Falun Gong Practitioners Targeted in a Group Arrest Face Trial for Their Faith