People in Ludwigsburg, Germany, Support Falun Gong
Oct. 10, 2020 | By a Minghui correspondent in Germany
(Minghui.org) Falun Gong practitioners held an Information Day on Stadtkirchenplatz in Ludwigsburg, Germany, on September 26, 2020. Despite the windy and rainy weather, they demonstrated the Falun Gong exercises and collected signatures on a petition calling for an end to the Chinese Communist Party's (CCP) persecution of Falun Gong. Passersby were very supportive.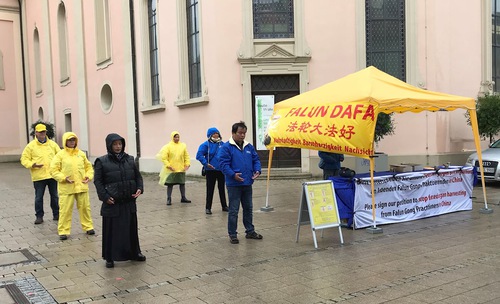 Falun Gong exercise demonstration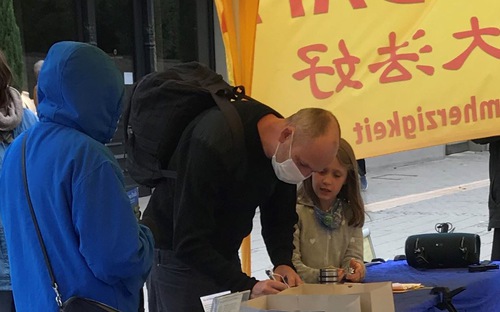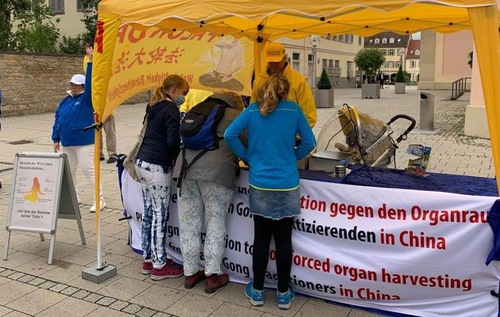 Local residents sign the petition calling for an end to the persecution of Falun Gong.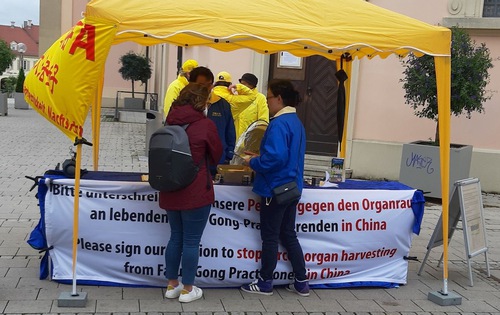 Two practitioners tell a local resident about Falun Gong.
Practitioners had just set up their booth when two people from another organization came over to ask them if they had a permit. One of them looked unhappy. He thought that the practitioners had taken their location. Practitioners calmly talked with them to see if there had been a misunderstanding. After the man calmed down and saw the practitioners' permit, he admitted that he had made a mistake.
A practitioner told the man about the persecution of Falun Gong in China and the CCP's organ harvesting atrocities. "What you are doing is great," the man said. "You are protecting human rights. I must sign the petition." The same practitioner went to visit the man's booth later in the day. A dozen people at the booth signed the petition. The man apologized to the practitioner for his behavior in the morning.
As Mr. Gonnermann and his family were passing by, he was handed a flyer. He read it and signed the petition. He came back with his wife and daughter about an hour later. His wife signed the petition, and his daughter was excited to receive a beautiful paper lotus flower.
A young German man asked a practitioner in Chinese, "Is this an energy exercise?" He told the practitioner that he had worked in China for five years, but he hadn't heard about Falun Gong. The practitioner told him about the benefits of Falun Gong and the CCP's persecution. The young man said he had recently read a book about the true situation behind the pandemic, which differed greatly from the CCP's reports. He thanked the practitioner for giving him a chance to see the CCP from another perspective.