Shandong Couple Sentenced to Six Years for Their Faith
January 15, 2020 | By a Minghui correspondent in Shandong Province, China
(Minghui.org) A couple in Jiaozhou City, Shandong Province was sentenced to six years in prison for their faith in Falun Gong, a spiritual and meditation discipline that has been persecuted by the Chinese communist regime since 1999.
Mr. Du Zhaocai, 50, and Ms. Wu Ruifang, 49, were arrested on August 8, 2018. Mr. Du has since been held at Jiaozhou City Detention Center and Ms. Wu at Pudong Detention Center.
Two hundred and five local villagers signed and pressed their fingerprints on a joint affidavit attesting to the couple's character and calling for their release, shortly after their arrests.
The judge of Huangdao District Court ignored their requests and gave Mr. Du and Ms. Wu both six years in prison on December 3, 2019.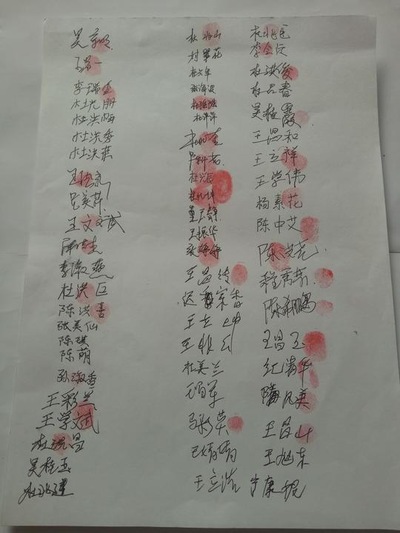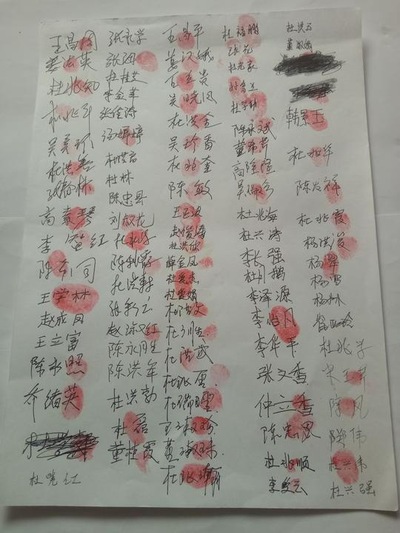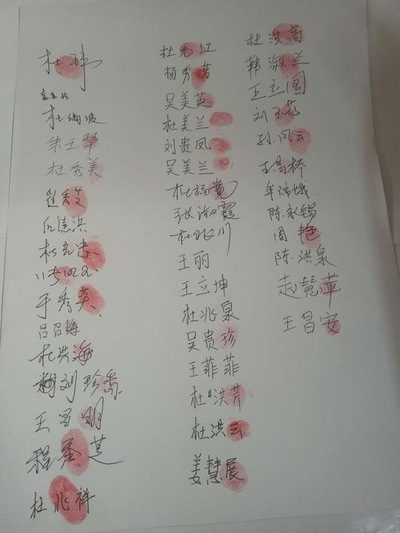 Villagers' signatures and fingerprints on affidavit attesting to the character of Falun Gong couple detained for their faith
Character Elevated After Taking Up Falun Gong
Mr. Du and Ms. Wu both credit Falun Gong for uplifting their morality and improving their health.
Mr. Du said since his father's generation, his family had conflicts with many villagers and they never talked to each other. After he learned Falun Gong, he realized he should let go of his resentment and not treat his neighbors as enemies. He found opportunities to talk to them and their relationship improved dramatically from then on.
Mr. Du had a small farm about five miles from his village. One day he went to water the farm. After he spent all the efforts setting up the irrigation system, a young man from another village went straight to his well and began to use it.
He was about to start a fight with that man when he realized that he should exercise self-restraint and not fight with people. So he put up his equipment and went to another well.
When he met that young man a few days later, he said what Mr. Du did the other day completely took him by surprise, as he had already prepared to have a big fight with him.
As a clothes vendor, Ms. Wu always returns extra items she received from the wholesale supplier, which was uncommon in China with degenerated morality in society. Instead of writing her name on the sales record, one supplier always puts her name as "Falun Gong sister."
Related report:
Chinese Villagers Call for Release of Couple Detained for Their Faith
Dafa Brings My Family Health and Happiness
Perpetrators' contact information:
Wang Decheng (王德成), judge at Huangdao District Court: +86-18563901259, +86-532-86975202Pan Wei (潘伟), prosecutor at Huangdao District Court: +86-532-83012883