Falun Gong Practitioner Attacked by Two CCP Mobsters in Hong Kong
September 26, 2019 | By a Falun Gong practitioner in Hong Kong
(Minghui.org) At about 4 p.m. on September 24, Falun Gong practitioner Ms. Liao Qiulan was attacked by two mobsters in the Lai Chi Kok neighborhood of Hong Kong. After being hit numerous times with expandable batons, Ms. Liao's head bled profusely. The incident was reported to the police.
Kan Hung-chueng, spokesperson for the Hong Kong Falun Dafa Association, said that the Chinese Communist Party (CCP) had recently widened the persecution against Falun Gong from mainland China to Hong Kong. He called on the international society to pay attention to increased brutality from the CCP in Hong Kong.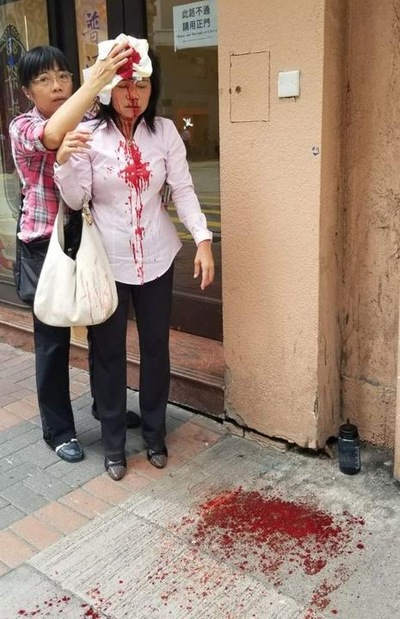 A friend tries to stop the bleeding of Ms. Liao Qiulan's head, after she was attacked by two mobsters in Hong Kong on September 24, 2019.
On the afternoon of September 24, Ms. Liao went with two friends to the Cheung Sha Wan Police Station to discuss the issuance of a permit for Falun Gong activities on October 1. Falun Gong, also known as Falun Dafa, is a peaceful meditation system, whose adherents follow the principles of Truthfulness-Compassion-Forbearance. Since the CCP began suppressing Falun Gong in July 1999, practitioners in Hong Kong have actively participated in events that introduce the meditation to the public, as well as opposing the persecution in mainland China.
As the women returned after the meeting and were walking along Cheung Shun Street they saw two strangers coming towards them from the opposite direction. "Ms. Ho and I were in the front, while Ms. Liao was walking behind us," recalled Ms. Lau.
Noticing the two men holding foot-long batons with their faces covered in black cloth, Ms. Lau was curious. "They passed Ms. Ho and me, and went directly to Ms. Liao. They hit her with the batons several times. Two of us called out, and tried to stop them with our bags. But the two men fled and left in a white vehicle," she said.
As a result of being struck, Ms. Liao's head bled heavily and it was difficult to stop the bleeding. The women reported the assault to the police.
Although Falun Gong is freely practiced in Hong Kong, pro-CCP organizations such as the Youth Care Association (YCA) have been interfering with and harassing practitioners. Kan Hung-chueng believes that this attack was also ordered by CCP entities.
"Based on this incident," Kan said, "and from what has been happening in Hong Kong during the past few months, we can see that the CCP not only brutally suppresses Falun Gong and other kind people in China, it is also increasingly extending its black hands and shameless tactics to Hong Kong," he remarked.
Urging local police to bring the attackers to justice, Mr. Kan said, "The whole world bears witness to all of this—the suppression and persecution of Hong Kong people are in plain view of the world."
Practitioners in Hong Kong hold numerous events every year to raise awareness of the 20-year-long suppression in mainland China. These events include April 25 (commemorating the peaceful appeal in 1999) and July 20 (when the persecution started in 1999), along with May 13 (World Falun Dafa Day) and other occasions.