Mexico: New Practitioners Feel Enriched after Attending Falun Dafa 9-Day Lecture Seminars
August 31, 2019 | By a Falun Dafa practitioner in Mexico
(Minghui.org) After the positive feedback from the seminar held in Puebla in May, a Falun Dafa Nine-Day Lecture Seminar was held in Mexico City in late July 2019. The attendees watched videos of the lectures given by Mr. Li Hongzhi, the founder of Falun Dafa. They also learned the five sets of exercises and talked about their experiences.
Some heard about the seminar through social media and said that they felt very fortunate and enriched after listening to Mr. Li´s teachings.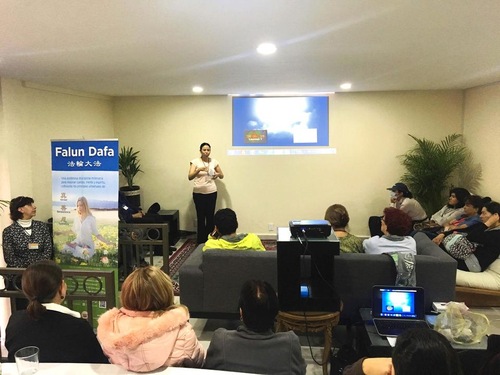 A practitioner introduces the Nine-Day Class which was held in Mexico City in July, 2019.
Seminar attendees watch the exercise instruction video.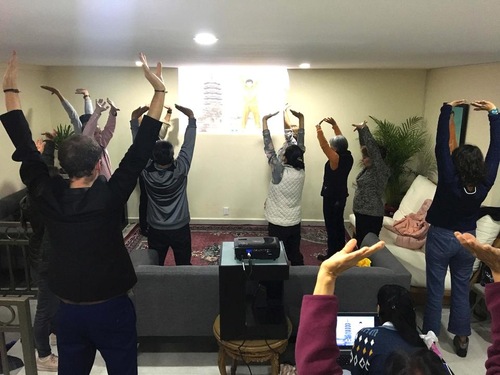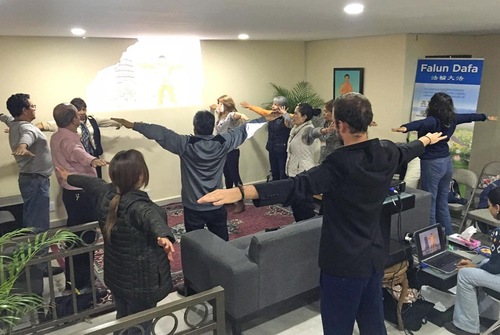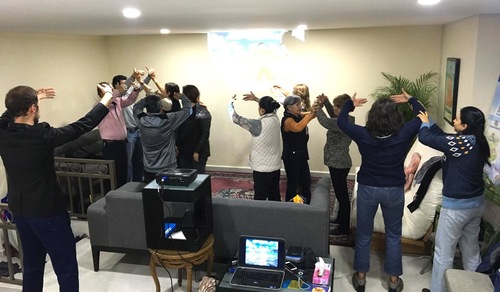 New students learn the five sets of Falun Dafa exercises.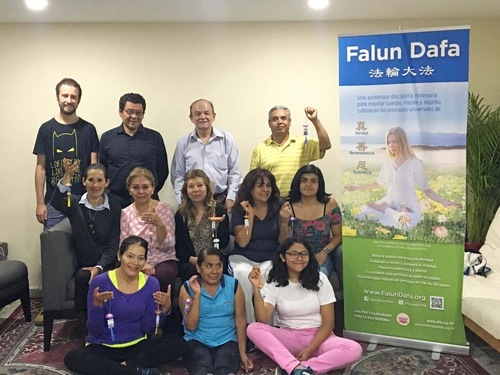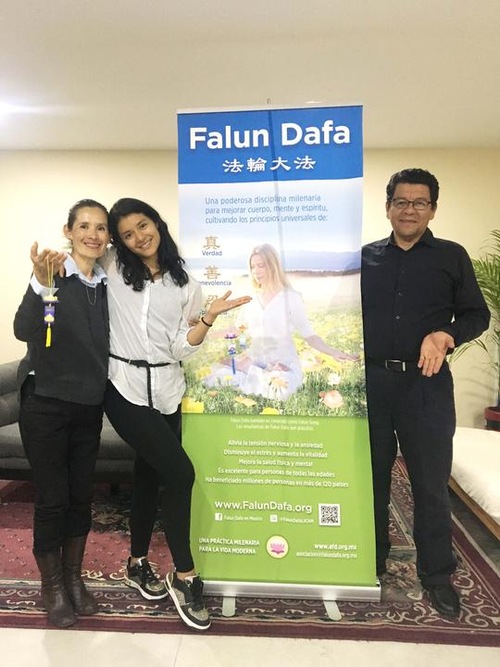 New students who attended the nine-day class in Mexico City pose for a group photo.
Alejandra from Mexico City said, "I want to learn the teachings. I do notice specific changes within myself, but I need to read. It will be a very big challenge because I'm faced with my many attachments. Identifying them will be a daily exercise, as well as the physical exercises. I really appreciate Falun Dafa and I carry in my heart these teachings. During these nine days, I learned so much. I feel very encouraged."
Nacho from Mexico City said, "Thank you for your kindness. For myself this is a step forward. This is an opportunity to reflect on who we are and what we do. I'll cherish Falun Dafa in my heart and I thank you. I know my challenge will be to keep cultivating, keep learning, and above all, continue this mission and not forget to share the teachings with other people."
Maria José, a university student of psychology from Puebla, said that after attending the seminar her constant feelings of tiredness and low spirits were gone. As soon as she started to practice the Falun Dafa exercises, she felt a great energy which allowed her to do everything she needed to do with no need to stop and take a rest.
Victoria Elizabeth, an accountant, and Maria José's mother, attended the 9-day seminar held in Puebla. For several years her sister kept telling her about Falun Dafa, but she didn't bother to try it. After the seminar, she was convinced that Falun Dafa is very good and she now regrets waiting so long to practice.
Victoria and her daughter said they experienced great joy after attending the seminar, so they wished to let more people know about Falun Dafa.