Hubei Woman Sentenced to Four Years for Speaking Out for Her Faith, Family Harassed for Requesting Visitation
July 29, 2019 | By a Minghui correspondent in Hubei Province, China
(Minghui.org) A native of Hubei Province working in Beijing was arrested in May 2017 for raising awareness of her persecuted faith, Falun Gong. The 27-year-old young woman was sentenced to four years in prison in July 2018. Her appeal was rejected by the Beijing No. 2 Intermediate Court in September 2018.
Falun Gong, also known as Falun Dafa, is a spiritual discipline that has been persecuted by the Chinese communist regime since 1999.
Ms. Jiang Liyu's parents were barred from visiting her after she was transferred to Hankou Prison in Wuhan City, Hubei Province, on the grounds that she still refuses to renounce her faith. The local authorities in Hubei Province have also begun to harass and monitor her parents, who are working hard to seek justice for their daughter.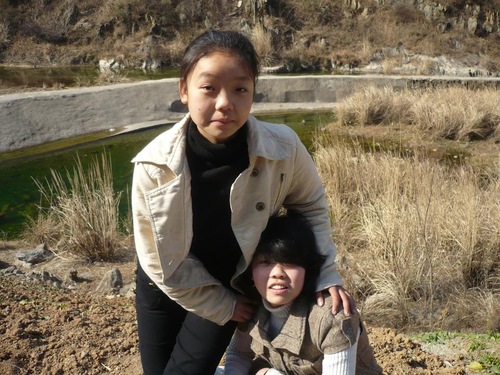 Ms. Jiang Liyu (standing) and her older sister, Ms. Jiang Lianjiao
Ms. Jiang Liyu's appeals lawyer recently went to Hankou Prison but wasn't allowed to see her. The prison authorities initially demanded that the lawyer provide the document authorizing him to represent Ms. Jiang in her appeal. When the lawyer produced the required document, the prison asked for a new authorization document from Ms. Jiang after her appeal was rejected. The lawyer didn't have any new authorization from Ms. Jiang as he hadn't been able to see her.
The lawyer filed a complaint to the local prison management bureau, but didn't receive any reply.
The prison authorities harassed Ms. Jiang's parents, Mr. Jiang Qixiang and Ms. Qiao Liangyu, in April and demanded that they write letters to Ms. Jiang to urge her to give up practicing Falun Gong. The guards said that only after Ms. Jiang writes a statement to renounce her faith will they allow family visits. Otherwise, no visitation or any form of communication will be allowed. Ms. Jiang's parents refused to comply.
Ms. Jiang's parents applied to visit her again in May. But their workplace, the Baoxia Town Hospital in Shiyan City, would not approve their time off. Meanwhile, the hospital halted their scheduled pay raise, citing an order from the Political and Legal Affairs Committee, a non-judicial government agency tasked with persecuting Falun Gong.
Several officers harassed Ms. Jiang's parents at home in June and demanded again that they write letters to persuade their daughter to abandon her faith. But the officers refused to reveal their names or which agency they represent.
At the same time, the Baoxia Town Hospital installed surveillance cameras in front of the home of Ms. Jiang's parents to monitor their daily activities.
Related report:
Three Young Women in Beijing Sentenced to Prison for Raising Awareness of the Persecution of Falun Gong