Movie "Origin Bound" Premiers in Toronto
June 18, 2019 | By a Minghui correspondent in Toronto
(Minghui.org) Origin Bound, a new movie by New Century Film, premiered in Toronto on Sunday, June 2, 2019. The producer, director, and lead actors and actresses attended the premiere. The movie officially opened to the public in Toronto on June 7, 2019.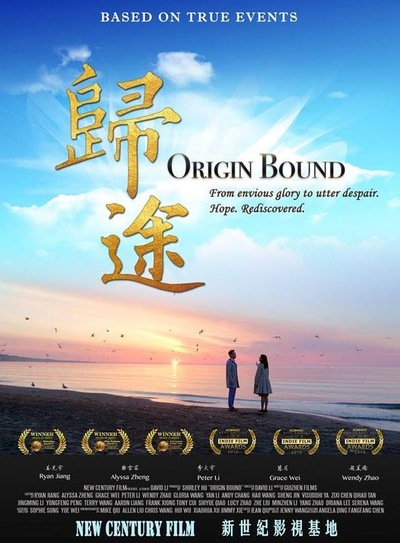 Origin Bound poster
Origin Bound is based on true events and tells the story of a popular movie star from China who was saved from imminent death by Falun Gong. The movie received great reviews during advance screenings in the U.S. and Canada.
Dr. Zhang Tianliang, associate professor at Feitian College, commented that Origin Bound is spreading traditional guiding values in our society.
Vyacheslav, the general manager of an art film organization based in Moscow, praised the movie, saying, "This is the brightest and most touching movie I have seen in years. I was brought to tears a couple of times during the movie. It is worth watching it again and again for its energy and greatness!"
Mr. Ye Hao, a former senior police official in China, said the movie tells a wonderful story with superb filmmaking, and the true events were life-like, detailed, and streamlined, but touching. He said the film provides inspiration for the meaning of life, and illustrates that salvation of the soul is more critical than physical health.
Origin Bound won three awards at the Accolade Global Film Competition, including Awards of Merit for Director David Li, Lead Actor Ryan Jiang, and in the Film Feature category. It was also nominated for Best Film at the Japanese Independent Film Festival.
Leading actress Alyssa Zheng played a Falun Gong practitioner in the movie. Alyssa said her role in the film helped her improve her character in real life. "[My character in the movie] is like warm sunshine which disperses fog. She reflects the beauty of Falun Dafa and the aspiring style of a Falun Dafa practitioner. Through her behavior, the audience learns the benefits brought by Falun Dafa, and this all runs contrary to the propaganda spread by the Chinese Communist Party."
Mr. Shang, a former senior cinematographer at Zhujiang Film of China, commented, "The film has achieved a great effect! It's fast-paced and suitable for modern audiences. The directing style was very mature and skilled. The actors and actresses were very successful. Even those who played the smallest roles did great jobs. Their realistic acting was from the bottom of their hearts. The whole movie is very mature technically… The editing is elegant. The transitions were clear and clean. The transitions made a breakthrough from the perspective of the Montage technique. The effect is great!"
Coco, a French fashion designer, praised the film. "This is the best movie I have ever seen! It has the best story line, the best cinematography, and the best acting."
Frank Wei, an interior designer, told the reporter, "Thinking about the details, I feel that this is no ordinary movie. It's a reflection of Truthfulness-Compassion-Forbearance in our human world through true events."
A visitor from China said, "The movie is great! No matter how successful your career is, it's nothing in the face of sickness. The character in the movie found hope for life through Falun Gong in a time of desperation. He was fortunate to gain this spiritual support, survive, and find the meaning of life! I didn't know much about Falun Gong before, but the movie makes me want to learn more about it."