Belgium Passes New Bill Banning Medical Tourism for Organ Transplants
(Minghui.org) The International Medical Travel Journal (IMTJ) reported on May 13 and June 7 that Belgium's primary legislative body had passed a new bill on April 25 that would punish all parties involved in the buying and selling of human organs for commercial purposes, citing a recent report from The Epoch Times.
A clause in the bill references a resolution condemning forced organ harvesting in China, which was passed by the European Parliament in December 2013.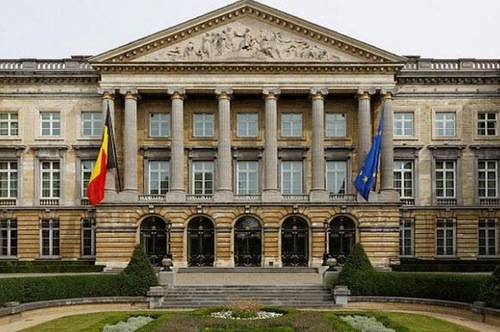 Belgium legislative body building
Violators face up to 20 years of imprisonment with a €1.2m (USD$1.35 million) fine. If an organized criminal group is involved in such trade, all individuals in the group will face punishment.
The article stipulates that the law is not only effective within Belgium; it prohibits all Belgian citizens from procuring organs, regardless of where the transaction took place, effectively banning medical tourism for organ transplants.
The regulations stipulate that the organ seller and recipient, as well as any middlemen, doctors who were consulted, or other medical workers who participated in the sale of organs for profit, will be punished under the law.
In explaining what constitutes illegal organ transplant procedures, the proposal brings up the issue of forced organ harvesting, a scenario in which organs are involuntarily removed from individuals who did not express consent. The legal text also includes a clause referencing a resolution condemning forced organ harvesting in China that was passed by the European Parliament in December 2013.
The resolution expressed deep concern over persistent and credible reports of systematic, state-sanctioned organ harvesting from non-consenting prisoners of conscience in the People's Republic of China, including from large numbers of Falun Gong practitioners imprisoned for their religious beliefs, and members of other religious and ethnic minority groups.
The European Parliament resolution called on China to immediately end the practice of organ harvesting from prisoners of conscience. Belgium is the first country in Europe that refers to the European Resolution of 2013.
Despite continued evidence of widespread organ harvesting in China, by the United Nations, the International Coalition to End Transplant Abuse in China, Doctors Against Forced Organ Harvesting, and the World Organization to Investigate the Persecution of Falun Gong, the trade continues and may even have increased to cope with demand.
The Belgium bill will next move to the Senate, after which the king will sign it into law. The Czech Republic also recently considered plans to reduce transplant tourism.