Falun Gong Practitioners' Personal Property Confiscated in the Persecution of Their Faith
June 11, 2019 | By Xin Ming
(Minghui.org) Ms. Huang Yuping, a Falun Gong practitioner in Fushun City, Liaoning Province, busied herself helping others after a major flood hit the region on August 16, 2013. One of the worst-hit areas was Nankou Town, where Ms. Huang once lived for a number of years.
She not only provided clothing to the nearly naked villagers but also bought food and supplies and delivered them on foot. Some of the villages were not accessible by car and sorely lacked materials. "Thank you. Only volunteers like you come here to help us like this," said one of the residents.
On her fifth trip on August 23, right as Ms. Huang was helping one resident set up a tent, a police officer suddenly showed up. He grabbed her arms and twisted them behind her back. More officers came up and forced Ms. Huang and two other Falun Gong practitioners into a police van. With keys taken from her, officials ransacked Ms. Huang's home and confiscated her Falun Gong books, computers, music player, cell phone, camera, and bank deposit certificate. She was then detained for one month.
This is one of many examples of how the police in China have arrested practitioners and raided their homes. Since the communist regime started its persecution of Falun Gong in July 1999, a large number of practitioners have been arrested, detained, or had their homes raided and personal belongings taken–all for their belief in Falun Gong's principles of Truthfulness-Compassion-Forbearance.
610 Office to Police Officers: "Feel Free to Take These Things Home"
Led by the Huanggang 610 Office, nearly 20 police officers arrived at Yuandong Chemical Plant in Huanggang City, Hubei Province, in March 2014 to arrest Mr. Chen Song, the chief engineer of the plant.
The police then proceeded to ransack Mr. Chen's residence multiple times. They even searched his trash can. The items confiscated included a laptop computer, camera, cell phone, DVD player, GPS device, bank deposit certificate, and cash. There were about 20 items with a total value of more than 13,000 yuan. In addition, the police also took away important documents related to the plant.
After the arrest and ransacking, officers continued to threaten and interrogate Mr. Chen's coworkers. In front of the plant employees, one agent from the 610 Office said to the police officers, "We are only interested in the computer and the information on it, not the rest. Feel free to take these things home."
Police Confiscate Family Members' Investment Funds
Nine officers from Lubei Police Department in Tangshan City, Hebei Province broke into the home of Mr. He Yixing and his wife, Ms. Zhang Yueqin, in July 2008. They brought two fire trucks and went in through the ladders. They seized many valuable items, including a car and 600,000 yuan in cash. Some of the money was the investment fund of their daughter, He Dan, and the rest was the couple's retirement savings.
Ms. He heard about the raid and went to the police department the next day for the money, citing her business needs. But the police refused to return it. When Ms. He hired an attorney to help her, the police refused to respond, provide any documents, or meet with him. Without the funds, Ms. He could not open a new store as she had planned, and her old store also ran into financial difficulties.
Police Arrest Innocent Citizens Instead of Thief
When Ms. Li Shanshan from Tangshan City, Hebei Province, went out to buy breakfast on March 5, 2011, four officers from Tangshan Police Department forced her into a police van. One girl who also bought breakfast nearby came over and pounded on the police van, saying her wallet had just been stolen by a thief. The officers ignored her and focused their attention on restraining Ms. Li.
After finding her keys in her pockets, the police went to her home and arrested her husband, Mr. Zhou Xiangyang. As they ransacked the home, they took 13,000 yuan in cash (it was to be used for the couple's small business), four bank deposit certificates, two computers, a printer, several cell phones, and a laser pen. The officers even took a pair of scissors.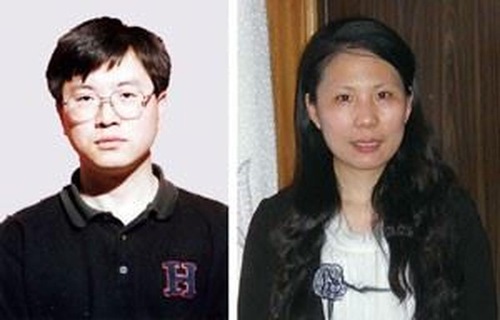 Mr. Zhou Xiangyang and Ms. Li Shanshan
Mr. Zhou was one of the 60 certified cost engineers in China. He and his wife had been arrested and detained numerous time since the persecution started in July 1999. They were last arrested in March 2015. Mr. Zhou was sentenced to seven years in prison in 2016, while Ms. Li was sentenced to six years at the same time. They are both still incarcerated.
Disabled Practitioner Not Spared
Mr. Kou Qiang from Muling City, Heilongjiang Province, had been disabled since he was young. The practice of Falun Gong significantly improved his health, and his weight increased from 80 pounds to 130 pounds. Seeing hope in life, he became more energetic, and the positive changes in him inspired many people in his village to take up the practice of Falun Gong.
In the evening on January 18, 2001, over 20 officers from Muling Police Department climbed over a fence and broke into Mr. Kou's home. They dragged him out of bed and arrested him together with his parents and another practitioner. He was detained for four months.
Five months after his release, however, officers went back to his home and confiscated 10,000 yuan in cash, a camera, a voice recorder, a flashlight, and Falun Gong books.
After multiple detentions, humiliation, and the stress of his family members being detained, Mr. Kou died on April 2, 2009, at the age of 47.
Forced Closure of Firm and Robbery of Two Million Yuan Worth of Property
In September 2002, Jinniu police in Chengdu City, Sichuan Province, forcibly closed two plants and one building material firm owned by Ms. Zhu Junxiu and her husband. Officers also confiscated cash, goods, office supplies, and two cars from the companies, plus over 200,000 yuan in cash and other valuables from their home. These items were worth about two million yuan in total.
With their plants and firm closed, the couple could not fulfill their contracts and incurred a loss of nearly 10 million yuan. When Ms. Zhu needed money in September 2005 and asked the police for the confiscated cash, she was arrested, detained, and sentenced on March 6, 2006, to 8 years in prison.
Robbery of 100,000 Yuan from Relatives
Mr. Liu Jinfu is a resident of Jinzhou City, Liaoning Province. At about 4 a.m. on July 19, 2012, a police officer scaled his fence and opened the gate of his yard. Another six officers came in and began to search the house. They took away his computer, printer, and other personal property, including a car.
Mr. Liu's wife had been bedridden for years because of paralysis, and she could not take care of herself. Her relatives went to seek her husband's release and were told to pay 100,000 yuan. They could gather less than 20,000 yuan. At the time, Mr. Liu's brother-in-law had just sold an old house and had 100,000 yuan in cash. With no other options, the family had to give that money to the police in exchange for Mr. Liu's release.
Another Raid in a Hebei Village
At 4 a.m. on May 25, 2006, officers from Xinjin City Police Department in Hebei Province descended on Chenzhuang Village in four police vans. They broke into the homes of four Falun Gong practitioners, including Cai Zengci, Cai Mangen, and Cai Shengzhu. When they saw 2,000 yuan in cash in a drawer in Cai Zengcai's home, they immediately pocketed the money. They also confiscated a safe containing more cash, three music recorders, three VCD players, and a television set.
Related reports:
Good People Helping Disaster Victims Are Arrested and Persecuted; Relatives Request Their Release
Hubei Province: Mother Demands Her Son's Release in Front of Brainwashing Center
Victims' Family Members Sue the Police for Stealing 600,000 Yuan in Cash
Related article in Chinese: