Russia: Art of Zhen Shan Ren International Exhibition Warmly Received in Arzamas
May 29, 2019 | By a Falun Gong Practitioner in Russia
(Minghui.org) The Art of Zhen Shan Ren International Exhibition was held in Arzamas, a city located on the Tyosha River, east of Moscow, from March 23 to the end of April 2019. Local residents were deeply touched by the artworks, which depict Falun Gong practitioners' bravery and unyielding spirit in the face of the Chinese Communist Party's (CCP) persecution, as well as their peaceful but powerful inner strength gained through the cultivation of Truthfulness-Compassion-Forbearance.
This was the first time that most exhibition attendees had heard about the persecution of Falun Gong. The persecution was launched by the communist regime in China in 1999 and continues today. A guide at the exhibition explained that Falun Gong practitioners in China had been silenced by the CCP, adding, "That's why Falun Gong practitioners spread the information and expose the persecution. They offer people an opportunity to know what's happening."
Many people visited the exhibition more than once, and they brought their families and friends. Some lingered for a long while in front of their favorite works.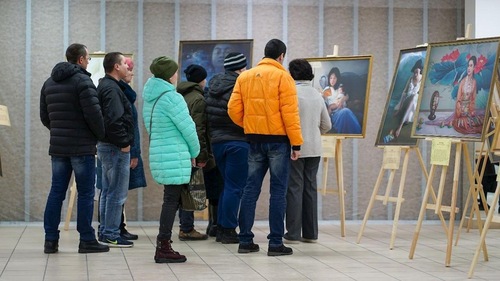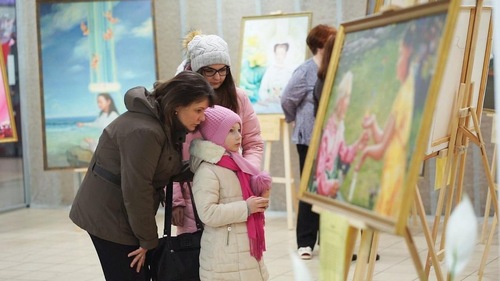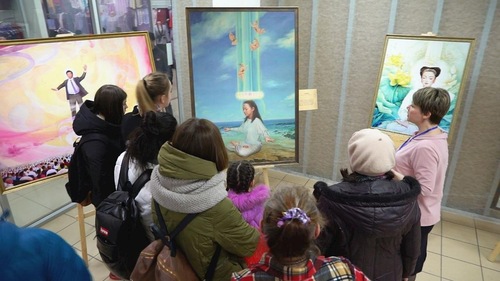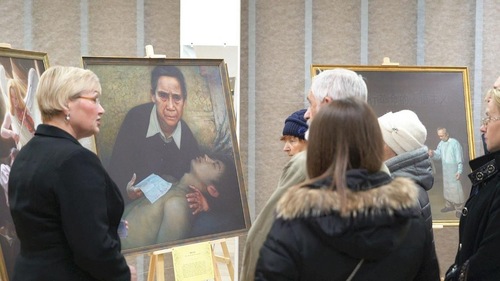 The Art of Zhen Shan Ren International Exhibition in Arzamas, Russia
Tatyana Kozlova was very thankful to have the opportunity to see the paintings. She said, "I'm very grateful for the nobleness, compassion and beautiful feelings the artworks bring me!"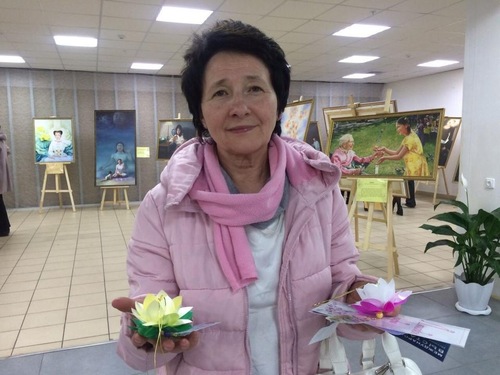 Tatyana Kozlova said she was deeply moved by the nobility and compassion of persecuted practitioners.
Victoria Donicheva, a student at the Nizhny Novgorod State University, said, "The paintings are beautiful and filled with strength. Many of these artworks encourage you to reflect upon the experience of these faithful people. I hope more people will be able to see them and understand what the Communist Party has done."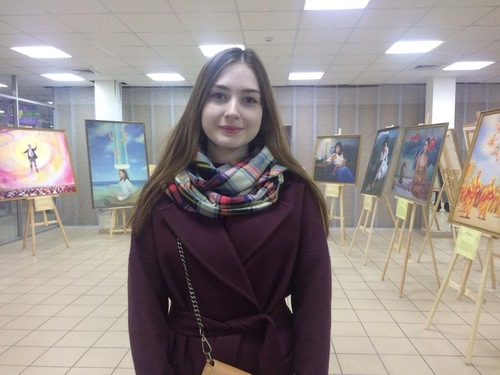 University student Victoria Donicheva said, "The paintings are filled with beauty and strength."
Many guests left their comments in the signature book:
"I'm a high school student. This is a marvelous exhibition! These artworks make me want to follow the principles of Truthfulness-Compassion-Forbearance."
"This exhibition makes me explore my inner self and realize what's truly valuable."
"Thanks to this art exhibition, I can see how vicious Communism is: coldness, persecution of humanity and belief, and deprivation of people's freedom and lives."
"Today, I often remind myself that the most important things are Truthfulness, Compassion and Forbearance! Thank you for your great wishes and actions to safeguard morality!"