Singapore: Celebrating the 27th Anniversary of Falun Dafa's Introduction to the Public
May 16, 2019 | By a Falun Dafa practitioner in Singapore
(Minghui.org)
Practitioners Express Their Gratitude to Falun Dafa's Founder Mr. Li Hongzhi
Mr. Li Hongzhi introduced Falun Dafa to the public twenty-seven years ago, on May 13, 1992. The practice and its principles "Truthfulness Compassion Tolerance" have since given hope and new life to millions of practitioners all over the world, and peace and harmony to their families and society.
A refreshing rain brought relief after several sweltering days in Singapore on May 8, 2019. To celebrate World Falun Dafa Day, practitioners, their friends, families, and supporters gathered in Hong Lim Park to mark both the anniversary of Falun Dafa's public introduction and Mr. Li's birthday.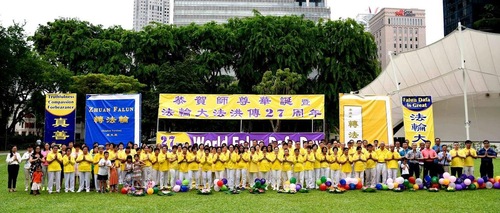 Practitioners from Singapore gathered in Hong Lim Park on May 8 to celebrate World Falun Dafa Day.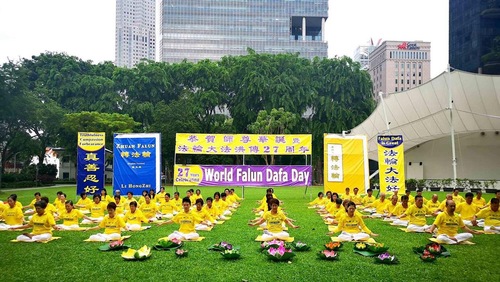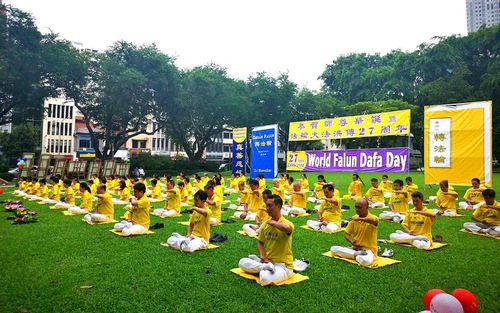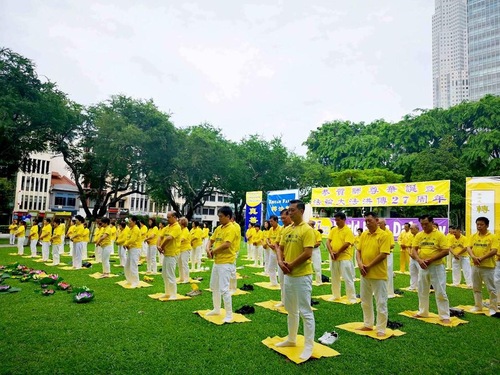 Practitioners demonstrate the Falun Dafa exercises to celebrate World Falun Dafa Day in Singapore.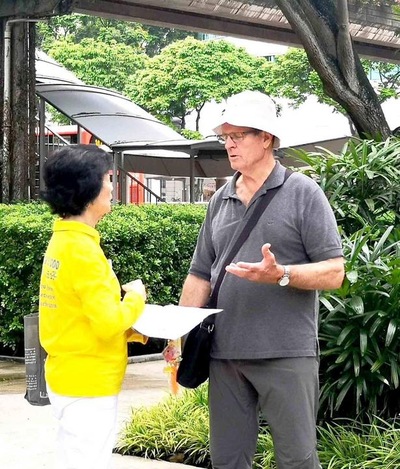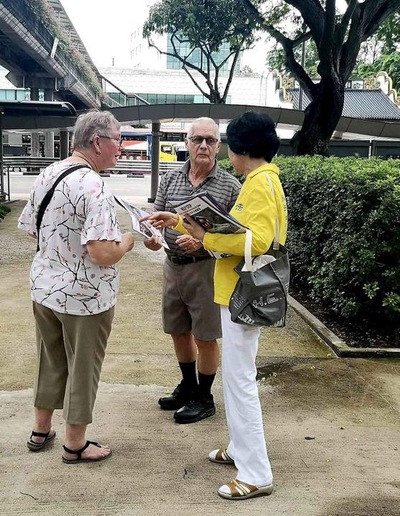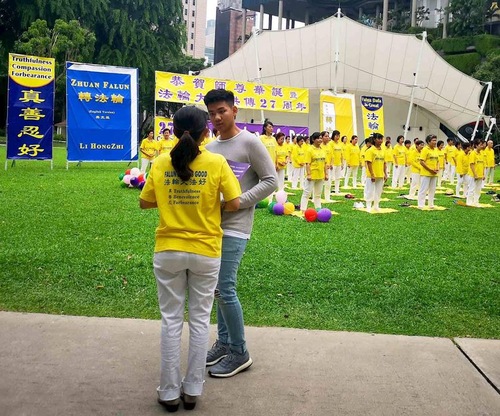 Drawn by the peaceful music passersby stop to talk with practitioners.
"Peaceful, Compassionate Atmosphere, Kind Faces"
As soon as Linda saw practitioners doing the exercises she said, "It's a peaceful, compassionate atmosphere, and the practitioners all have such kind faces." Linda, who is visiting from Australia, stopped with her husband John to watch the celebration. She said she was interested in learning how to practice, and wanted see if there was a practice site near her when she returned home.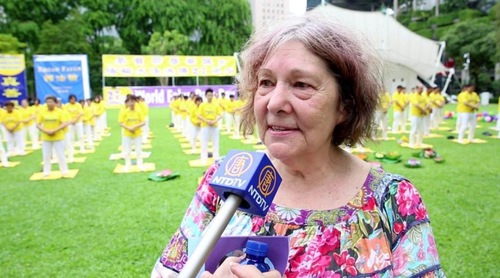 Renee, a Canadian living in Brisbane Australia, was very touched by the practitioners' exercise demonstration.
"It's very touching. My heart is deeply touched," said Renee, a Canadian who lives in Brisbane Australia.
When Renee learned how practitioners are being persecuted in China, she was upset and said, "Without anger, without yelling, without fists or violence, this is a peaceful way to draw attention to human rights violations. All people working together to oppose violence using peaceful means. It helps everyone find their conscience."
Mr. Chen, from Malaysia, reads the Epoch Times and listens to Sound of Hope radio. He said the information has helped him understand the current situation, and he's no longer confused or afraid.
"I heard of this event today so I came by to support the practitioners. It feels like I'm with my family," said Mr. Chen.
Sixty-five year old naprapathy therapist Mr. Yang said he'd been searching for something. He began practicing Falun Dafa in February. "I finally found Falun Dafa! After I watched the 'The Stories of Life' on New Tang Dynasty TV I was moved. Falun Dafa is truly amazing!" said Mr. Yang.
Master Li Protected Practitioner's Family Member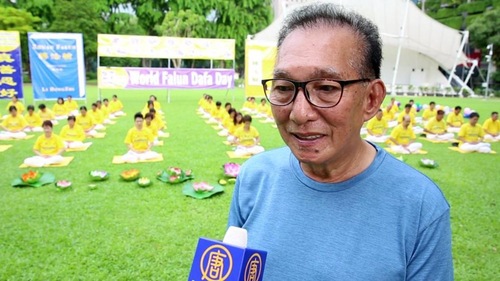 Mr. Hu came to the event to thank Master Li Hongzhi.
Mr. Hu doesn't practice Falun Dafa, but his wife does. "After my wife began practicing, she's become very healthy and I've also benefited. I will continue to support and encourage her," he said.
Mr. Hu says that even though he doesn't practice, he feels Master is protecting him.
About six years ago, a truck struck him and sent him 5 to 6 meters into the air. He was not injured.
Another time, a box which weighed 20 kilograms fell from the top shelve at the warehouse where he works. He was sandwiched between a workmate and a cart. Suddenly the box rolled away and he was not injured.
Mr. Hu had another life and death moment in September 2015. He was working on the night shift making deliveries. He usually works alone, but that night a supervisor decided to ride along with him.
At around 3:00 a.m., they stopped to eat. While they ate he suddenly had a severe stomachache. The supervisor immediately drove him to a hospital and doctors found he had a gastric perforation. The surgery took 8 hours but his life was saved.
"I am really thankful to Master. Happy Birthday Master!" exclaimed Mr. Hu.