Toronto and Dallas: Rally and Candlelight Vigil Held Marking 20th Anniversary of April 25th Appeal in Beijing
April 29, 2019 | By Minghui correspondents in Toronto and Dallas
(Minghui.org) April 25, 1999, is a significant date for China and Falun Gong practitioners. On that day, approximately 10,000 Falun Gong practitioners went to Beijing to appeal to the Chinese Communist Party (CCP) leadership after practitioners in Tianjin were illegally arrested for their belief.
The Tianjin practitioners were released following the peaceful appeal. Three months later, however, on July 20, 1999, Jiang Zemin, then head of the CCP, launched a nationwide persecution campaign against Falun Gong practitioners that continues to this day.
To commemorate the April 25th appeal, Falun Gong practitioners across the world hold events and raise awareness of the CCP's persecution, especially the state-sanctioned live organ harvesting.
Toronto: Candlelight Vigil Held in Front of Chinese Consulate
Falun Gong practitioners in Toronto held a candlelight vigil on the evening of April 25. They held portraits of fellow practitioners who died as a result of the CCP's persecution. During the solemn event they called on the world's people to work together to stop the persecution.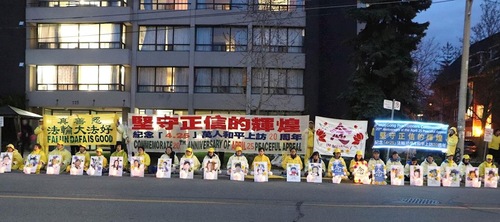 Candlelight vigil in front of Chinese Consulate in Toronto on April 25, 2019.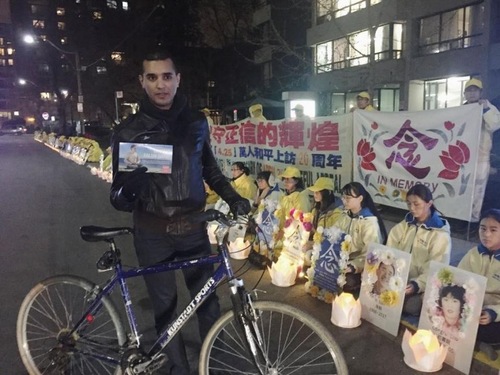 Ismail from Morocco was moved by the candlelight vigil.
Ismail was drawn to the poignant scene, and wished to learn more. He said, "When I saw Falun Gong practitioners I felt that it was a very beautiful scene. I was emotionally touched. I felt a kind of peace, but at the same time I felt a kind of sadness."
When he learned about the April 25 appeal and the CCP's brutal persecution he said, "That is really sad. I am very supportive of your activities here today!" He thanked practitioners for telling him about Falun Gong.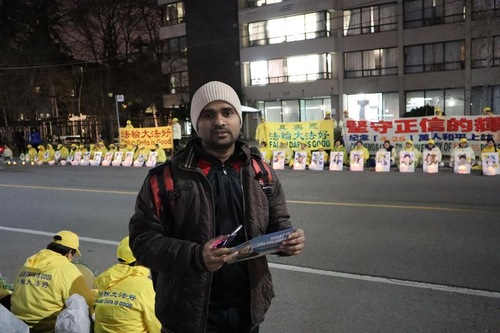 Chandresh from India
Mr. Chandresh from India noticed the candlelight vigil and asked several questions. When he learned about the brutality of the persecution of practitioners in China, he was surprised and said, "I've passed by the Chinese Consulate before, so I knew about the persecution. Now I understand why it's happening and how bad it is."
"This is miserable for Falun Gong practitioners in China. I know that the Chinese government does not allow people to have their own beliefs. It is a kind of dictatorship."
He recorded the vigil on his phone and said he would let more people know about the persecution so they could work together to stop it.
Dallas, Texas: Raising Awareness Downtown
Falun Gong practitioners gathered on Pegasus Plaza in downtown Dallas at noon on April 25, 2019. They did the exercises and collected signatures to condemn the persecution.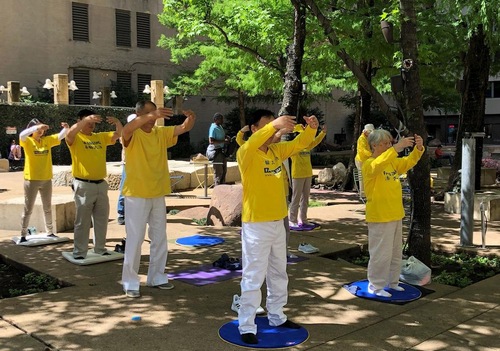 Practitioners demonstrate the exercises on Pegasus Plaza in downtown Dallas on April 25, 2019.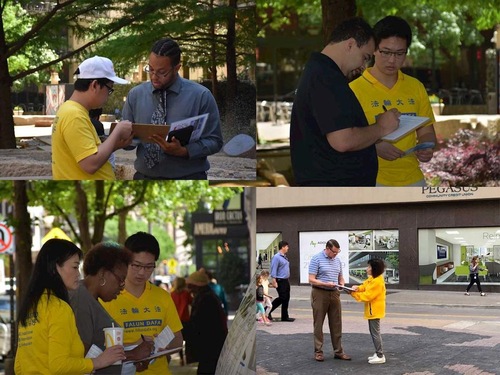 Practitioners talk to people about the CCP's persecution.
Pegasus Plaza is a small park in downtown Dallas and a place where nearby office workers gather for lunch. Falun Gong practitioners demonstrated the five sets of exercises which attracted people's attention.
One young man wished to learn the exercises. When he finished he said he felt refreshed.
Maria and Cowley noticed the practitioners' activities on their way to lunch. They stopped and asked several questions. When they learned that practicing such peaceful exercises is persecuted in China, they felt it was unbelievable. They signed the petition against the persecution.
Relevant article in Chinese: Dallas