Japan: Falun Gong Practitioners' Parade and Activities Commemorate April 25 Appeal
April 29, 2019 | By a Falun Gong practitioner in Japan
(Minghui.org) Falun Gong practitioners in Tokyo held a rally and parade at the Senso-ji Temple on April 20, 2019, to commemorate the 20th Anniversary of the April 25th appeal. Senso-ji Temple is a must-see destination for tourists from China. The practitioner activities allowed many people to learn about Falun Gong and the persecution and to express their support.
Most of the Chinese tourists saw Falun Gong practitioners' group exercises as soon as they got off their tour buses at Hanakawado Park, and many gathered and photographed the scene. Practitioners handed out information and helped people quit the communist organizations. Local residents who came to Senso-ji Temple signed a petition to support the lawsuits filed against the former head of the Chinese Communist Party (CCP) who initiated the persecution.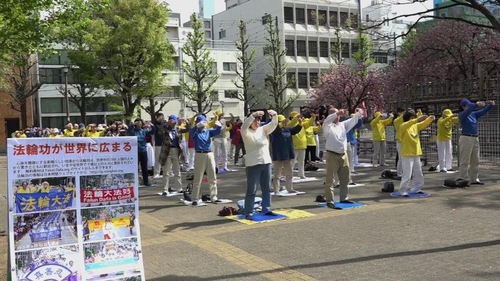 Practitioners demonstrate the exercises at Hanakawado Park.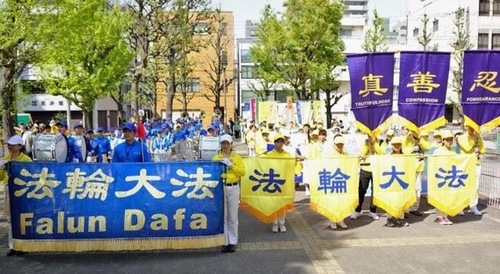 The parade commemorated the April 25th appeal.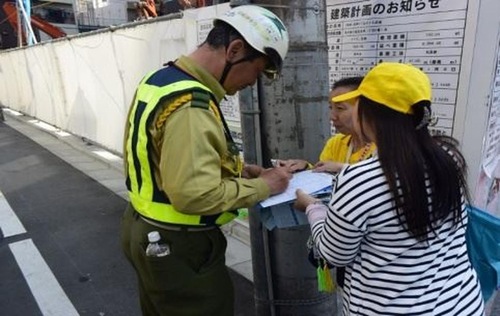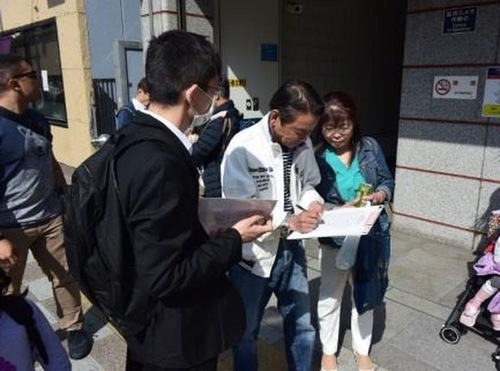 People sign a petition to support and encourage lawsuits against the former CCP leader.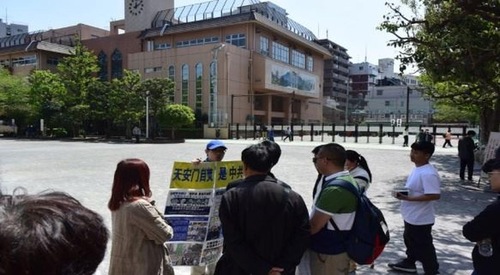 Chinese tourists learns about Falun Gong and the persecution.
Japanese Politicians and Democracy Advocates Encourage Practitioners
The rally started at noon. Mr. Maruyama, president of Stop Medical Genocide - The Association to Consider Organ Transplantation in China (SMG), Mr. Nomura, operations director of SMG, Mr. Wang Jinzhong, deputy chair of the Chinese Alliance for Democracy, and Mr. Inagaki Kentaro, NPO representative of the Japanese Falun Dafa Association in the Tokyo metropolitan area gave speeches at the rally.
Stop Medical Genocide is an association which urges the Japanese government to pass laws on organ transplantation, especially banning overseas organ transplant through improper channels. Association president Maruyama, who is a member of the city council of Zushi, Kanagawa Prefecture, said during his speech, "I hope that you will hold more parades and other activities to tell more people [about stopping organ harvesting]. If no one informs people, more lives will be lost. I encourage you to step out and hold your parades!"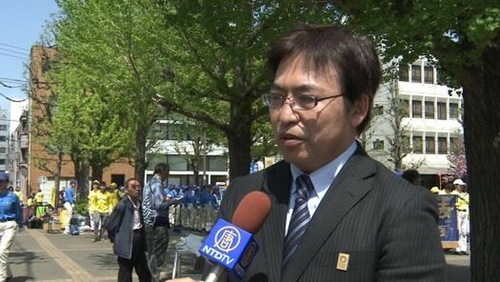 Mr. Maruyama encouraged practitioners, and said they should actively tell people about the persecution.
Mr. Nomura said at the rally, "It has been over a year since SMG was established. We have held various activities. Organ harvesting isn't the only form of persecution, but organ harvesting concerns the whole world. Because the media haven't actively reported it, most Japanese don't know about it. We have continued to work on this issue. One hundred and five council members have expressed their support of our work. We hold a film screening every month to inform people about what's happening in China. We hope more Japanese will learn the facts, which makes our parade today very important."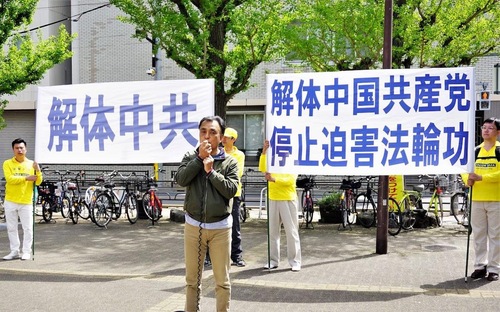 Mr. Nomura gives a speech at the rally.
Mr. Wang Jinzhong told Falun Gong practitioners during his speech, "I was in my twenties in 1989 when I participated in the democratic movement. Your persistent work against the persecution is marvelous! I see many young people today. I will continue to support you as always. I hope one day you will be able to return to China with your principles [of Truthfulness-Compassion-Forbearance]."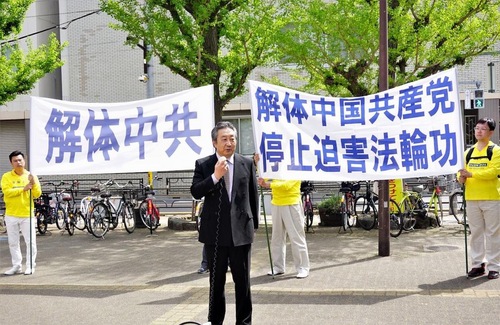 Mr. Wang Jinzhong congratulated practitioners for their perseverance.
During his speech, Mr. Inagaki Kentaro said China was still a developing country when Falun Gong was introduced. The spiritual practice made a great contribution by improving people's health and reducing medical expenses. The number of people practicing Falun Gong had reached 100 million, exceeding the number of CCP members, which was 70 million. He said that Jiang Zemin launched the persecution of Falun Gong out of jealousy and the CCP slandered Falun Gong with its propaganda in order to provide a pretext for the persecution. Kentaro hoped more Japanese would learn the facts about the persecution, especially the government-sanctioned organ harvesting from living Falun Gong practitioners, and join the alliance to help stop the persecution.
Parade and Activities Well Received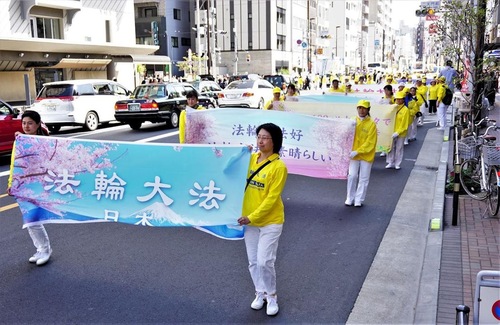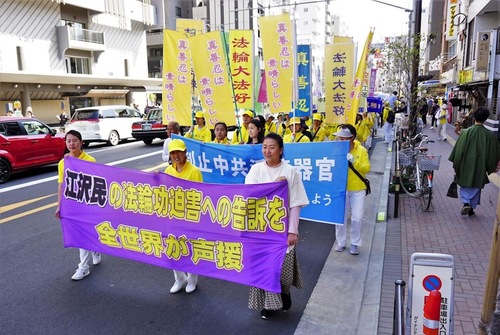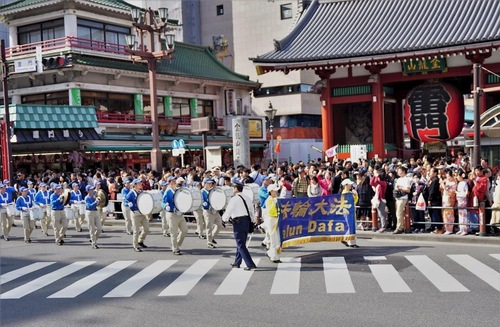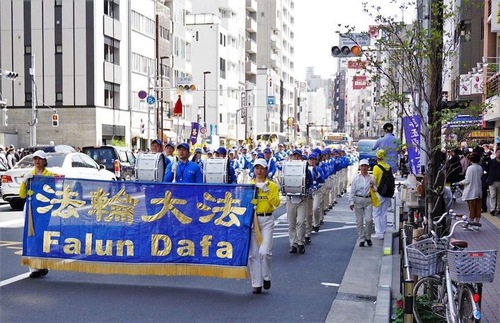 The Falun Gong parade passes Senso-ji Temple.
The parade started at Hanakawado Park at 2:00 p.m., and proceeded around Senso-ji Temple. Many onlookers were impressed by the Tian Guo Marching Band's powerful music. Large, colorful banners called for an end to the persecution in China. Practitioners distributed brochures along the route and collected signatures on the petition.
Spectators, including tourists and local residents, took photos, waved at practitioners, and gave them a thumbs-up.