Heilongjiang Woman Dies While Imprisoned for Her Faith, Family Forced to Consent to Cremation of Her Body
November 18, 2019 | By a Minghui correspondent in Heilongjiang Province, China
(Minghui.org) A mother-of-two in Sunwu County, Heilongjiang Province died around one and half years into her imprisonment for her faith in Falun Gong, a spiritual discipline that has been persecuted by the Chinese communist regime since 1999. She was 43.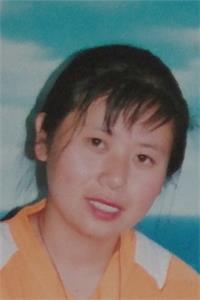 Ms. Yang Lihua
Ms. Yang Lihua's family was informed by Heilongjiang Women's Prison on November 5, 2019 that she was in critical condition. When her family rushed to the hospital, she had already lost consciousness. She passed away later that day.
Ms. Yang's family demanded to see her medical record. A prison guard flashed the paperwork in front of them without allowing them to read any details.
When her family asked why her body was covered with bruises, the prison guard said it was livor mortis.
Ms. Yang's family requested an autopsy. But the prison authorities said they had to ask for permission to perform an autopsy and it would take months for the higher-ups to approve it.
The prison authorities eventually intimidated Ms. Yang's family into signing a consent form to have her body cremated. Her loved ones brought her ashes back on November 9 and buried her.
Past Persecution
Ms. Yang was sentenced to three years in prison by the Sunwu County Court in August 2014 for writing "Falun Dafa is good" on a telephone pole.
With her imprisonment, her then-first-grader daughter and five-year-old son were left without their mother's care.
At Heilongjiang Women's Prison, Ms. Yang was subjected to beatings and other forms of torture. She became emaciated and had difficulty walking.
According to an inmate who was imprisoned together with her, sometimes Ms. Yang fell into a long coma after being beaten by the guards. And sometimes the guards force fed her with high concentration saline water.
After she was released in August 2017, she found a job at a gas station three months later, before she had fully recovered. But only two days after she started working there, she was seen by the local police chief, who forced the gas station to fire her.
As Ms. Yang appealed to have her job back, she was arrested on November 17, 2017 at the local government's appeals office. Another practitioner, Ms. Qu Yongxia, who went with her, was also arrested.
Both women were sentenced from three to four years by the Sunwu County Court on December 26, 2017. Their appeals against the verdict were upheld by the Heihe City Intermediate Court on February 23, 2018. They were sent to Heilongjiang Women's Prison shortly afterwards.
Ms. Yang's father was in deep distress over her second prison term. He fell ill and passed away soon.
Ms. Yang's mother had surgically removed her nose because of cancer and completely relied on her husband to provide care to her. Her loved ones hadn't told her about her daughter's death as they were concerned how she'd cope with her husband's passing and her daughter's death less than two years apart.
Related report:
Seeking Legal Right to Work, Two Heilongjiang Women End up in Jail