Finland: Top Media Outlets Cover Forum on Forced Organ Harvesting in China
October 04, 2019 | By a Falun Gong practitioner in Finland
(Minghui.org) Several major media outlets in Finland gave front-page coverage on a forum discussing forced organ harvesting in China held in Helsinki on September 19, 2019. Finland's most popular newspapers, the Helsinki Daily (Helsingin Sanomat) and HSL (the top Swedish newspaper in Finland), reported on the forum.
The reason for the rise of organ transplantation in China, the response of the international community, and people's indignation at the Chinese Communist Party's (CCP) state-sanctioned organ harvesting from living Falun Gong practitioners were all discussed during the forum.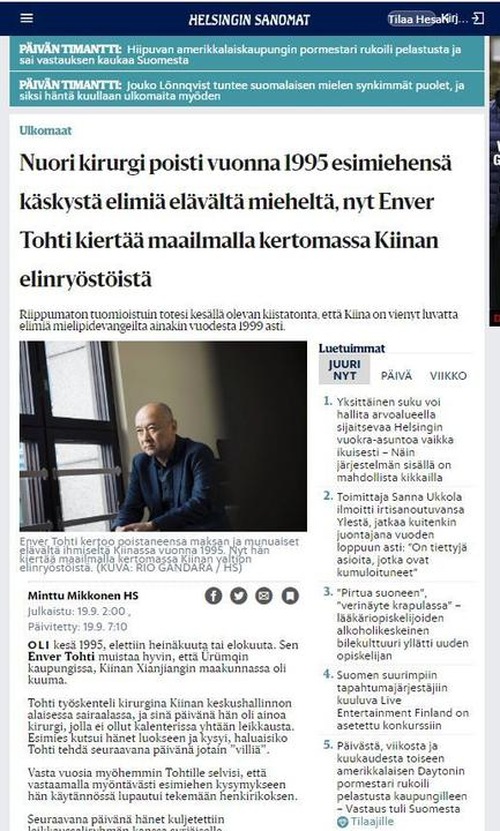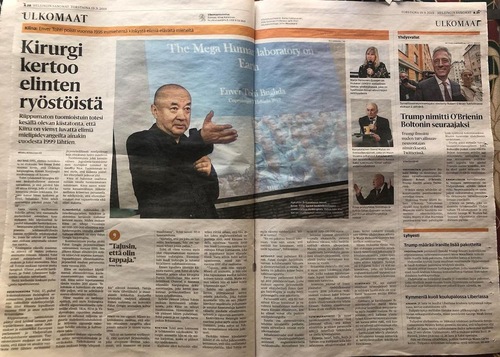 Helsinki Daily's online and print reports on the forum held in Helsinki on September 19, 2019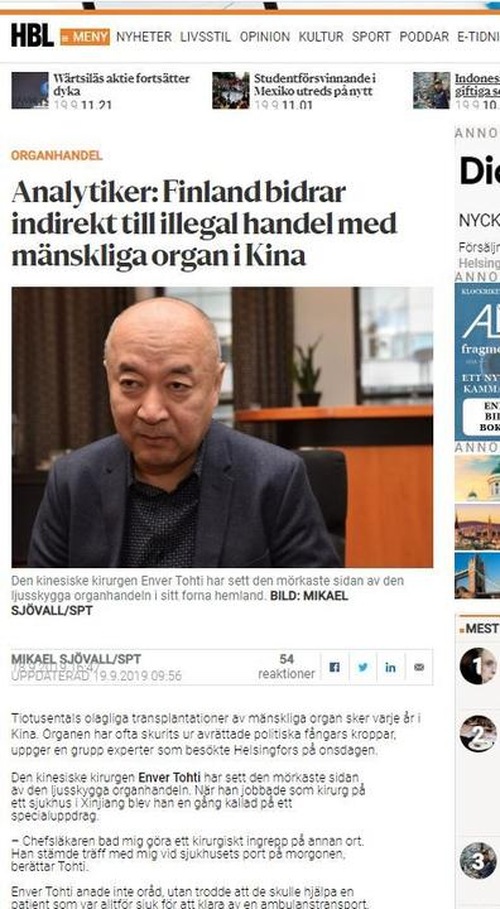 HSL (the best-selling Swedish newspaper in Finland) reported on the forum.
The reports stated, "The CCP started the persecution of Falun Gong in 1999. Since then, the rate of organ transplantation in China has risen rapidly. The country's voluntary organ donation system was not established until 2013.
"The CCP acknowledged the use of organs from death-row prisoners for organ transplants and stated it had stopped doing that in early 2015. However, the extent of executions has not yet reached a level that explains the high rate of organ transplantation.
"Human rights lawyers, doctors, and activists investigating live organs collected multiple pieces of evidence. According to them, China conducts 60,000 to 100,000 organ transplants every year through organs taken from prisoners of conscience. Most of the organs were taken from Falun Gong practitioners.
"In recent years, people suspected that the organs of Uighur Muslims living in Xinjiang are stolen. Uighurs are undergoing health tests and blood tests. According to [Enver Tohti, a former Uighur surgeon who witnessed the Chinese regime's harvesting of organs from prisoners], the purpose of the test was to form a live bank of human organs along with information about Tibetan and Christians of underground churches.
"However, most of the evidence proves that the organs are from Falun Gong practitioners. There are 800,000 to 3 million people in Chinese concentration camps and prisons. The limited transparency of these camps means that there are no exact figures [about] the seriousness of the problem."
International Community Expresses Concern about the Source of Organs
"The European Parliament passed a resolution in 2013 stating that allegations of systematic removal of organs from Falun Gong practitioners and other prisoners of conscience are credible. The Parliament said that the EU would condemn the CCP's actions and warned its citizens not to go to China for organ transplants, because organs may come from prisoners of conscience.
"Doctor Marja Heinonen-Guzejev, who is with an organization of doctor social responsibility, said that Spain, Israel, Italy, Norway, and Taiwan have banned their citizens from organ transplant travel to China.
"Heinonen-Guzejev said that the international research community has begun to pay attention to the ethical aspects of Chinese scientific papers on human organ transplantation. She said that in August this year, the scientific journals Plos One and Transplantation had retracted 15 Chinese scientific papers on the grounds that researchers could not explain the source of organs used in medical research."