Shandong Woman Sentenced to Prison for Her Faith in Falun Gong
October 03, 2019 | By a Minghui correspondent in Shandong Province, China
(Minghui.org) Ms. Zhang Liping became the third resident in Qihe County, Shandong Province to be sentenced to prison in recent months for her faith in Falun Gong, a spiritual discipline that has been persecuted by the Chinese communist regime since 1999.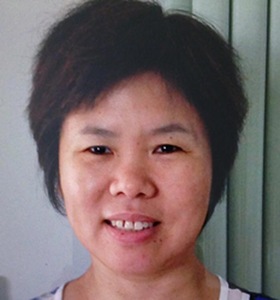 Ms. Zhang Liping
Ms. Zhang, a vendor of massage chairs in her 50s, was on her way to repair a customer's chair when she was arrested by four officers from Qihe County Domestic Security Division on April 1, 2019.
The police ransacked her home and confiscated her Falun Gong books, related materials, printer, computer, her cellphone, as well as her car.
Ms. Zhang's arrest was triggered after a resident in Qihe County reported to the police upon finding Falun Gong informational posters in his village on December 18, 2018. After checking the surveillance video, the police found that Ms. Zhang's car had passed by in that region and suspected that she and other practitioners had put up the posters there.
The police monitored and followed Ms. Zhang for four months before arresting her.
Officer Chen Hao attempted to force Ms. Zhang to tell them the names of other practitioners riding in her car on December 18, 2018. She refused to comply.
Chen retaliated by ordering the guards at Dezhou Detention Center to block Ms. Zhang's lawyer from visiting her.
When Ms. Zhang's lawyer went to the Domestic Security Division to submit documents for her case, the officers also refused to meet with him.
Zhang Xiaoliang, head of the Domestic Security Division, demanded the lawyer to register his representation of Ms. Zhang with Qihe Country Judicial Bureau. The lawyer countered that he was from a different region and thus not subject to oversight of Qihe Judicial Bureau. He further pointed out that no law dictates that lawyers must register with judicial bureaus in order to represent a client.
Ms. Zhang appeared in Qihe County Court on August 20, 2019. Her lawyer entered a not guilty plea for her.
The prosecution evidence included photos of the posters allegedly to have been put up by Ms. Zhang. Her lawyer countered that the photos didn't show his client putting up posters and could not be used as evidence against her.
The prosecutor alleged that Ms. Zhang's possession of Falun Gong books and materials broke the law. Her lawyer argued that the Chinese publication bureau issued a notice in 2011, lifting the ban on any publication related to Falun Gong, so it's perfectly fine for Falun Gong practitioners to print, own, or distribute information about their faith.
Ms. Zhang testified in her own defense. She said that she didn't violate any law in practicing Falun Gong and she hopes the public can become more aware of the persecution against her faith.
The lawyer demanded Ms. Zhang's acquittal and urged the presiding judge, Song Zhaojun, to follow his conscience and not politicize the case.
Song informed Ms. Zhang's lawyer on August 30, 2019 that she was sentenced to 1.5 years in prison.
This wasn't the first time Ms. Zhang has been targeted for her faith. She was arrested in March 2010 and given one year and nine months at Shandong Women's Forced Labor Camp.
Three Other Local Residents Persecuted for Their Faith
In the past 20 years, officers from Qihe County Domestic Security Division have been actively persecuting local practitioners. They threatened the practitioners' family members to not expose their persecution on Minghui.org, or they would face retaliation.
In addition to Ms. Zhang, two other local Falun Gong practitioners have also been sentenced to prison for their faith in the past few months. A fourth practitioner is facing prosecution for practicing Falun Gong.
Mr. Jia Zhaomin, a 48-year-old teacher, was arrested on November 11, 2018 for distributing informational materials about Falun Gong. He was sentenced to two years by Qihe County Court on April 29, 2019.
While accompanying Mr. Jia's wife to seek justice for him, Ms. Jiang Yuqin, in her 50s, was arrested on December 25, 2018. The police held her in detention and kept her family in the dark of her whereabouts. Her family later learned that Ms. Jiang was sentenced to one year in prison by Qihe County Court and has been sent to the prison on July 11.
Mr. Wang Ruiguo, 65, was arrested at his mother's home by officers from Qihe County Domestic Security Division in July 2019. He is currently being held at Dezhou City Detention Center.
Related reports:Shandong Woman Secretly Sentenced for Seeking Justice for Detained Man of the Same Faith
Award-winning Teacher Faces Indictment for Sharing Information about His Faith