Germany: Falun Gong at Health Expos in Bremen and Chamland Vital
September 23, 2018 | By Falun Gong practitioners in Germany
(Minghui.org) Visitors to health expos held recently in Bremen and Chamland Vital, Germany, had a chance to find out about Falun Gong and even to learn the exercises if they wished.
Bremen
A health expo for seniors was held in Bremen September 18 and 19, 2018. The Falun Gong booth featured an introductory video of the meditation practice and practitioners demonstrating the exercises.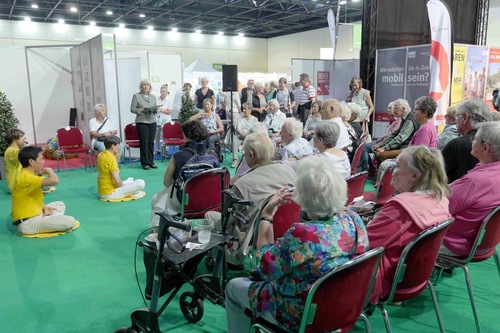 Interested seniors watch the Falun Gong practitioners' meditation demonstration.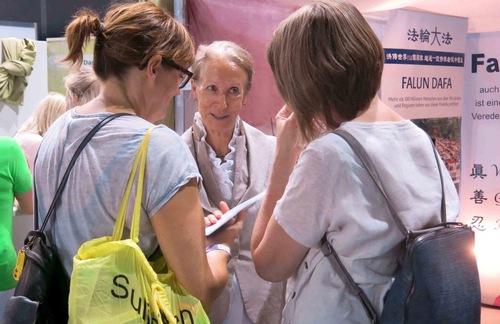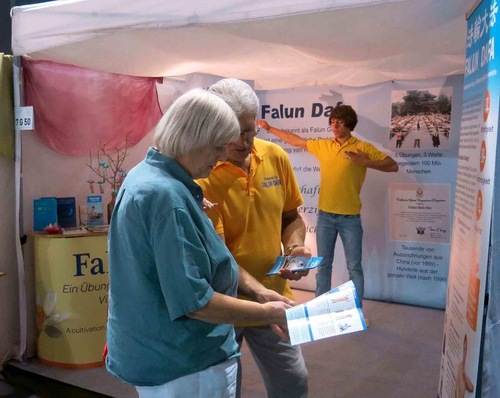 Telling people about Falun Gong
A woman watching the practitioners demonstrate the fourth exercise said that the practitioners seemed very calm and undisturbed despite all the surrounding noise. She followed along to learn the exercises.
A reporter took photos of the exercise demonstration. She also took a copy of Minghui Weekly and asked a practitioner to send her more information about the practice.
Chamland Vital
A health expo held in Chamland Vital in mid-September was the biggest such event in the Chamland Schau area. It was held in the brand new municipal hall and many visitors attended. The Falun Gong booth was near the entrance.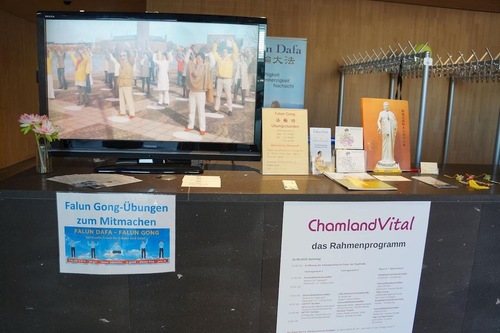 The Falun Gong booth
Visitors learning Falun Gong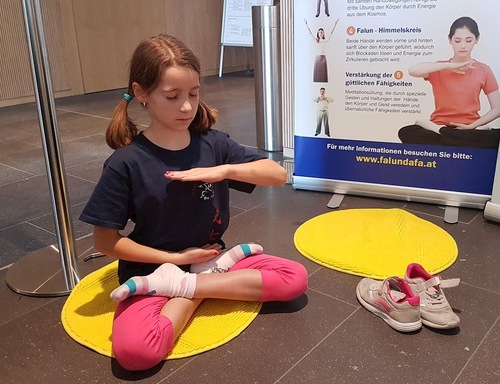 A young girl practicing the meditation
On the first day of the exhibition, a woman with a cane came to the booth and told a practitioner that she had learned about Falun Gong at the health expo last year. She said she was happy to see it again.
She said she was not convenient to learn with a cane at this time but she would tell her husband to learn it. She expressed dismay at the persecution of Falun Gong practitioners in China.
During the two-day exhibition, practitioners were asked how Falun Gong differs from other schools of cultivation. Many interested visitors wrote down the time and place of the local practice site. Some decided to start learning the exercises in the classroom on the second floor.
Markus Schöberl, a mechanic, came to the expo from 40 kilometers away in Chamland. He has a problem with his back due to his work. To try to relieve the pain, he tried a yoga session.
He heard about Falun Gong for the first time and happened to see the the booth just as he was about to leave. He was very interested and decided to start learning it. He said he felt very good and relaxed afterward.
Related article in Chinese: Health Expo in Chamland Vital.