Two Men in Detention Develop Severe Health Problems, Denied Medical Care and Parole
August 04, 2018 | By a Minghui correspondent in Liaoning Province
(Minghui.org) Two Dandong City residents developed severe health problems in just one month of their arrest, but authorities have refused to render them medical care or grant them parole.
Mr. Zhang Ming and Mr. Li Quanchen were arrested on June 29, 2018, for refusing to renounce Falun Gong, a spiritual discipline being persecuted by the Chinese communist regime.
Both men were abused at Kuandian Detention Center and exhibited worrisome conditions. Mr. Zhang is suffering from high blood pressure and heart palpitations, while Mr. Li has been diagnosed with tuberculosis.
Officer Wang Jinhai, who is in charge of the case, refused to provide further information on the two practitioners' health when confronted by their family members. He instead asked the families to try to pressure their loved ones to write statements to give up Falun Gong. The families declined.
This is not the first time that Mr. Zhang and Mr. Li have been targeted for their faith.
Wife Persecuted to Death Shortly After Her Arrest
Mr. Zhang and his late wife, Ms. Xiu Jinqiu, had been repeatedly arrested for refusing to renounce Falun Gong. Ms. Xiu was persecuted to death on November 28, 2013, less than three months after her last arrest.
The couple's daughter, Ms. Zhang Hongyu, moved to the U.S. in 2014 to avoid arrests. The young woman also practices Falun Gong. She is now calling for her father's release.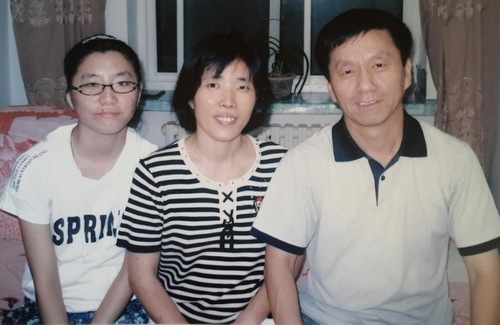 Mr. Zhang, his daughter, and his late wife.
Mr. Li Once Imprisoned for 7 Years
Mr. Li was sentenced to seven years in prison back in 2002. The prison guards kicked him, shocked him with electric batons, and tortured him using other means. Despite being diagnosed with tuberculosis, the prison refused to release him.
Mr. Li asked to be allowed to do Falun Gong exercises to restore his health. The guards agreed. He got better in just a few days. Every test was normal when he was examined again a few months later.
However, Mr. Li's tuberculosis returned following his latest arrest in 2018.
Related Report:Mother Tortured to Death, Father Arrested for Exposing Persecution of Their Faith