Falun Gong Practitioner Ms. Li Qinghua from Guangzhou Detained for Almost One Year
July 28, 2018 | By a Minghui correspondent from Guangdong Province
(Minghui.org) Falun Gong practitioner Ms. Li Qinghua, an accountant from Tianhe District, Guangzhou City, has been detained for eleven months since August 2017.
Ms. Li is 49 years old. She received her bachelor's degree in financial accounting from Changsha University of Science and Technology. Afterwards, she worked as an accountant in Huangpu District Power Supply Bureau in Guangzhou.
Before she practiced Falun Gong, she was depressed and had many diseases. The practice made her healthy, open-minded and cheerful.
However, since the CCP began persecuting Falun Gong in July 1999, Ms. Li Qinghua has been arrested three times for her belief in Falun Gong and its principles of Truthfulness-Compassion-Forbearance. Her workplace also laid her off because of her beliefs.
For years, she was under surveillance of her local residential community officers and harassed by officials from the 610 office. Unable to take the pressure of her persecution, her husband divorced her.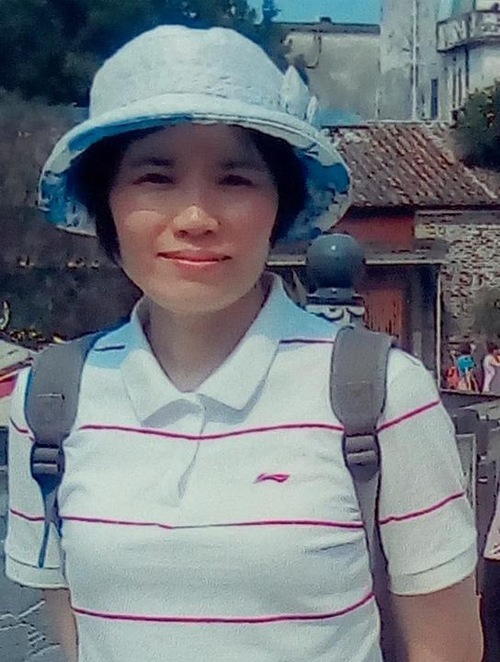 Ms. Li Qinghua
Ms. Li mailed some Falun Gong materials to a colleague in April 2017. On August 15, 2017, a dozen police officers from Yuexiu District Domestic Security Division and Dongshan Police Station arrested her at her workplace. She was taken to Yuexiu District Detention Center, where she has been detained since.
Gaining Physical and Spiritual Health after Practicing Falun Gong
Ms. Li Qinghua was introverted and quiet in her childhood. She was not in good health and was diagnosed with hepatitis B in kindergarten. She had to quit school in third grade for one year to receive medical treatment in the hospital.
After getting married, she suffered from serious depression, insomnia, stomach aches and chest pains due to breathing problems. One time in 1998, she fainted from the pain. She was so distressed by her illnesses that she even thought of suicide.
In March 1999, she was fortunate enough to come across Falun Gong. After one month of practice, her physical discomfort vanished completely. She became open-minded and cheerful. All of her family supported her in practicing Falun Gong, while she enjoyed the warmth and joy of life for the first time.
When the CCP started persecuting Falun Gong in July of 1999, Ms. Li's husband had cracked under the pressure and developed doubt and hatred towards Falun Gong. He asked for a divorce in 2005. Ms. Li had no complaints toward her husband. She gave up all the family belongings and took her 10-year-old son back to her parents' home.
Ms. Li and her mother-in-law got along well with each other. Though she had been divorced for more than ten years, her former mother-in-law would always call Ms. Li's family about the progress of her unjust case and looked forward to her early release.
Previous Persecution
In February 2007, without going through legal procedure, Ms. Li was given one and a half years of forced labor and taken to Chatou Women's Forced Labor Camp. Her family didn't receive any notice about her forced labor until several months later. No one had signed the notice.
Ms. Li was forced to do unpaid labor including adding rivets to jeans, making chain bracelets, and adding small beads to clothes, working over 10 hours a day.
After she was released from labor camp, her workplace barred her from going back to work. She put in many requests and eventually got permission to return, but not to her accountant position; she was transferred to the logistics department and given minimum wage.
Local 610 officials sent police officers to harass her frequently at work and disturbed her daily life.
After clocking out on June 8, 2011, Ms. Li's supervisor lied to her about having more work for her to do to get her to come back to the office.
Eight police officers surrounded her, took away her cell phone, arrested her and transported her to South Tianhe Street Police Station, where she was detained for 12 hours. Meanwhile, they ransacked her parents' home as well as her rented apartment. They disregarded Ms. Li's request to take care of her son, who was suffering from lymphoma and receiving chemotherapy at the Guangzhou Cancer Hospital.
The 610 officials instructed officers from the local police, state security, and residential community to constantly harass Ms. Li at her workplace. Director Chen Changyi from Tianhe District Comprehensive Social Management took two people to meet Ms. Li and attempted to coerce her to give up Falun Gong.
At the beginning of 2012, when Ms. Li was on vacation for less than two days, police officers put a lot of pressure on her family and workplace, ordering them to bring her back as soon as possible.
After she was detained again in August 2017, Ms. Li's previous diseases recurred: insomnia, depression, hallucinations, heart disease. She worried that she would become mentally ill. Under such circumstances, the CCP officials forced her to sign a letter admitting guilt and recognizing her punishment.
Ms. Li's father is almost 80 years old and has many diseases. He is living in fear due to his daughter's suffering, and often has mood swings between anger and despair. Her 74-year-old mother is trying all she can to rescue Ms. Li, calling up anyone she can.
We hope that the police officers, prosecutors and court officials from Haizhu District could respect the citizen's rights stated in the constitution, face their own responsibilities, and release Ms. Li as soon as possible.