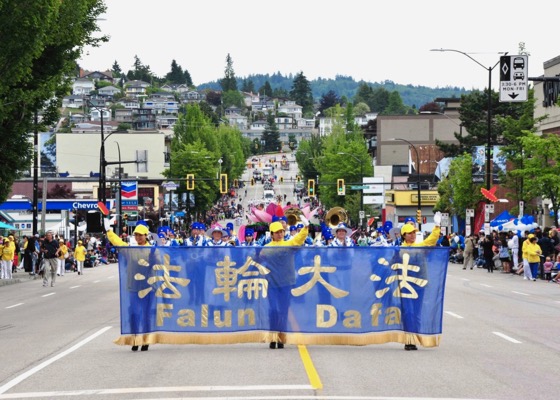 Merchants in Burnaby, British Columbia, which is just outside of Vancouver, have taken their "hats off" to salute the community by holding a parade and street fair every year since 1989. This year Falun Gong practitioners presented a float, waist drum team, and the Tian Guo Marching Band in the parade. It was a great opportunity for the community to learn about Falun Gong and Chinese culture.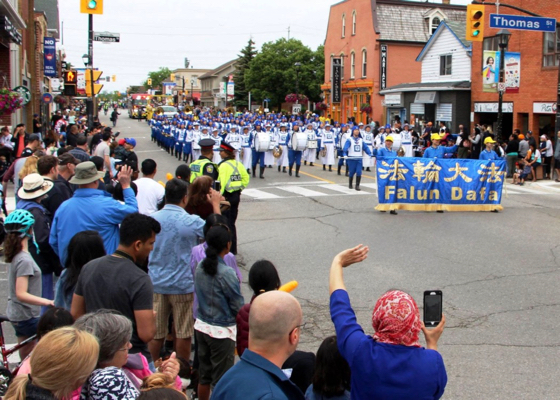 New York area Falun Dafa practitioners recently took part in the 91st Annual Little Neck-Douglaston Memorial Day Parade in Queens, while in Toronto, practitioners took part in two parades on the same day. Both Chinese and Western spectators were particularly excited and proud to see Falun Gong in the parades and all hope that the persecution in China will end soon.
A woman with serious asthma and other ailments visited doctors for 19 years, and took many medications, but found no relief. After reading Zhuan Falun three times in a row, she understood that her suffering was due to karma. Her life changed when she started living by the principles of Truthfulness-Compassion-Forbearance and became a diligent Falun Gong practitioner. Her recovery convinced her relatives and friends of the power of Dafa.
Young cultivator who works in a restaurant run by practitioners describes the challenges and rewards of the job and how he applies the Fa principles in his work.
When people bring up the propaganda claiming that Falun Dafa practitioners refuse to take medicine, this practitioner tells them, "I have practiced for over 20 years and have been healthy all that time. So what would be the point of taking medicine? Plus, all medicine has side effects."
An increasing number of people in China are realizing that the persecution of Falun Gong by the Chinese communist regime is wrong and seeing that Falun Gong practitioners are good people with high moral standards.
~ Parades & Other Community Events ~
~ Podcasts ~
~ Accounts of Persecution ~
~ Journeys of Cultivation ~
~ Improving Oneself ~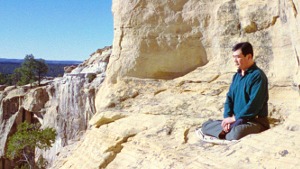 Master Li quietly watching the world from amidst the mountains after leaving New York following July 20th, 1999. (Published January 19, 2000)