The Hindu: A Meditation that Improves Physical Health and Mind
June 20, 2018 | By Minghui correspondent Wang Ying
(Minghui.org) The Hindu, the second most circulated English-language newspaper in India, published an article on May 31 introducing the ancient meditation of Falun Dafa. "A New Way to Health" described how the cultivation system was well received by Indians.
"Falun Dafa, also known as Falun Gong, is a modern Chinese spiritual practice that combines meditation and Qigong exercises that embrace the philosophy of truthfulness, compassion, and tolerance," wrote Indhumathi Nagarajan. She said the practice was founded by Master Li Hongzhi and brings a person to a state of wisdom and harmony. In addition, the five exercises can be performed any time, anywhere.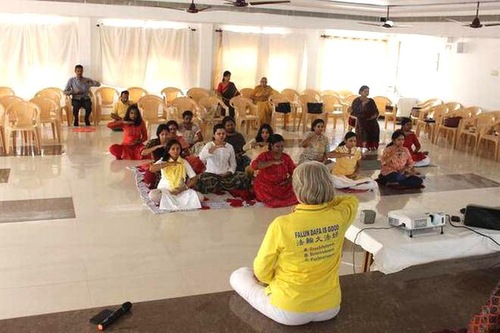 Residents learn the fifth Falun Dafa exercise during a recent workshop.
A workshop recently took place at Madurai, the second largest city in the state of Tamil Nadu. Tatiana, a Russian Falun Dafa practitioner from Puducherry, showed new practitioners how to do the exercises and corrected their movements.
At the age of 63, she could sit easily in the full lotus position (with both legs crossed), while many people half her age could not do it. "I have been doing Falun Dafa for ten years and it has worked wonders for me," explained Tatiana.
Fashion designer Mamta Fomra brought Falun Dafa to Madurai. During a trip to New Zealand, she met Winnie and learned the exercise from her. "I did a session with her and found it to be effective, impressive, energizing and healing," recalled Mamta.
She then invited Winnie to India for classes. Through Winnie, two practitioners from Bangalore, Chitra Devnani and Deepak, also joined to help organize the workshop.
"Falun Dafa is the kind of practice where you discover yourself and get self-refined with practice. I used it to control my temper and it has made me a better person," explained Deepak. "I took up Falun Dafa as a last resort to a persistent back ache troubling me for years. Within a week I felt a positive difference and my doctor visits stopped," added Chitra.
Winnie said that she had been sick from time to time, which stopped after she began to practice Falun Dafa. "Now I feel energetic all the time and my whole lifestyle has improved for the better. Falun Dafa heals not just your body, but helps cultivate a positive attitude and strengthens your mind as well," she recommended.
Mamta, Winnie and some participants from the workshop continued practicing Falun Dafa for over a week at nearby Sundaram Park. People came up to watch and some started to learn the exercises.
"Falun Dafa evoked a good response and is more interesting and fulfilling when practiced in groups," said Mamta. She believes many locals will be happy to try this rejuvenating practice.
This article also mentioned that although the Communist Party banned Falun Dafa in China, the books and teachings have been translated into many languages, and the practice has gained popularity outside China.