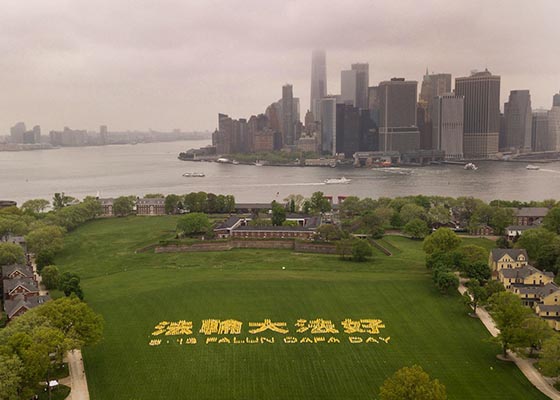 Nearly 1,000 practitioners in New York came to Governor's Island to form the Chinese characters "Falun Dafa is good" to celebrate the 19th World Falun Dafa Day on May 13th and to also celebrate the 67th birthday of Mr. Li Hongzhi, the founder of Falun Dafa. Practitioners shared their experiences of the benefits they have received from the practice.
Over 1,200 practitioners attended the event, where 18 speakers shared how they benefited from Falun Dafa. One practitioner told how difficult tasks became easier as she worked with her team: "We have a very limited staff. Probably because of this, all of us are now good at multitasking and are able to handle everything. If one of us does not do well, others will provide encouragement and help instead of finding fault. This allows all of us to do our best."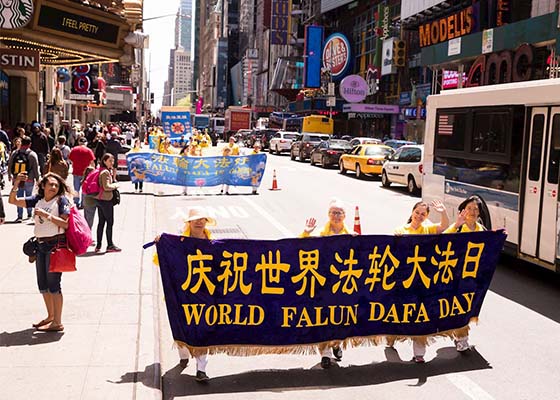 Practitioners across the United States held parades and other activities to celebrate the anniversary of Falun Dafa's public introduction and the birthday of its founder, Master Li Hongzhi. Some practitioners shared how they improved their character and health through the self-cultivation practice. The parades also gave tourists and immigrants from China a view of Falun Dafa that they have not been allowed to see in their home country.
In China, where official corruption is rampant, Falun Dafa practitioners stand out for their honesty and integrity. This is one such practitioner who is in an ideal position to take advantage, but has steadfastly maintained his professional and personal standards according to Falun Gong's teachings.
A speech therapist teacher shares how Dafa gave her wisdom and creativity and how her improved moral standard had a positive impact on the entire school where she teaches.
In celebration of World Falun Dafa Day, 1,000 practitioners gathered to do group practice, a parade and art performances. Several elected officials and supporters spoke at the rally.
~ Dafa Day Recognition ~
~ Dafa Day Art Designs ~
~ Improving Oneself ~
~ Clarifying the Truth ~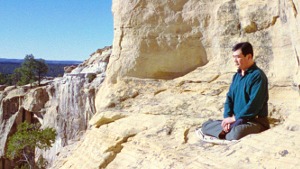 Master Li quietly watching the world from amidst the mountains after leaving New York following July 20th, 1999. (Published January 19, 2000)