Celebrating World Falun Dafa Day in New York, Chicago and San Francisco
May 14, 2018 | By Minghui correspondents Cai Ju, Jia Wei, and Wang Ying
(Minghui.org) Together with practitioners all around the world, Falun Dafa practitioners from coast to coast in the United States held a variety of events this weekend to celebrate the 19th World Falun Dafa Day and the 67th birthday of Master Li Hongzhi, the founder of Falun Dafa.
In addition to celebrations, these events also showed the beauty of Falun Dafa and introduced the self-cultivation practice to the public.
New York
Around 2,000 practitioners held a parade across Manhattan on 42 Street from 2 nd Avenue to 12th Avenue on Friday, May 11.
The procession was divided into three themes: the beauty of Falun Dafa, stopping the persecution in China, and supporting those who have renounced their memberships in the Chinese Communist Party.
Led by the 200-member Tian Guo Marching Band, the practitioners demonstrated the Falun Dafa exercises and displayed banners showing Dafa activities around the world and practitioners' peaceful efforts to end the persecution.
Practitioners also performed a traditional Chinese dragon dance and waist drums.
Chicago
The celebration in Chicago took place in front of the Thompson Center downtown. Practitioners held a photo exhibition that showed the journey of Falun Dafa around the world and efforts to end the persecution in China. They also demonstrated the exercises and shared with the public how they improved themselves through the practice of Falun Dafa.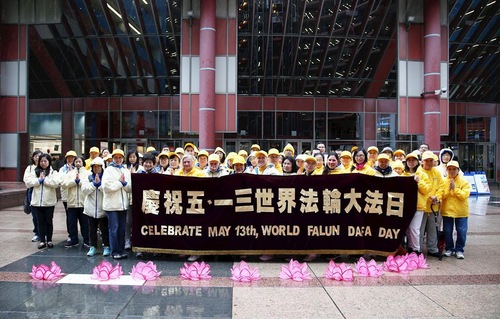 Wishing Master Li Hongzhi a happy birthday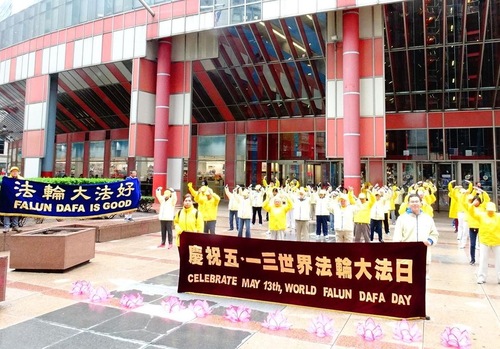 Demonstrating the exercises
To the practitioners, the Thompson Center holds special meaning. In July 1999, just before the launch of the persecution in China, the Chinese regime had already started to slander Falun Dafa. At a time when many people were being misled by the Communist Party's propaganda, the governor of Illinois and the mayor of Chicago issued proclamations to Master Li Hongzhi praising the significant contributions he had made to society. Master Li accepted the proclamations in front of the Thompson Center on June 25, 1999.
In the last 19 years, practitioners have held countless activities in front of this building to tell the public about Falun Dafa. Some people also decided to learn Falun Dafa at this location.
San Francisco
Practitioners in San Francisco also held a parade on Saturday at Fisherman's Wharf, a popular tourist attraction.
After the march, practitioners put on a talent show in front of the Ferry Building, performing traditional Chinese dances and demonstrating the exercises.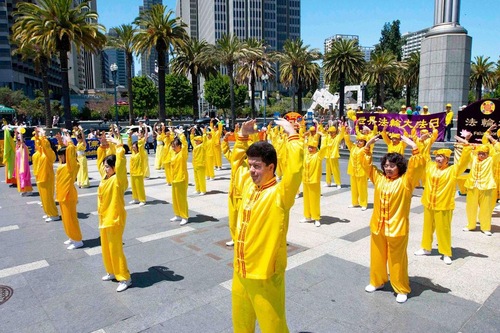 Demonstrating the Falun Dafa exercises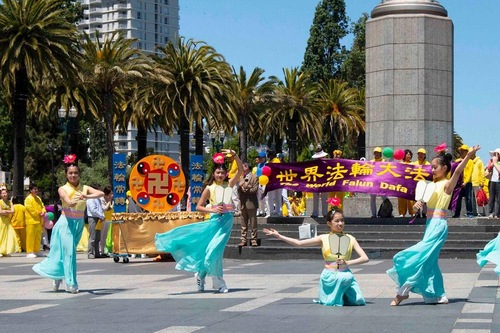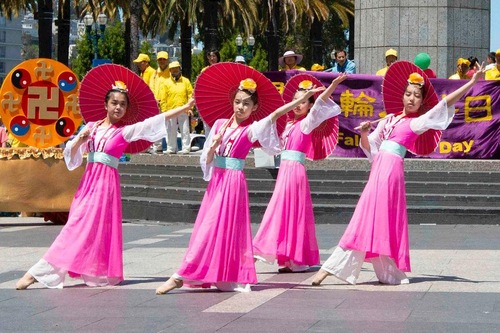 Traditional Chinese dances
Practitioners Share Experiences of Practicing Dafa
At the events, many practitioners shared their stories of self-cultivation in Falun Dafa.
Yulia Seijkens, a 28-year old Dutch woman, is a student in New York. She started to practice Falun Dafa last summer.
Yulia recalled that when she passed by the group exercise site at 42 Street and 5th Avenue in Manhattan, she felt a strong energy flow. She wondered what it was. A passerby told her it was Falun Dafa, which eliminates evil at different levels. Yulia said to herself, "This is what I have been looking for."
In her cultivation practice, she quit all kinds of unhealthy habits. Her physical and mental health has improved.
"I've become peaceful and harmonious," Yulia said, "Master Li saved me. No words can describe my appreciation."
Thirty-one-year-old Cristina Matei had a similar experience. She felt strong energy going through her body when she first saw practitioners' group exercise in Manhattan last May.
"This is what I've been looking for," she said, "That energy is really strong."
Cristina now does the exercises every day. She said her skin allergy went away, and everything around her has become more beautiful.
"I am a different person now," she said, "I used to only think about myself. But now, I think of others first."
To her, giving people money is not as good as introducing Falun Dafa to them, for Dafa can change everything.
"This is why I'm at this parade," she added, "I want more people to know about Falun Dafa."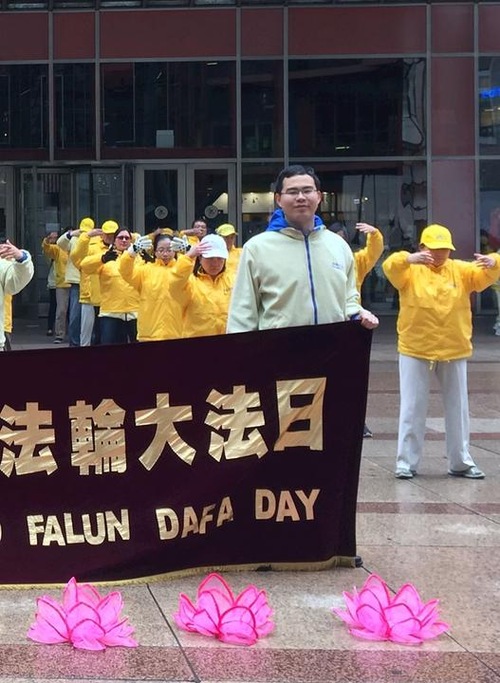 Ding Xiangyu at the celebration in Chicago
Ding Xiangyu, a young electrical engineer in Chicago, said he found the meaning of life through practicing Falun Dafa.
"I thought I was a good person, but in cultivation, I realized I was selfish. Many thoughts of mine had deviated from traditional values," he said.
He added, "Cultivation also gives me wisdom in daily life and at work. When I let go of some attachments, my level improves, and I can make some progress in my study and work."
Sabre Van Pham, a Vietnamese living in Chicago, started practicing in April 2017. She happily said all of her diseases, including the heart disease and the back pain, were cured by the practice.
"My body has become lighter," she said, "More importantly, I learned how to look inward for my own faults during conflicts and how to control my temper."
Spectators Enjoy the Performance
The celebrations inspired many spectators on the streets, including some from China.
Mr. Wei from Hangzhou, China, joined the parade in Manhattan.
"I support Falun Gong, and I want to contribute to the peaceful resistance," he said. "Although I don't practice Falun Gong, I admire them. They truly follow the principles of Truthfulness-Compassion-Forbearance."
Chen Tingting, a student at Molloy College in New York, came to the United States six months ago. Chen said he had had a negative impression of Falun Gong because of the Chinese Communist Party's propaganda.
"I was afraid of them," Chen said, "but when I got close to them, I found they are good, normal people, the opposite of what I had heard in China."
Mr. Yang, a tourist in San Francisco, was amazed by the parade.
"I've seen Falun Gong everywhere in the world: Japan, New Zealand, Canada... Falun Gong belongs to the whole world; it benefits everybody," Yang said, "I don't believe the Communist Party's lies."
Ms. Hu, who moved to San Francisco from China not long ago, walked with the parade for a long time.
"This is my first time seeing Falun Gong," she said, "It's magnificent. It's amazing. It's very different from what I had heard in China. I am shocked."
James Blake, a professor in New York City, said the march made him think and that he had never thought people would be persecuted for believing in truthfulness, compassion, and forbearance. Blake encouraged practitioners to keep up their good work and let more people know about the persecution.
Suzanne Bellamy, a retired art teacher in Manhattan, had tears when she saw the parade. To her, it is one of the best ways to expose the persecution. She said the persecution is one of all human beings and that Americans should act to stop it, from the grassroots level to the president.
Paula Steele walked with the parade in Manhattan and said she felt strong, pure energy. "Even though I am busy, I have to stop, because it is so wonderful," she said, "New Yorkers need Truthfulness-Compassion-Forbearance. It's the principle the whole world needs to follow."
She wished that everyone would read the Falun Gong flyers because it has the most wonderful things that a soul needs. "It feels so wonderful," she added, "I feel their compassion. Today is my lucky day."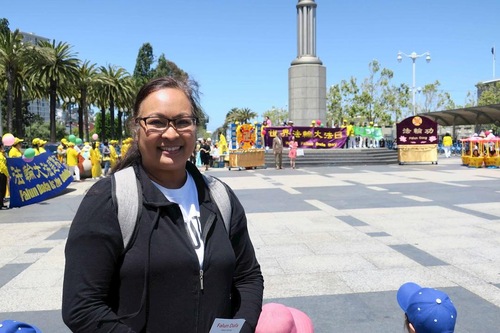 Sherry Mangayayan felt harmonious, strong energy at the group exercises in San Francisco.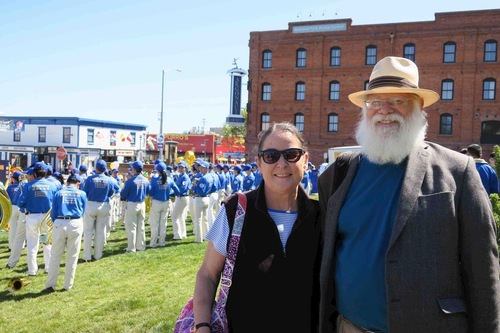 Helen and her husband Ron Pen were attracted to the exercise music while visiting San Francisco. "The music is very pleasant," Ron said.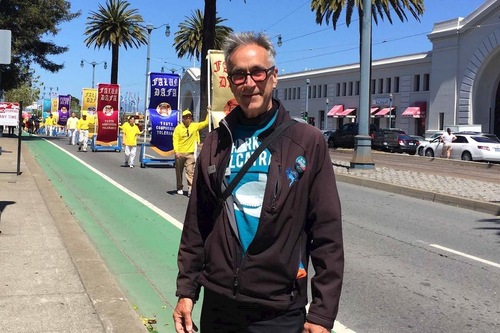 Michael Hruska, who works at the Fisherman's Wharf, believes that Truthfulness-Compassion-Forbearance are universal values.
Related reports in Chinese: