Indonesia: Practitioners Introduce Ancient Meditation Practice at Chinese New Year Celebrations
February 21, 2018 | By a practitioner in Indonesia
(Minghui.org) Falun Dafa practitioners in Indonesia took part in several events over the 2018 Chinese New Year to celebrate the holiday with the local community and to introduce this mind and body self-improvement practice to local residents as well as tourists from China and around the world.
Jakarta
Practitioners gathered for an event at the Indonesia Miniature Park in East Jakarta on the morning of February 18. As one of the most popular tourist sites in the region, the park attracts a large crowd every day. Many visitors were interested in the Falun Dafa meditation and a number of people learned the exercises that day.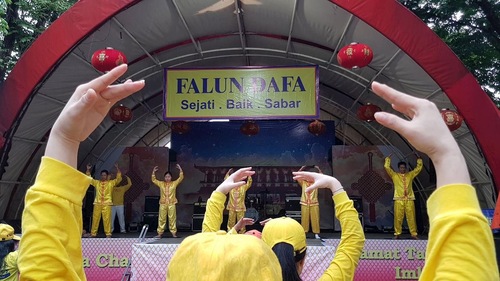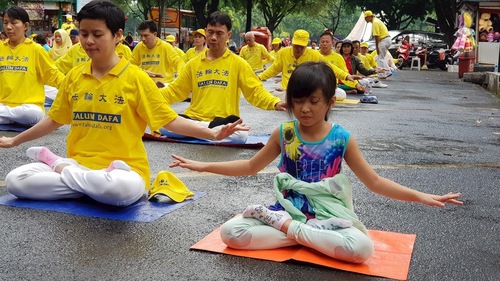 Practitioners perform the Falun Dafa exercises together at the Indonesia Miniature Park on February 18, 2018.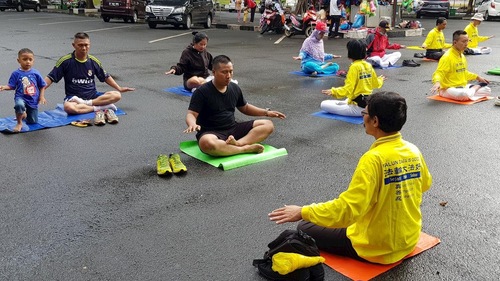 Visitors at the park learn the meditation from a practitioner.

After performing the Falun Dafa exercises as a group, practitioners staged a peaceful march through the area. The procession was led by a lively waist drum troupe and was followed by banners and posters with the words "Truthfulness, Compassion, Forbearance," and "Falun Dafa in Indonesia."
A large number of spectators took pictures, accepted informational materials, and talked with practitioners. Concerned about the persecution of Falun Dafa in China, many people signed petitions calling for a stop to the persecution and to support the lawsuit against Jiang Zemin, the former Chinese Communist Party (CCP) leader who banned Falun Dafa in 1999.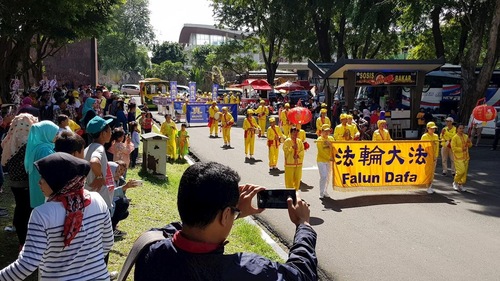 Waist drum performance by practitioners.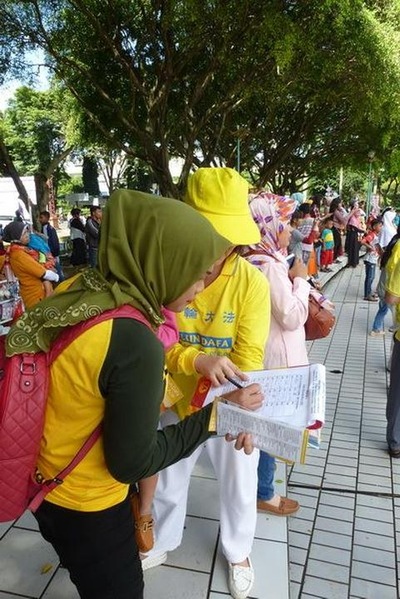 People sign a petition to support an end to the persecution of Falun Dafa in China.
Bali
As one of the most popular tourist sites in Asia, Bali and its smaller neighboring islands are well visited, with 90% of the tourists being from mainland China. Practitioners came to Nusa Lembongan Beach on February 10 and 11, to introduce Falun Dafa to passersby.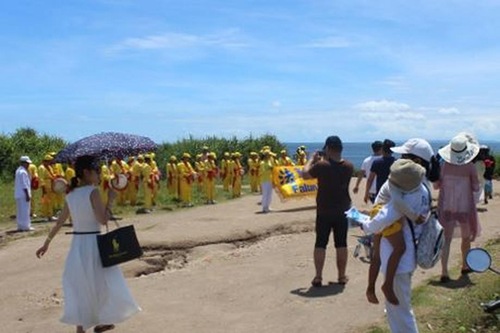 Waist drum performance by practitioners at Nusa Lembongan Beach in Bali.
Many tourists stopped to watch the waist drum performance and the group meditation. A young visitor from China asked, "How much money are you making for doing this?" A practitioner explained to him that they reach out to visitors from China voluntarily because many Chinese people have been misled by the hate propaganda from the CCP. "The practice has improved our physical health and heart and mind nature. But because of the suppression of Falun Dafa in China, many people have been brainwashed by the propaganda. They not only lost an opportunity for a healthier and better life but have also turned against Falun Dafa's principles of Truthfulness-Compassion-Forbearance."
Some tour guides initially would not accept any informational materials, but after talking with practitioners and learning the facts about Falun Dafa, many of them changed their minds and began reading the materials.
One practitioner said that she was glad to see more and more Chinese tourists willing to read posters and materials about Falun Dafa. "Some of them have agreed to quit the Communist Party and its affiliated organizations," she noted. "I am very happy for them."