Organ Trafficking Bill Passes Second Reading in Canadian Parliament
December 20, 2018 | By Minghui correspondent Ying Zi
(Minghui.org) Canadian Senate Bill S-240 passed the second reading in the House of Commons on International Human Rights Day on December 10. The bill would make it a criminal offense to receive an organ taken without consent of the donor. The punishment would be up to 14 years of prison. The bill also denies entry into Canada of those involved in illegal organ trafficking as immigrants or refugees.
Members of Parliament debated and voted on the principle of the bill and referred the bill to the Committee on Foreign Affairs and International Development for consideration. The bill has already passed in the Senate in October. The next step is a third reading, after which the Bill will become law once it is given Royal Assent.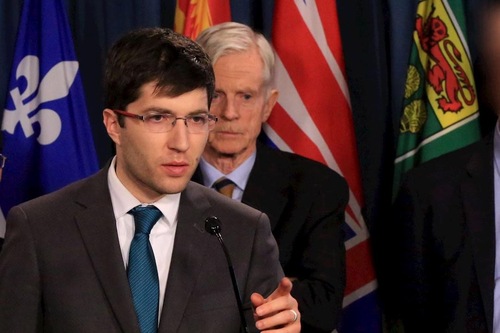 Conservative MP Garnett Genuis introduced Bill S-240 in the House of Commons.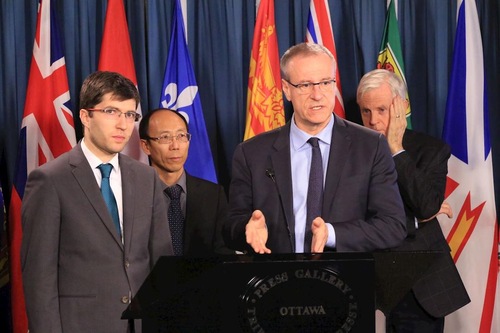 MP Borys Wrzesnewskyj (front right) introduced a similar bill ten years ago.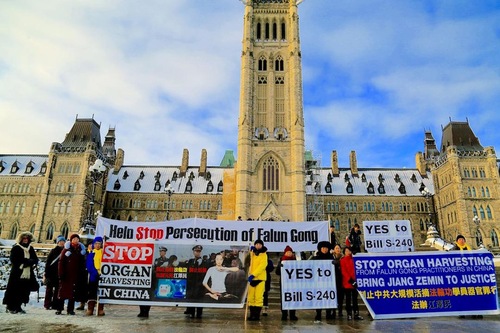 Falun Gong practitioners gathered at Parliament Hill in support of Bill S-240 on November 20, when the bill underwent the first reading in the House.
Bill S-240 Targets Forced Organ Harvesting in China
MP Garnett Genuis, who introduced the bill in the House of Commons, said during the first reading on November 20, "Two well-known Canadians, David Matas and David Kilgour, have uncovered something shocking. Their painstaking research has unearthed that between 60,000 and 100,000 human organs are being transplanted in Chinese hospitals each year, with virtually no system of voluntary donation in place."
He continued, "Most of the organs come from prisoners of conscience, primarily Falun Gong practitioners. Today, I am moving a Senate bill to ask the House of Commons to rule on a fairly simple proposition, that the removal of vital human organs from living patients without their consent is morally unconscionable and must be stopped."
MP Genuis said during the second reading on December 10, "We go on the principle of the legislation. This is the fourth bill in 10 years on this. I think we should all agree with the principle that Canada cannot, in good conscience, consent to the trafficking and harvesting of human organs from non-consenting people, that we can take a clear and moral stance on this fundamental human rights issue, the details of which can be worked out at committee to the extent they need to be."
MP Hardcastle: "China's organ-harvesting industry developed in tandem with its systematic repression of Falun Gong"
MP Cheryl Hardcastle, as vice-chair of the Subcommittee on International Human Rights, stated in the debate on December 10, "... the subject of black market organ harvesting is not a new one. Indeed, Bill S-240 is the fourth iteration of a bill that has been through many parliaments. These bills were written largely in response to credible and appalling reports concerning organ harvesting in China."
"The Subcommittee on International Human Rights has studied the issue of organ harvesting in China numerous times and has issued at least two lengthy reports and a number of statements. The reports discuss in gruesome detail the establishment within China of an actual organ-harvesting industry."
"According to testimony that our subcommittee heard on November 3, 2016, China's organ-harvesting industry developed in tandem with its systematic repression of Falun Gong."
MP Hardcastle said that her party, the New Democratic Party (NDP), supports Bill S-240. "As this is the fourth bill on organ trafficking in 10 years, the NDP calls for cross-party co-operation to ensure the swift passage of Bill S-240 and for this issue to be finally taken seriously. In addition to supporting this initiative, more should be done to encourage ethical, safe organ donation domestically."
"Canadians contribute to organ trafficking primarily through a phenomenon called transplant tourism. It is the most common way to trade organs across national borders. Recipients travel abroad to undergo organ transplants and there is currently no law in Canada against this practice."
S-240 Prevents Canadian Citizens from Violating Human Rights Overseas
MP Hardcastle also said, "... it is generally wise to leave the prosecution of those crimes to the state where they took place. However, the normal practices should clearly not apply in cases where the local government is indifferent to, is unable to respond to, or is directly facilitating a grievous violation of fundamental human rights."
"In such cases, Canada can and must prosecute Canadians who go abroad to abuse human rights. Human rights do not apply any less to human beings in other countries. Nation states provide the practical framework through which rights are generally identified and preserved, but this should not be an excuse for allowing their own people to be complicit in grievous violations of human rights."
MP Jamie Schmale said on December 10, "This bill, as members may know, would make it a criminal offense to receive an organ taken without the consent of the patient. This issue is morally clear-cut, and I think all speakers have agreed to that basic idea."
He also pointed out that when an organ transplant can be scheduled as in China, it means that someone is being killed for the organs. He said that the bill, if passed, could help doctors dissuade their patients going the route of organ tourism.
Canadians Support the Bill
Quite a few MPs mentioned their constituents' support of Bill S-240 and signatures they received from their districts. MP Arif Virani and Kevin Lamoureux highlighted Falun Gong practitioners' efforts to raise public awareness on the issue, in their districts and overseas.
MP Murray Rankin said during the first reading in November, "Canada is a bit behind the times on this. I note, for example, that the Europeans have for quite some time had a convention entitled 'Council of Europe Convention against Trafficking in Human Organs'. The hon. member has already set out the cross-party support an initiative like that has had in this place for very many years, and it seems to me that the time has come to join the Europeans and other countries to deal with the scourge of trafficking in human organs this bill seeks to address."
Persecution of Falun Gong and Forced Organ Harvesting
The Chinese Communist Party (CCP) launched its suppression of Falun Gong in July 1999. Jiang Zemin, former head of the communist regime, issued orders to "extinguish Falun Gong practitioners physically, ruin their reputation, and destroy them financially."
As the demand for organs for transplants increased, the armed police, military, and hospitals in China found a new way to make money – killing prisoners of conscience for their organs. Because of the nationwide policy against Falun Gong, there were no repercussions for those involved in organ harvesting crimes. News of forced organ harvesting first broke in 2006.
Prices for organs, charged to foreigners, range from $30,000.00 for corneas to $180,000.00 US for a liver/kidney combination, according to the David Kilgour and David Matas report "Bloody Harvest: Organ Harvesting of Falun Gong Practitioners in China" (Revised report).
Falun Gong practitioners constitute the majority of the organ harvesting victims, as they comprise the largest group of prisoners of conscience, and additionally, tend to be in very good health due to the healthy lifestyle associated with the practice.
Thousands of investigative phone calls conducted by The World Organization to Investigate the Persecution of Falun Gong (WOIPFG) revealed that forced organ harvesting was launched on the direct order of Jiang Zemin. Jiang is responsible for the direction to "militarize and commercialize" the business of killing Falun Gong practitioners for their organs.
The People's Liberation Army General Logistics Department was the core organization for the organ harvesting functions, in charge of the management and allocation of "donors" – mainly detained Falun Gong practitioners – as targets of forced organ harvesting. The CCP military and armed police hospitals became the main hospitals for organ transplants.