Canadian MPs Watch "Letter From Masanjia" and Call for Practitioner Sun Qian's Release
December 10, 2018 | By Minghui correspondent Ying Xin from Ottawa
(Minghui.org) The documentary film Letter from Masanjia was screened in the Canadian Parliament on December 5, 2018.
Senator Marilou McPhedran and Members of Parliament (MP) Cheryl Hardcastle and Tom Kmiec sponsored the film screening. Many MPs in attendance told volunteers helping with the screening that they admired the courage of Falun Gong practitioners. Following the screening, many MPs called for attention to the plight of Falun Gong practitioners who are being persecuted in China, including Canadian citizen Sun Qian.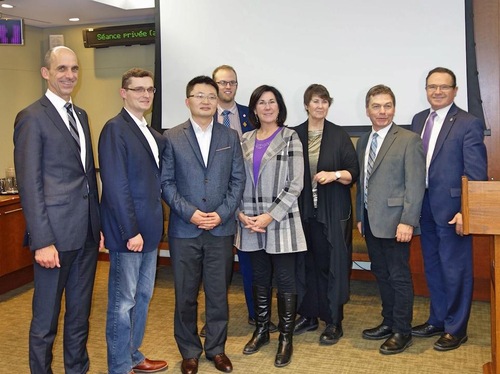 Senator Marilou McPhedran (third from right in the front row), MP Cheryl Hardcastle (middle in front row) and MP Tom Kmiec (second from left in the front row) are photographed with "Letter from Masanjia" director Leon Lee (third from left in the front row).
Senator McPhedran Calls to Rescue Practitioner Sun Qian
Senator McPhedran was touched to tears by the film, which describes the story of Falun Gong practitioner Sun Yi, who was detained in one of China's most notorious labor camps. She said she worried about the plight of practitioner Ms. Sun Qian, a Canadian citizen, and other practitioners who are being persecuted in China.
"Like many people in this room, it brought tears," she said. "I am deeply concerned that we have a Canadian Citizen, who is still alive, Sun Qian, who is lost to us at this point. We haven't been able to bring her to safety."
Sun Qian, a Canadian citizen who is being illegally held in China for practicing Falun Gong.
"What's happening to Canadian citizen Sun Qian and other Falun Gong practitioners is clearly a violation of the UN Universal Declaration of Human Rights, and the Convention Against Torture," Senator McPhedran said, adding, "It is time to regroup, reinforce, and to work even harder to bring her back to Canada."
MP Commends the Incredible Perseverance and Faith
MP Harold Albrecht was also deeply moved by the film. "The story tonight was very disturbing, to see human rights are being violated in the prisons," he said.
"He [Sun Yi] has that kind of perseverance and faith–very, very commendable. I think he has a lot to teach all of us. We often times think we have difficult issues to face; he certainly had one that seemed insurmountable, but he did an excellent job of living out what he really believes, standing firm and persevering."
MP Recommends Everyone to Watch the Film
Leon Lee, the director of the film, answered questions from MPs following the screening.
"I do hope Sun Yi's story will catch on," Mr. Lee said, "and people will, through him, learn about many, many other people like him in China whose stories we do not know, who are risking their lives every day even doing the mundane work of producing a flyer, a DVD, for the public to know what's going on."
MP Steven Blaney said he was pleased to watch the film and recommended that everyone watch the film.
"It is very inspiring. It's a lesson of courage, of hope and also of vigilance," he said, adding, "It shed some light on the situation of human rights in China, of the challenges, and of the great courage of the individuals who want to make the situation way better."
MP Cheryl Hardcastle said that despite how overwhelming these problems in China seem, and how heartbreaking and anguishing, we should continue making efforts to effect change.
"I will be silent tonight, thinking more and more of this," she said. "A movie like this is extremely profound and helpful for us. It makes us all think that we cannot give up."
Background
The documentary begins with a handwritten letter found in a box of Halloween decorations purchased at a U.S. department store by Julie Keith, a woman in Oregon. The letter was a plea for help from a prisoner of conscience at the notorious Masanjia Forced Labor Camp in Shenyang, China. Ms. Keith posted the letter on social media, which soon led to worldwide media exposure of the story and set off a chain reaction that led to China's re-education through forced labor system being abolished, at least in name, in 2013.
The author of the letter, Mr. Sun Yi, had been detained at the labor camp for his belief in Falun Gong. He risked his life to get his story out to the world through the secret letter, and more recently risked his life again during the making of this documentary to further expose the human rights crisis in China.
While under surveillance by the Chinese authorities, Sun Yi took video footage of his life in China, and interviewed other former Masanjia detainees. Along with his story, Sun Yi shared his drawings depicting the abuse he suffered and witnessed at Masanjia Labor Camp.
The Academy of Motion Picture Arts and Sciences, the Oscar Award hosting organization, announced its candidate list for the 91 st Oscar Award for Best Documentary on November 8, 2018. The film Letter from Masanjia is on the list.