Fujian Province: Falun Gong Practitioner Arrested at Train Station
November 25, 2018 | By a Minghui correspondent in Fujian Province, China
(Minghui.org) Falun Gong practitioner Mr. Peng Xuefeng was arrested at the train station in Xiamen City, Fujian Province, when he was on his way home to Pucheng County on May 29, 2018. After the police found information about Falun Gong on him, they took him to the railroad police station. Officers wanted to check the contents of his laptop, but he refused to cooperate.
The police in Xiamen turned him over to the police in Pucheng City on May 30. They interrogated him and told him to hand over his computer, but he still refused. The police then went to his home and ransacked it, seizing Dafa books and other items.
In June 2006, Mr. Peng was arrested and tortured by the Pucheng police for broadcasting his declaration to quit the Chinese Communist Party and its affiliated organizations and also for downloading Dafa information. The director of the Pucheng Political and Legislative Affairs Committee declared that he would never allow parole for Mr. Peng.
During interrogation, the police hit and kicked him, cuffed him, and hung him up for eight days and nights consecutively. He was deprived of sleep for over 11 days. They tried to get him sentenced to six years in prison, but he ended up being sentenced to two years in a forced labor camp due to insufficient evidence. He was taken to the Rujiang Forced Labor Camp in September 2006.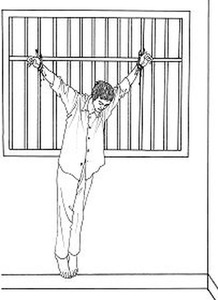 Torture illustration: Hanging up
In the labor camp, the director tried to "transform" him. The camp authorities forced him to watch videos defaming Falun Gong. They also made him sit on a small stool in a solitary confinement cell for many days.
Mr. Peng soon lost his appetite entirely, his legs and his buttocks were swollen, and his fingers became numb. As a result, he could not walk, stand, or sit. The least painful position he could find was to lie down.