Shanghai Engineer Sentenced to Two Years for Speaking Out for His Persecuted Faith
November 01, 2018 | By a Minghui correspondent in Shanghai, China
(Minghui.org) A Shanghai engineer was sentenced to two years in prison and fined 5,000 yuan for his faith in Falun Gong on September 18, 2018, by a court located in Yangzhou City, Jiangsu Province.
Falun Gong, also known as Falun Dafa, is a mind-body discipline persecuted by the communist regime since 1999.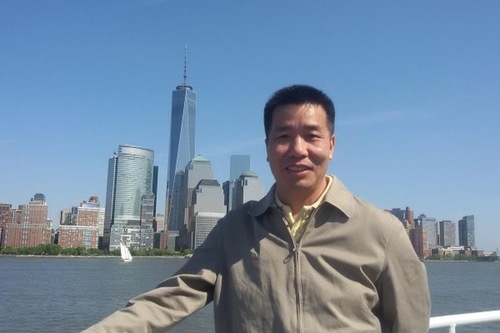 Mr. Xu Yongqing
Mr. Xu Yongqing's ordeal began on August 22, 2016 when he requested the removal of a bulletin board with messages defaming Falun Gong displayed near a subway station in Shanghai. He was arrested and detained for several days. He filed complaints against the arresting officers upon his release.
When no one responded to his complaints, the 54-year-old man filed a request for information disclosure to the Ministry of Public Security in December 2016. He demanded to know details of two notices issued by the Ministry that have been widely used by police as a basis to arrest Falun Gong practitioners.
Mr. Xu received no response to his information disclosure request. He proceeded to file a lawsuit in May 2017 with the Beijing Second Intermediate People's Court against the Ministry.
The Ministry of Public Security ordered Shanghai police to make Mr. Xu drop his lawsuit. He refused to comply with the demand and soon found himself and his clients being monitored.
Upon officer Mao Zhixin's request, Mr. Xu went to Tianshanlu Police Station in Shanghai on November 29, 2017. Awaiting him were Mao and officers Jiang Bufu and Wang Jun from Hanshang Police Station in Hangjiang District, Yangzhou City, Jiangsu Province.
Mao said to Yangzhou police, "You guys can now detain him for a really long time!"
It dawned on Mr. Xu that Mao's request for him to visit the police station had been a trap.
Mr. Xu was taken to Miaozhen Detention Center in Yangzhou City, where he has since remained captive.
The Hanjiang District Procuratorate approved his arrest on January 5, 2018, but returned the case to the police on April 20, asking for more information. After the police re-submitted his case in May, the procuratorate forwarded it to the Hanjiang District Court in July and he stood trial on September 18.
The prosecution evidence included 13 letters intercepted at a post office in Yangzhou City that contained information about Falun Gong. The prosecutor alleged that Mr. Xu broke the law by mailing the letters from Shanghai to Yangzhou. He listed more than a dozen prosecution witnesses who alleged to have seen Mr. Xu mail the letters out. None of the witnesses were present to accept cross-examination.
The prosecutor also indicated that he had video evidence linking Mr. Xu to the letters, but he showed no such video in court.
Another piece of prosecution evidence was Falun Gong-related items confiscated from Mr. Xu's home, which the police claimed to be cult propaganda materials.
Mr. Xu's lawyer argued that no law in China criminalizes Falun Gong or label it a cult. As such, he should never have been prosecuted for exercising his constitutional rights to owning Falun Gong materials or writing to people about Falun Gong.
The presiding judge stopped the lawyer and kept emphasizing that he didn't want to discuss whether there was a legal basis for the persecution of Falun Gong.
The prosecutor failed to specify which law supported his allegation that Mr. Xu "undermined law enforcement with a cult organization," a standard pretext used by the regime in its attempt to frame and imprison Falun Gong practitioners. He claimed that such an allegation was "publicly held" knowledge.
Mr. Xu's wife, son, and sister were allowed to attend the trial but were told to sit apart. His other family members and friends were not allowed in. One of his friends was followed by plainclothes officers after the trial.
Previous reports:Shanghai Engineer Facing Trial for Requesting Information DisclosureMr. Xu Yongqing in Shanghai Detained Again after Police InterviewShanghai Practitioners Detained 30 Days for Challenging a Propaganda Attack on Falun GongTwo Shanghai Professionals Arrested for Petitioning Against Anti-Falun Gong Propaganda