People in Chicago Support Falun Gong's Peaceful Resistance
August 02, 2016 | By a Falun Gong practitioner in Chicago
(Minghui.org) During a Falun Gong march through Chicago's Chinatown on July 30, 2016, Alex, from Michigan, commented, "Fairy lady dancing, lotus flowers, and traditional music, everything was so wonderful. Then, all of sudden we saw forced organ harvesting and genocide. The contrast is so dramatic."
"Such a peaceful group has been persecuted. It is so horrible and beyond my imagination. This is very serious," Alex said, and her boyfriend echoed, "This march shows the brightness and darkness."
Falun Gong practitioners from ten states in the mid-U.S. participated in the march. Led by a banner reading "Falun Dafa - Truthfulness-Compassion-Forbearance" the march procession included three teams.
The first team included a Chinese drum performance and traditional Chinese dance. A large float was decorated with lotus flowers, and practitioners demonstrated the Falun Gong exercises.
The theme of the second team was exposing the brutal persecution. A dozen practitioners held the portraits of those who were tortured to death in the persecution. Following them were a few banners that told the public about the state-sanctioned organ harvesting from living Falun Gong practitioners in China.
The third team supported Chinese citizens withdrawing from the Communist Party, and the large-scale lawsuits against Jiang Zemin, the former communist head, for his role in the persecution.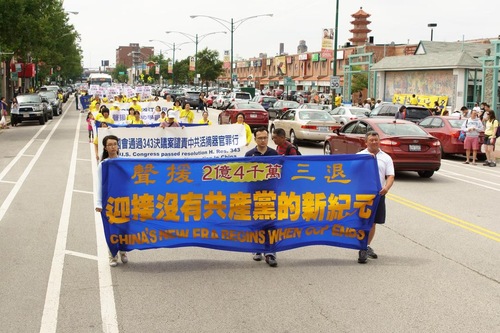 Falun Gong march in Chicago's Chinatown on July 30.
Many people were shocked by the brutality of the persecution which was exposed in the march.
Local resident Brian Hile watched the march on Cermak Street for a long time. He said, "I never thought such things were still happening in today's world. Forced organ harvesting, communist's persecution... I would like to see more marches like that, which will raise awareness of the persecution."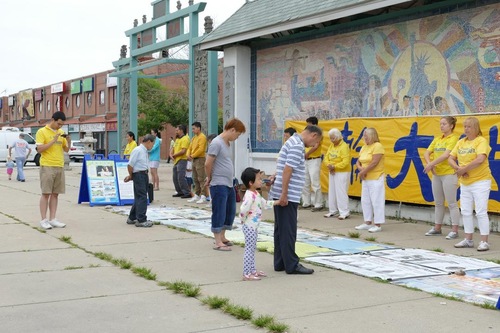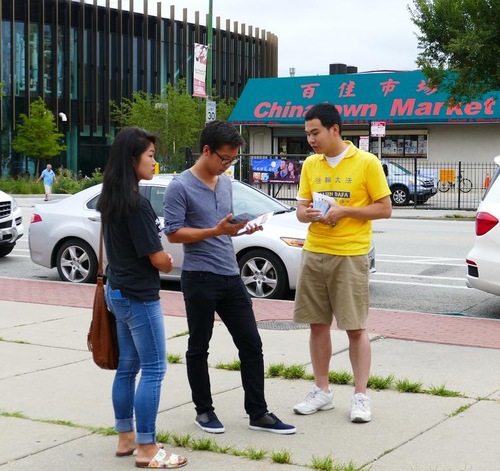 Practitioners tells the public what Falun Gong really is.
Many Chinese also expressed their support for Falun Gong's peaceful resistance.
Mr. Shi, who came to the United States six months ago, was amazed by the march. He said, "It is magnificent. You cannot see such a march in China. The persecution is unfair, and I am glad to see that Falun Gong is telling the public about this unfairness. I will send the pictures I took today to my friends and family in China."
One Chinese lady said she believes that all the information revealed in the march is true, saying, "All of those who were tortured to death have real names, dates, pictures, and stories. It is really heartbreaking... Everything we heard in China was false. Many people don't have a chance to learn the truth, including my friends. It is sad that Chinese people are living in lies. They don't know that they have been deceived."
After the events in Chinatown, practitioners held a peaceful protest in front of the Chinese consulate.
Josh Lav, a retired military officer, praised the practitioners for their efforts. He said he was glad that more people have a chance to know about the persecution. He also learned the exercises with practitioners in front of the Chinese consulate.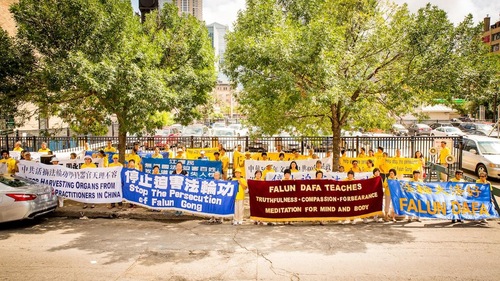 Protest in front of the Chinese consulate.