Community Leaders and Lawmakers in Taiwan Support Falun Gong's Peaceful Resistance
(Minghui.org) Last weekend, Falun Gong practitioners in Taiwan held activities to raise public awareness of the 17-year persecution in China. This report covers events in Pingtung and Taitung.
Activities in Pingtung
In Pingtung, a number of activities were held at various tourist sites, including a photo exhibition, exercise demonstration, a banner wall, bicycle rally, and candlelight vigil.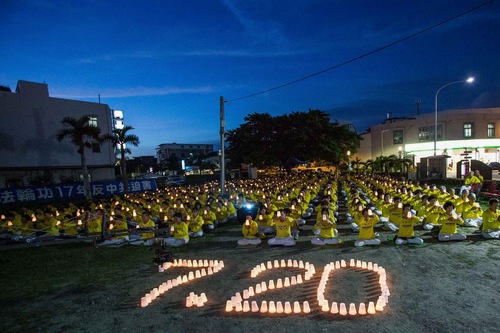 Candlelight vigil in Pingtung, to mark 17 years of peaceful resistance against the persecution in China, which began on July 20, 1999.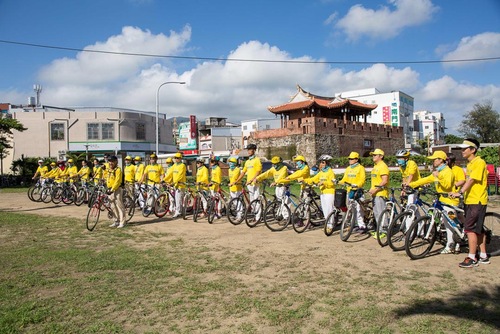 The bicycle rally is about to take off.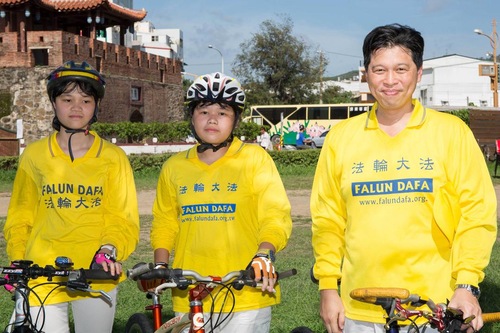 Zhang Hengwei and his daughters plan to pass out Falun Gong materials along the ride.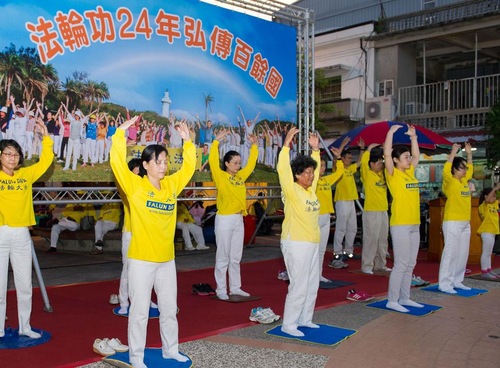 Demonstrating the exercises.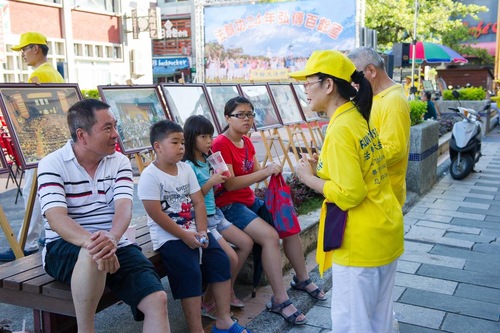 Telling people what Falun Gong really is – a peaceful cultivation practice.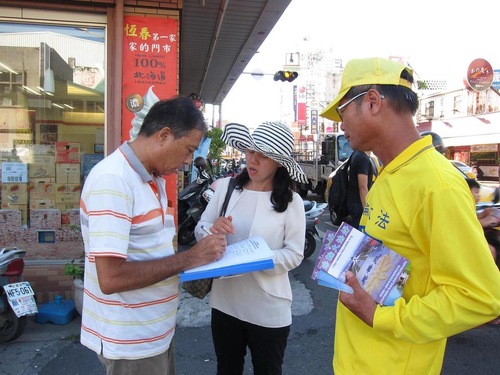 People signing the petition to support Falun Gong's peaceful resistance.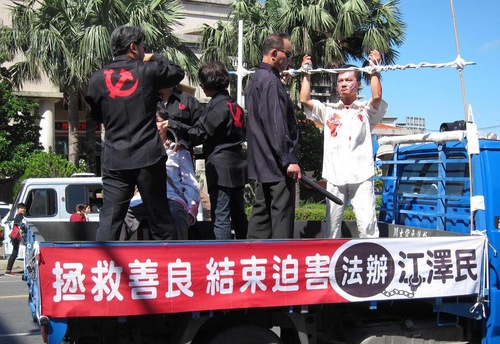 On a flatbed truck, practitioner re-enact the tortures that the Chinese Communist Party has applied during the persecution. As the truck drove through town, it attracted a lot of attention.
Several local lawmakers and community leaders gave speeches at the candlelight vigil.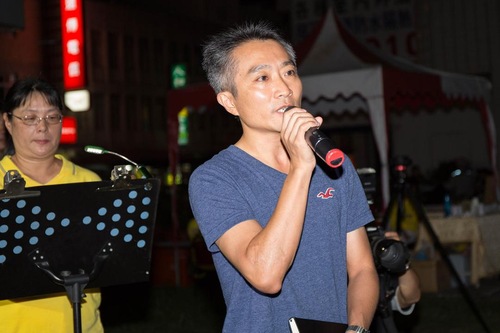 Huang Yufeng, representative from the International Organ Transplant Association in Taiwan, believes that the state-sanctioned forced organ harvesting in China is one of the worst crimes in the world.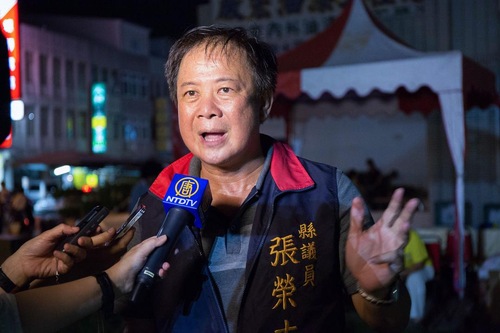 County Council Member Zhang Rongzhi praised Falun Gong's peacefulness and called upon the international community to help to bring former Chinese leader Jiang Zemin to justice for his role in launching and directing the persecution.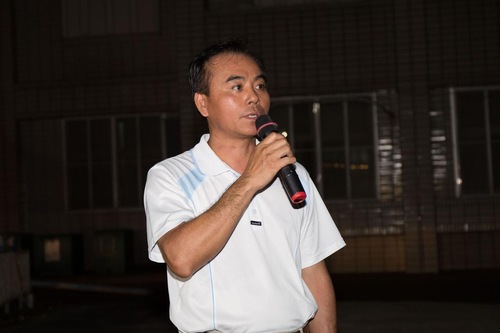 Wang Zongxin, representative of the mayor of Hengchun Town, supports Falun Gong's activities at the local tourist spots to raise public awareness of the persecution.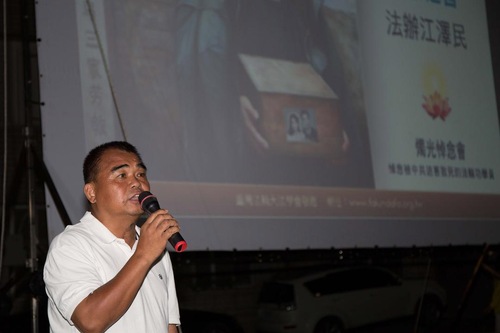 Lu Rongshi, a representative from Hengchun Town, believes that Falun Gong helps practitioners to improve physical and mental health.
Activities in Taitung
In Taitung, a candlelight vigil was held at a local tourist park. Thirty guests, including businessmen and local lawmakers, gave speeches at the vigil. Mayor Chang Guochou could not attend the vigil, but donated five cases of bottled water to express his support.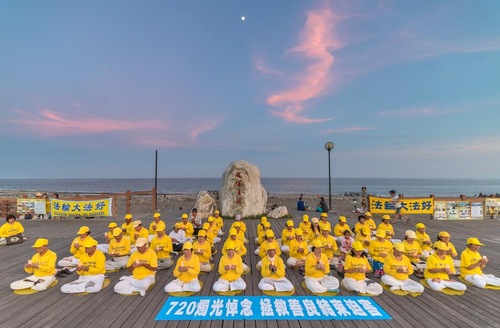 The candlelight vigil in Taitung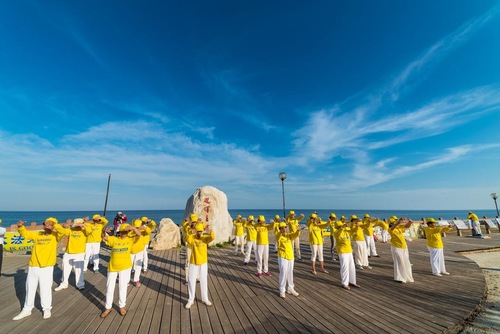 Group exercise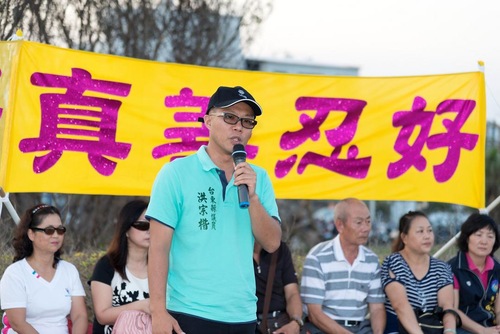 City Council Member Hong Zongkai strongly condemned the state-sanctioned organ harvesting from living Falun Gong practitioners in China. He also supports Falun Gong practitioners' lawsuits against former communist party head Jiang Zemin for his role in the persecution.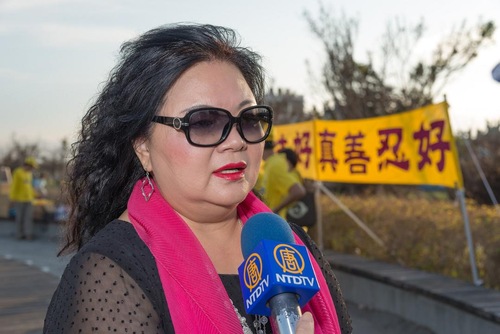 The chair of the Small Enterprise Association in Taitung, Yang Zhenqi, who has attended this vigil three years in a row, calls upon the public to stand up against the persecution.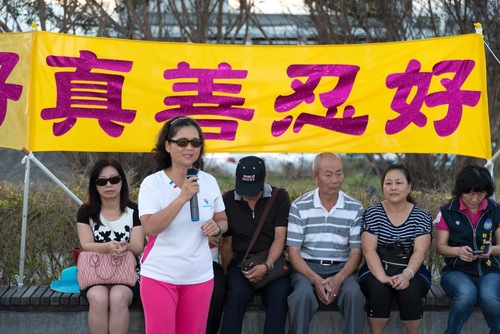 Local community leader Hong Meizhu also calls for help to stop the organ harvesting.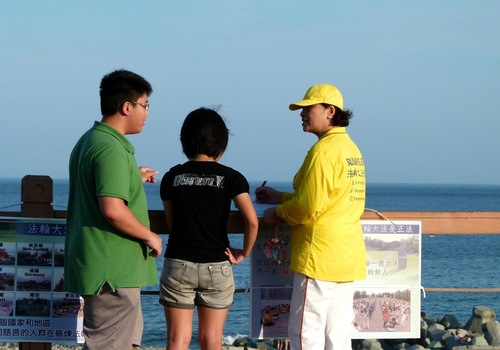 Practitioners (in yellow) talk with tourists about Falun Gong cultivation practice.