Media Reports on Falun Gong Practitioners' Rally at U.S. Capitol
(Minghui.org) More than 1,000 Falun Gong practitioners gathered at the U.S. Capitol on July 14 to raise awareness of the 17-year-long suppression in China. Numerous news media reported this event. Below are summaries of the reports from Voice of America (VOA) and The Free Beacon.
VOA: Falun Gong Practitioners Were Targeted for Organ Harvesting
The report from VOA on July 15 wrote, "The rally is held annually to demand that Chinese authorities stop the persecution and harvesting of human organs from prisoners of conscience, including Falun Gong practitioners." Another purpose is to bring former Chinese leader Jiang Zemin to justice for persecuting Falun Gong, according to Frank Lee, spokesperson of the event.
"On June 13, the U.S. House of Representatives unanimously passed a resolution calling for China to stop the persecution of and organ transfers involving Falun Gong practitioners." This resolution, H.Res. 343, calls on the United States Department of State to conduct a more detailed analysis on state-sanctioned organ harvesting from non-consenting prisoners of conscience in the annual Human Rights Report, and report annually to Congress. By doing so, it will bar provision of visas to Chinese and other nationals engaged in coerced organ or bodily tissue transplantation.
The vote followed publication of a report claiming that China has expanded its illicit organ harvest to unprecedented levels. The report said the Falun Gong adherents were targeted for organ harvesting because they tend to take good care of themselves physically.
"U.S. Republican Representatives Ileana Ros-Lehtinen of Florida and Dana Rohrabacher of California attended the rally and made speeches, expressing their support for Falun Gong." Senator Marco Rubio and many other Members of Congress wrote letters to show their support for the event.
"Protesters then marched to the Lincoln Memorial, where they held an evening candlelight vigil," reported VOA.
The Free Beacon: "Chinese Citizens Are Being Sacrificed [by the Communist Regime] for Their Organs"
The report from The Free Beacon, was also published on July 15. Members of Congress such as Rep. Dana Rohrabacher, as well as leaders of human rights and religious freedom organizations such as Freedom House and Jubilee Campaign, came to speak at the event.
Supporters held photographs of family members who suffered persecution and torture. "A majority of people here are personally and deeply affected by the overall situation of China and are concerned about their brothers and sisters," Freedom House president Mark Lagon said in the report.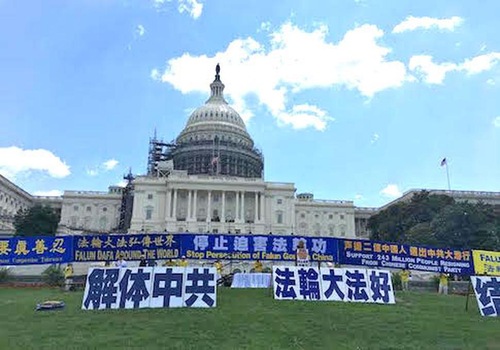 The Free Beacon reported Falun Gong practitioners' rally at U.S. Capitol on July 14, 2016.
Journalist Albert Roman said he lived in China before the suppression occurred in 1999. "I saw people practicing in every park, it was hugely popular. I saw with my own eyes that these are good people. I had a student who practiced and I still don't know what happened to him, if he's even alive," reported the article.
One particular issue highlighted in the rally is organ harvesting from living Falun Gong practitioners. "In a hurry, China has tried to create an organ donation system. There is no waiting time, no system—it's deeply problematic. At least 90 percent of the organs are not accredited for," Roman said.
A resolution was passed in the House of Representatives last month that condemns forced organ harvesting in China. It urges the U.S. Government to investigate this and follow up closely.
Faith J. H. McDonnell, director of Religious Liberty Programs, said in the report, "Chinese citizens are being sacrificed for their organs—citizens who oppose the Chinese Communist regime. What will it take for the world to stop this evil practice?"