Girl Quits School to Seek Justice for Father's Suspicious Death in Police Custody
July 14, 2016 | By a Minghui correspondent from Heilongjiang Province, China
(Minghui.org) Falun Gong practitioner Mr. Gao Yixi died in police custody ten days after his arrest.
According to his family, who saw his body, his chest protruded and his abdomen was sharply sunken. There were handcuff marks on his wrists. The police hastily performed an autopsy on him and attempted to cremate him. His wife was held at the detention center as a hostage.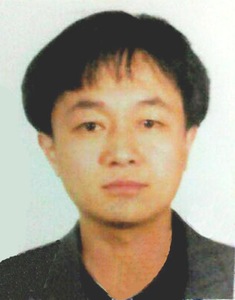 Mr. Gao Yixi
Mr. Gao's 16-year-old daughter, Gao Meixin, quit high school to seek justice for her father's wrongful death and to try to rescue her mother. Below is her account.
***
I'm a freshman in high school. My 45-year-old father, Gao Yixi, worked as a hotel manager. He was a very nice person, friendly and kind. My 44-year-old mother, Sun Fengxia, is employed at the local train station.
My parents lived in Mudanjiang and I lived with my grandmother in Muling, a city about two hours from Mudanjiang.
Arrested at Night
Both of my parents were arrested at around 10 p.m. on April 19, 2016. A group of police, led by Lv Hongfeng of the Xianfeng Police Station, suddenly broke into my home and raided the house. None of them showed identification. They left six hours later at 4 a.m. and took my parents into custody.
Lv called me on April 21 and told me that they had transferred my parents to Mudanjiang Detention Center. My grandmother and I hurried to Mudanjiang. We met with Lv and demanded to see my parents. He refused and quickly left.
The next morning, on April 28, I called Lv and demanded to see my parents again. He still refused. When I went to the police station to look for him, Ly refused to meet with us.
A police officer at the station told me that Lv had handed my parents' case to Li Xuejun, the head of Mudanjiang Domestic Security Division and Yu Yang, the deputy head of the criminal team in the police station.
My grandmother and I found Yu Yang on the morning of April 29. He was rude to us, and said that he wouldn't let me see my parents. After we left the police station, I noticed that a white police car was following us.
My Father Sent to Emergency Room
I was told later that morning that my father was sent to the emergency room of the police hospital. I was shocked. My father was always in good health. Why would he be taken to the hospital for emergency care?
My grandmother and I rushed to the hospital to see my father. Several guards from the detention center, including the detention center's resident doctor, Wen Zhiyuan, were there.
My grandmother and I were crying hard and begging them to let us see my father. My grief-stricken grandmother couldn't hold herself together and collapsed on the ground.
The police remained indifferent and drove us away. They threatened that they would arrest us if we didn't leave. They also asked me to pay 5,000 yuan for the medical expenses incurred.
The police forcibly took us back to my parents' home and sent us back to Muling City the next morning. We arrived at our Muling home around 10 a.m. on April 30.
Police to My Uncle: 'Your Brother is Dead'
Before we arrived home that morning, the police in Muling found my uncle Gao Yixin at 9 a.m. and asked him to go to Mudanjiang with them.
It was noon when they arrived at Mudanjiang. The police took my uncle to have lunch first. No one spoke during the meal.
Around 1 p.m., after lunch, the police said they were going to take my uncle to some place, but didn't say where.
Following a white car, they stopped at a place near Longfeng Funeral Home.
My uncle got out of the car and was immediately surrounded by a group of police. Several cameras were videotaping him.
He was at first confused. "Why have you brought me here?" he asked.
"Your brother Gao Yixi wasn't eating in the detention center," someone said. "He had been in emergency care for several days in the hospital and just died this morning at 5 a.m."
Police Push for Hasty Autopsy
The deputy head of Xianfeng Police Station, Yin Xianfeng, said to my uncle, "We will let you take a look at your brother's body and then we will do the autopsy."
"You can't do that! He was perfectly healthy when you arrested him. It's not possible he just died for no reason. You must have torture him!"
"Calm down," another police officer said to him.
"Would you be calm if this happened to you?" My uncle said. He was about to leave, but was stopped by a group of police.
He called my aunt and asked her to tell me that my father just passed away. When my cousin called me, it was like a thunderbolt struck me. I just couldn't believe it.
Later my uncle called me and told me that the police were planning to perform an autopsy on my father. I told my uncle that, no matter what, we couldn't let the police do that.
As my uncle was talking to me, Yin Xianfeng took away his phone and turned it off.
The police tried to make my uncle sign the autopsy agreement, but he refused and said they had to wait for other family members to arrive.
I arrived at the funeral home around 2 p.m. The police would not allow me to see my father and kept asking me to sign the autopsy paperwork.
I asked to talk to my mother. She was off to the side, held by two police officers and surrounded by armed police. I went over to her and said, "We absolutely cannot agree to let them do the autopsy." My mother agreed.
I couldn't imagine what a heavy blow this was to my mother. She had to face my father's sudden death while being in custody herself. With all the pressure from the perpetrators, she didn't say much. She looked numb and dull. I really worried about her.
The police pushed to have the autopsy done in 24 hours. They blocked my father's body from our view and would not let us to see him unless we signed the agreement.
Seeing My Father's Dead Body
Devastated, I couldn't stop crying. I knelt down and begged them. They finally let me see my father.
Two armed police held my hands behind my back and took me to him. At first, they only let me stand about two meters (six feet) away. I begged them to let me get closer. They loosened their hands.
I came closer. My father's body was already stiff. His eyes were wide open and his fists were clenched tight. His chest protruded and his abdomen was sharply sunken. There were rope marks on his body and handcuff marks on his wrists. His fingernails were black and he had bruises on his head.
My heart was broken. I burst out crying.
The police didn't let me see my father for more than two minutes before taking me away. My heart was in great pain.
Seeing that they couldn't obtain signatures from any of us, the police performed the autopsy on my father without the family's permission.
"It doesn't matter whether you sign it, we don't need your signature to do the autopsy," one police officer said to me.
Afterwards, they took my mother back to the detention center. There were no words to describe my grief seeing her leave.
My aunt came from another city to see my father on May 1. The police said we had to get permission from Yin Xianfeng, the deputy head of the police station that arrested my father.
"You are only allowed to see him once. You can weep, but can't make any loud noise crying," Yin said to my family.
Led by the police cars and followed by a car of armed police, we arrived at the funeral home. They only allowed two people from my family to see my father each time, and we had to stand one meter (3 feet) away from him. The police stopped us from sobbing.
A Suspicious Autopsy Report
My uncle went to ask the police for the autopsy report on May 23 and was told that the report hadn't come out yet.
We went to Tian Ruisheng, the prosecutor at Mudanjiang Procuratorate, who was also present when they forced the autopsy of my father.
"The report was out on May 18. No one informed you about it?" Tian said.
"No one told us anything. What does it say?" my uncle asked him.
"The report said he died from malnutrition and coronary heart disease."
"No one from our family has had heart problems."
It was very obvious to us that the report wasn't telling the truth.
My uncle asked Tian for a copy of the report, but he refused.
Seeking Justice for My Parents
It has been two months since my father's death. The police still has my mother in the detention center, to use her as leverage to cremate my father.
With all the pressure and the heavy blow of my father's death, my mother suffered a mental collapse. When my uncle visited her at the detention center, she looked confused and rambled in her speech.
Both of my parents are very nice people. My father used to have a bad temper and often fought with my mother. He also had glaucoma and almost became blind.
He changed into a different person after he started practicing Falun Gong. His vision returned to normal, was more responsible for the family, and never again lost his temper.
Our family was very happy together, until everything suddenly turned upside down.
I decided to quit school to seek justice for my father. I went to the police station and the detention center to request the warrants that allowed the police to arrest and detain my parents. The head of the detention center, Ma Guodong, said to me, "You don't deserve to see it."
My family members and I also went to different legal departments to file complaints and asked them to investigate my father's death. None would. They would either give us the runaround or hide when we arrived.
Individuals followed and monitored us. Anyone who attempted to help us were threatened and even arrested by the police.
I don't know who can help me. I don't have many requests. My only hope is that the authorities will give me a clear explanation of my father's death and release my mother.
I just want to have whatever is left of my family back.
Related reports:Wife Held Hostage to Deter Autopsy on HusbandA Teenager's Nightmare: Mother Still Detained, Father Dies in Police Custody