Former School Instructor Tried for Suing Former Dictator for Torture, Imprisonment and Financial Difficulty
May 17, 2016 | By a Minghui correspondent from Henan Province, China
(Minghui.org) Another Falun Gong practitioner was recently tried for suing the former Chinese communist regime dictator Jiang Zemin for ordering the violent persecution of Falun Gong in 1999.
Mr. Jiang Junfeng, 51, was made to stand trial on April 27, 2016 by the Weidong District Court in Pingdingshan City, Henan Province. No verdict has been issued at the time of writing, and Mr. Jiang remains in custody at the Jiaxian County Detention Center.
Arrested for Filing Criminal Complaint against Jiang Zemin
Mr. Jiang was arrested in November 2015, with 19 other Falun Gong practitioners who also filed criminal complaints against Jiang for torture, imprisonment, and financial deprivation caused by the persecution.
With rising legal activism by local Falun Gong practitioners against Jiang, the 610 Office in Pingdingshan after July 9, 2015 began to block more practitioners from mailing their complaints.
Many practitioners who had filed the complaints previously were harassed and pressured by the 610 Office to drop their complaints. Some of their family members were also harassed.
On August 24, without a search warrant, officers from the Domestic Security Division and 610 Office raided Mr. Jiang's shop. They searched everywhere for his criminal complaint against Jiang and when they found it, took pictures of it.
Mr. Jiang was arrested three months later on November 25 at his shop and taken to the Pingdingshan Detention Center on that day. After 15 days of administrative detention, he was transferred to the Jiaxian County Detention Center and placed under criminal detention for five months before he was tried.
After Mr. Jiang was arrested, his 80-year-old father couldn't take care of the shop and had to liquidate their merchandise, which only worsened his family's financial situation.
Began Practicing to Improve Health, Persecuted for Speaking Out
While detailing the numerous detentions and years of torture at the forced labor camp in his criminal complaint, Mr. Jiang also recalled how practicing Falun Gong brought huge changes to his life.
He said he began to practice Falun Gong in 1996 at the age of 33, when he was diagnosed with a blood vessel tumor.
"Feeling frustrated and confused about my future, Falun Gong gave me hope to start a new life. My body underwent dramatic changes. The tumors disappeared. I became more energetic, which also helped me be more productive with my work," he recounted.
"When the persecution suddenly started in July 1999, it was so overwhelming that I felt the whole world was collapsing."
In order to speak out for Falun Gong, Mr. Jiang went to Beijing to appeal, but was arrested and detained for 15 days under the false charge of "disrupting social order."
After he was taken back home, Mr. Jiang was forced by the local police and his workplace to confess to wrongdoing on TV for "challenging the Party" and declare that he would "stand with the Party in the future."
Feeling uncomfortable about the coerced "confession," Mr. Jiang went back to Beijing in October 1999 to appeal for Falun Gong again. He was arrested again and detained for three and a half months before he was sentenced to three years of forced labor for "disrupting social order."
On the Verge of Death after Hard Labor and Torture
"At Bolou Forced Labor Camp, the guards used intensive labor and mental pressure to enslave us, not only to turn us into free labor, but also as a way to force us to give up our faith," Mr. Jiang said in his complaint.
"Sometimes we were forced to stand in the river for half a day in the freezing cold winter to clean up silt, wearing only shorts. Sometimes we were forced to remove 100-lb. sandbags from the river, dig foundations for factory construction, or unload 120,000 pounds of cargo from trains. No matter how much work we did, the labor camp never paid us anything. If we slowed down even a little, the guards threatened to torture us."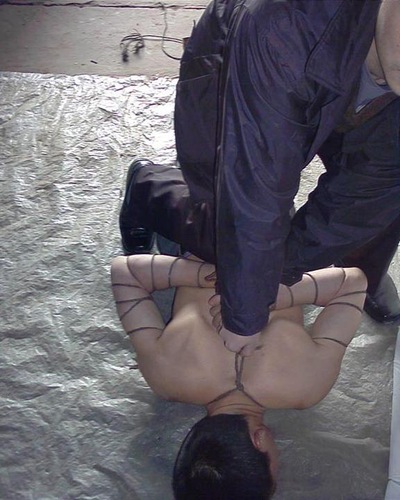 Torture reenactment: Tied up with rope
Many practitioners, including Mr. Jiang, started a hunger strike to protest the persecution. The guards attempted to force-feed Mr. Jiang, which caused severe bleeding in his nose. He was then released on medical parole.
However, three months later, as soon as he recovered, the guards seized Mr. Jiang and threw him back in the labor camp, where he continued to be subjected to hard labor. His health failed rapidly, and he was in an emaciated state when he was diagnosed with tuberculosis in April 2002.
Mr. Jiang was already in critical condition when he was sent to the hospital. "Even the doctor said it was a miracle that I woke up after being in a coma for three days," Mr. Jiang recalled.
After staying in the hospital for three months, he finally went back home. His family had to borrow money to pay for the thousands of yuan in medical expenses.
Deprived of Job
Mr. Jiang went back to his workplace in September 2002 and demanded to resume working there. But as a result of his not renouncing his faith, the school didn't allow him to work, and only agreed to give him 150 yuan (about 25 USD) each month to cover his living expenses.
Mr. Jiang was forced to leave home and find a new job to make a living. During the Beijing Olympics in 2008, the police from Pingdingshan threatened his employer with a company shutdown to pressure them to fire him.
After losing his job again, Mr. Jiang opened a small candy shop in 2010.
He asked to resume his teaching position in 2012, but the school president ignored his request. Mr. Jiang took it to court and filed a complaint against the school president.
Pressured by the school and 610 Office, the court rejected his complaint. When he appealed, the higher courts also turned him away.
Background
In 1999, Jiang Zemin, as head of the Chinese Communist Party, overrode other Politburo standing committee members and launched the violent suppression of Falun Gong.
The persecution has led to the deaths of many Falun Gong practitioners over the past 16 years. More have been tortured for their belief and even killed for their organs. Jiang Zemin is directly responsible for the inception and continuation of the brutal persecution.
Under his personal direction, the Chinese Communist Party established an extralegal security organ, the "610 Office," on June 10, 1999. The organization overrides police forces and the judicial system in carrying out Jiang's directive regarding Falun Gong: to ruin their reputations, cut off their financial resources, and destroy them physically.
Chinese law now allows for citizens to be plaintiffs in criminal cases, and many practitioners are exercising that right to file criminal complaints against the former dictator.
Related report:20 Falun Gong Practitioners in Pingdingshan Bring Criminal Charges Against Jiang Zemin