"Falun Dafa Changed Me and Those Around Me"
December 03, 2016 | By Minghui correspondent Sun Bai and Su Rong
(Minghui.org) More than 7,000 practitioners attended the 2016 Taiwan Falun Dafa Experience-Sharing Conference in Taipei on November 27. In addition to listening to speeches from 18 speakers, practitioners also discussed among themselves how the practice has reshaped their lives.
College Student Overcoming Hurdles
Yiling from Taitung County began to practice Falun Dafa in the first grade, along with her mother and grandmother. Gradually, she came to understand that cultivation practice is very serious.
With a strong interest in music since childhood, she went to an art school after elementary school. Because of homesickness and intense pressure, she cried of frustration almost every day. "My mother often chatted with me over the phone or visited me, reminding me of the principles of Falun Dafa." With her help, Yiling became more open-minded and resilient to the challenges.
After being admitted to the Music Department in National Taiwan Normal University, Yiling was very grateful. "Falun Dafa taught me to calm down and handle things more rationally," she said.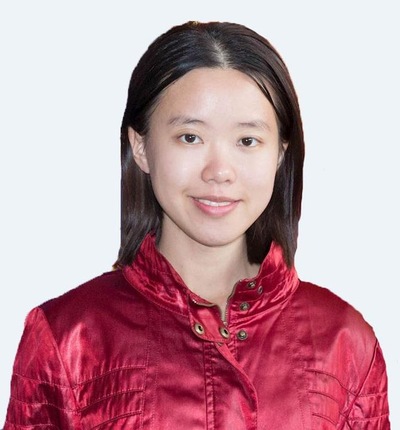 Yiling from National Taiwan Normal University said Falun Dafa helped overcome difficulties in her life.
Living on the campus with other students, Yiling said she initially could not tolerate negative behaviors of some of her roommates. "When thinking over what Falun Dafa has told me to do, I learned to treat others with tolerance and endurance. Little by little, my roommates were also polite and respectful. I have to admit that Falun Dafa changed both me and those around me."
Kindergarten Director: An Accident Made Me More Diligent
Bai Yumei works as a kindergarten director in Pingtung County, the southernmost place in Taiwan. Because of pressure at work, she suffered from chronic fatigue and insomnia. When her husband, a middle school teacher, learned about Falun Dafa in a teachers' workshop in 2003, both of them started to practice it. "I was able to sleep well on the first day and life went back to normal since then," she said.
By following the principles of Truthfulness-Compassion-Forbearance, Bai became easygoing and was always willing to help others. Many neighbors liked her and commented, "From Bai's kind actions, we could see that Falun Dafa is great."
One day, a child whose parents were from Singapore got sick and had a fever. When Bai was hurrying with the child to the hospital, they tripped over an object near a construction area and a heavy metal gate knocked them to the ground. "I shielded the child with my body to protect him as we fell down under the gate." Fortunately, the child was carrying a backpack at that time and he landed on the backpack. When four teachers came and carried away the heavy gate, they found both Bai and the child uninjured.
"Many who witnessed the miracle were impressed and I told them it was Falun Dafa that protected us in the accident," Bai explained. "However, for myself, I felt it was a hint for me to do better in cultivation practice," she said. Right after the incident and her renewed determination, Bai was suddenly able to do a full hour of sitting meditation in the double lotus position, something she hadn't achieved before. "I know it was encouragement from Master," she said.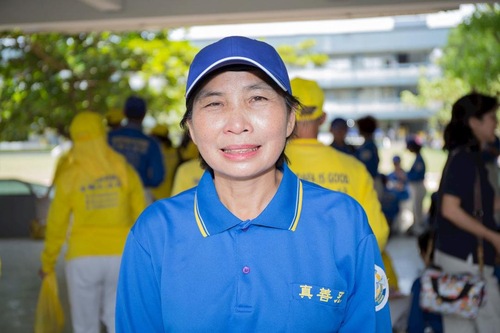 Bai Yumei, a kindergarten director in Pingtung County, talked about how an accident was the wake-up call she needed to become more diligent in the practice.