Taipei, Taiwan: Over 7,000 Participate in Falun Dafa Experience-Sharing Conference
November 29, 2016 | By Minghui correspondents Shen Rong and Liu Wenxin in Taiwan
(Minghui.org) The 2016 Taiwan Falun Dafa Experience-Sharing Conference was held at National Taiwan University Sports Center in Taipei on November 27. More than 7,000 practitioners attended the event. An organizer read greetings from Mr. Li Hongzhi, the founder of Falun Dafa, part of which says:
"... whatever circumstances a cultivator may find him or herself in, what is required of a cultivator is the same. Cultivation is about working on the human mind and heart; it is about cultivating oneself. Only when you are able to examine yourself, looking inward amid problems, conflicts, difficulties, or when being treated unfairly, is it true cultivation." ("A Congratulatory Letter to the Fa Conference of Taiwan")
Eighteen practitioners shared their stories of following Truthfulness-Compassion-Forbearance, the principles of Falun Dafa.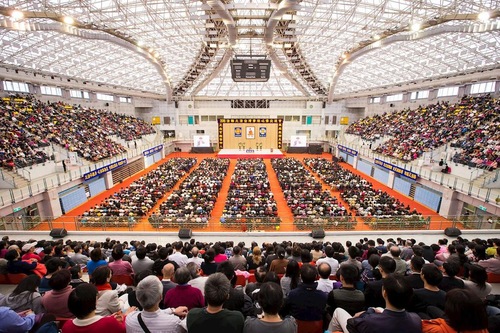 Over 7,000 practitioners attended the 2016 Taiwan Falun Dafa Experience-Sharing Conference on November 27.
Aircrew Commander: "I Found the Purpose of Life"
Nguyen Junyong, an aircrew commander from Vietnam, used to have many questions about life and humanity. After his mother began to practice Falun Dafa three years ago, he read the books. "It is amazing that the principles of Falun Dafa are so profound. All my questions were answered," he recalled. "I had found the purpose of life."
Because of sports and career training, Nguyen often had joint pain and fatigue. After practicing Falun Dafa, his health and eyesight improved, and he had more energy. In addition to telling others about Falun Dafa, he also hoped to learn Chinese and read Zhuan Falun (the main teaching of Falun Dafa) in Chinese.
"To my surprise, I was able to find a job in Taiwan and moved here," he said. Now he is able to talk with more tourists and Chinese visitors. He has given many of them pamphlets that explain the facts about Falun Dafa so that, despite the defamatory propaganda rampant in China, they can know the truth.
Keeping the Fa Principles in His Heart
Liao Xiaolan, who graduated with a Master's degree at Stanford, began to practice Falun Dafa in 1997. After visiting China late that year and seeing that the practitioners in Changchun, Jilin Province, were able to recite Zhuan Falun by heart, he was very touched and decided to do the same.
"All the principles of Falun Dafa are in Zhuan Falun, and the best way for me to assimilate to them is to memorize it." He spent a great deal of time on it every day and was able to memorize the entire book in about six months. But as time passed, parts of it faded away, so he began to commit it to memory again.
"If you really want to do it, it is possible to memorize all of Zhuan Falun," he said.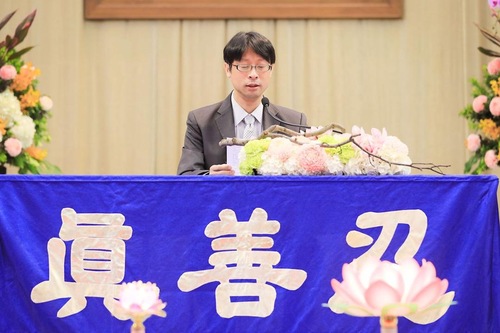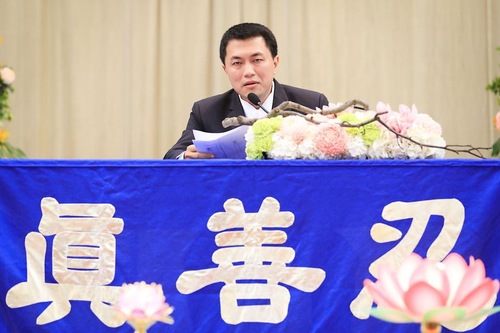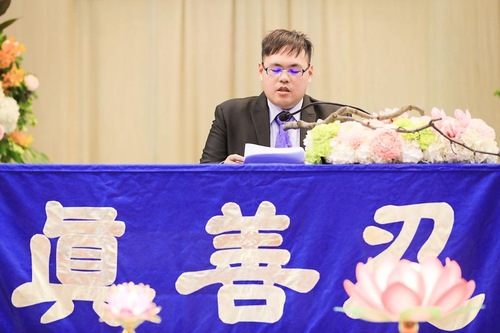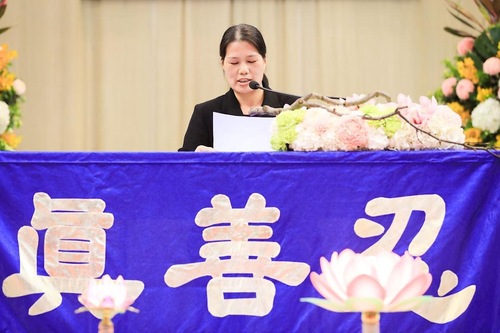 Eighteen practitioners shared their experiences.
No Video Games
Wang Zhiwei, a young man from Taipei, talked about video games. He started to work in a new media outlet, and the workload and stress were intense. Added to that, he had a setback in his relationship with his girlfriend. The result was that he spent less time studying the Fa and doing the exercises. He was also attached to video games, reading novels, and watching television dramas. In short, he wasted a lot of time.
One day during a large group discussion following Fa study, Wang shared his dilemma, and other practitioners encouraged him to get back on track in his cultivation. Late that day, he deleted all his games and began to attend group exercises every day.
As he spent more time on Fa study, he gradually understood how precious the time is, and once saw the words "catch up" before he opened a Dafa book. Moved to tears, he knew Master was helping him.
Telling Others about Falun Dafa in a Police Department
Woo Shize from Keelung is a police officer. With the increase in trade and tourism across the Taiwan Strait, many police officers were influenced by the Chinese Communist Party's (CCP) propaganda about Falun Dafa. When officials from mainland China came to visit, Woo's manager sometimes made negative remarks about Falun Dafa.
To help let others know what Falun Dafa really is, Woo wrote articles that shared his own stories and told of other practitioners' experiences. After seeing these articles on blogs, many of his coworkers began to support Falun Dafa and hardly any negative voices were heard.
Saving People at Tourist Sites
Ms. Hung Qiaofang, a practitioner in Taipei, has been going to Taipei 101 and other tourist destinations to tell people about Falun Dafa for more than 10 years. "Many visitors from the mainland have been poisoned by CCP hate propaganda," she said, "We have to help them know the truth. Otherwise, they may stand with the Party to oppose Falun Dafa and the principles of Truthfulness-Compassion-Forbearance. Their future could be at risk."
From tourists to tourist guides, many people have learned the facts. A retired general once left her contact information with a practitioner, saying, "We have to stop the human rights violations. If there is anything I can do to help, please let me know."
Many practitioners were touched by what these practitioners shared. Meng Xianteng, an elementary school teacher, said he was deeply moved by the greetings from Mr. Li. "As a Falun Dafa practitioner, regardless where I am, I have to look within to improve myself and help others," he said.