Ride 2 Freedom: Young Falun Gong Students Out to Make a Difference
July 15, 2015 | By a Falun Gong Practitioner in Philadelphia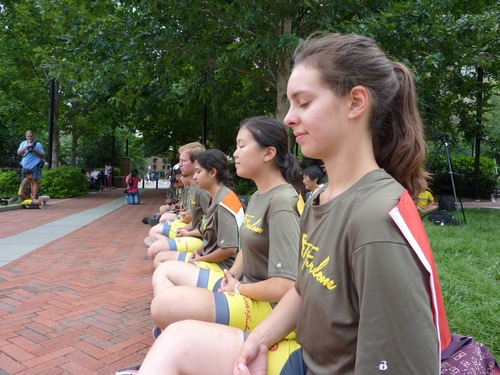 Ride 2 Freedom Riders clearing their minds before a press conference in Philadelphia at the National Historical Park on July 12, 2015.
(Minghui.org) Inspired and uplifted is how I feel whenever I see a media article or video regarding Ride 2 Freedom. The Riders, ages 11 to 25, are young Falun Gong practitioners who have brought attention to the persecution of Falun Gong in China in ways adults cannot.
A few of us adult practitioners with media experience tried to write a press release for the riders, but in the end, they were able to write a better one themselves because of their purity of heart, focus, and determination.
So, instead of describing Ride 2 Freedom with my own words, I will just quote from their press release:
Ride 2 Freedom is a team of two dozen youths representing 15 different countries, including France, Germany, India, Iran, and China. Their 3,000 mile bike journey started from Los Angeles and ends in Washington D.C. These riders have no professional biking experience, yet they climb mountains and cross deserts. They are calling attention to the 16-year persecution of Falun Gong, a spiritual belief, in China. Ride 2 Freedom's ultimate mission is to save five Falun Gong orphans and bring them back to a free country: kids saving kids.
Innumerable children have been orphaned, separated from their parents, or even brutalized by the Chinese Communist Party—solely because their families practice Falun Gong.
During their 19-city trek across the United States, the Riders have been publicized by TV, radio, print, and Internet media outlets. They have also gained the support of legislators and other prominent people including civil rights leader Rev. Jessie Jackson.
The Press Conference
Here in Philadelphia, the Riders arrived shortly before noon today (July 12) for a press conference at the Independence National Historical Park, the home of the Liberty Bell and Independence Hall—that is, where the U.S. Constitution was signed. Before the conference began, I noticed that their ability to engage the public on an individual basis was the among best I have ever witnessed. Almost everyone they approached to talk about the persecution stopped and listened.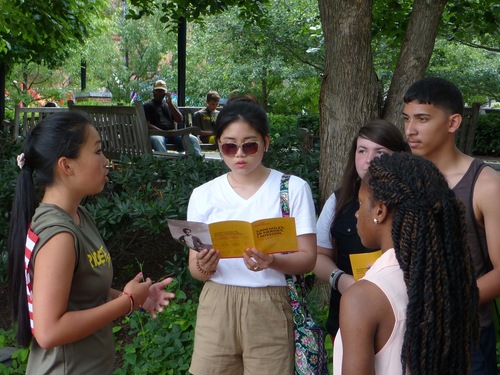 Global Ambassador Kristine Feng talking to visitors to the National Historical Park about the persecution of Falun Gong in China
During the conference, Rider Nikita Kraiouchkine, 17, a resident of a Philadelphia suburb, accepted several citations on behalf of the Ride 2 Freedom team, including from US Senator Patrick J. Toomey, Philadelphia Mayor Michael A. Nutter, and Philadelphia City Council Members Dennis M. O'Brien, Mark F. Sequilla, and Darrell L. Clarke.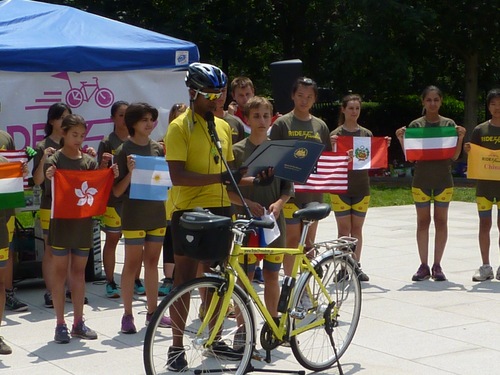 Nikita (right) accepting the citations on behalf of the team. The citations are being handed to him by Senior Team Leader Keith Ware.
From the Riders who spoke, we also learned that several of the team members from China had experienced persecution. For instance, Jimmy Ma, 15, and his mother came to the United States as refugees when he was 9. When he was only 3, his mother was imprisoned.
One 15 year-old came to the United States in 2013. Her grandmother was imprisoned for three years and brutalized while she was detained.
The Tour Continues
The Riders left Philadelphia and are journeying to Washington D.C., where they hope to meet with President Obama. The Riders also have goals of addressing the United Nations and of having some of the team members travel to China (with adults) to bring back five designated orphans.
The following is an excerpt from Team Leader Annie Chen's letter to President Obama:
President Obama, you are the leader of the most powerful nation in the world, a nation founded on the principle of freedom of belief.
We seek your assistance in bringing Jiang Zemin [instigator of the persecution] to justice, facilitating support from the leaders of the global ambassadors' countries, and saving the lives of five orphans.
Ride 2 Freedom will be hosting a concert at the Lincoln Memorial in Washington DC on Friday, July 17 from 6 to 8 p.m., followed by a candlelight vigil for an hour.
For more information, visit the Ride to Freedom website at ride2freedom.us.
Related article: