133 Signatures in Support of Lawsuits Against Jiang Zemin in Anping County
July 15, 2015 | By Dafa practitioners in China
(Minghui.org)
People Want to See Justice Done
When people are told that Falun Gong practitioners have filed lawsuits against Jiang Zemin, the former Chinese Communist Party leader, they voice their strong support. Their message to practitioners is to keep up the effort until he is brought to justice.
People seem open to receiving articles about suing Jiang Zemin downloaded from the Minghui website.
I have also printed a lawsuit message on paper currency before I pay for goods and services. I ask people if they have heard about the lawsuits against Jiang.
"That's great," most say after hearing about the lawsuits. "It is long overdue."
I also tell people about the anti-blocking software and encourage them to get more information through the Internet. People tell me after they have surfed the Internet that "Jiang Zemin is so evil, and he has not done anything good for the Chinese people. He must be brought to justice."
Anping County practitioners joined the global effort to sue Jiang. People get excited when they hear about it.
Some practitioners started a signature drive in support of the lawsuit. One person said, "I support suing Jiang Zemin. He is such an evil person. I give you my signature even if they send me to prison."
By the time this article was written, 133 signatures were collected.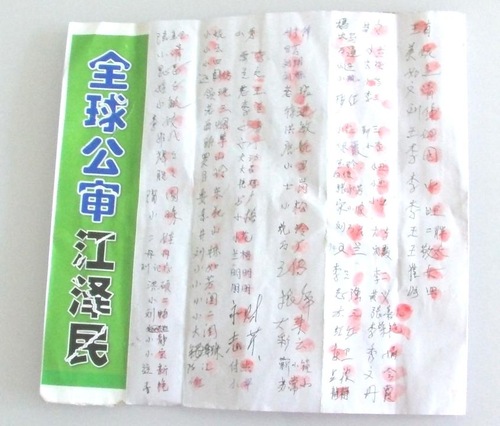 People's signatures with their fingerprints