507 People in Henan Province Who Persecuted Falun Gong Practitioners Have Met With Ill Fates
July 15, 2015 | By a Minghui correspondent in Henan Province, China
(Minghui.org) It has been 16 years since former Chinese dictator Jiang Zemin and his regime launched the persecution of Falun Gong in 1999. Since then, Falun Gong practitioners in China have been tortured in labor camps, prisons, and detention centers. Thousands have died as a result of torture, and many were killed and had their organs harvested for profit.
In both Western and Chinese culture, the principle of karmic retribution, that is, being held ultimately accountable for one's own actions, is widely accepted. Stated another way, good deeds will be rewarded with good, while evildoing will meet due retribution.
Many Persecutors in Henan Province Have Met With Ill Fates
According to reports received by Minghui between May 1999 and May 2015, 225 of the 507 known perpetrators in Henan Province died of illness or accidents, and 282 experienced illness, accidents, or other forms of retribution (including demotion, investigation, arrest, or even imprisonment).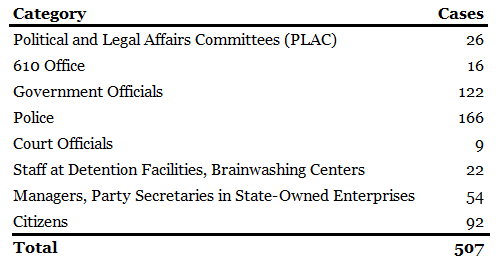 Among the 507 perpetrators, 236 (47%) are members of Political and Legal Affairs Committees (PLAC) or public servants in the judicial and legislative systems; 116 (23%) had rankings at or above the county level.
Among the 225 persecutors who have died, 127 (56%) succumbed to illness, while 98 (44%) were killed in various accidents.
Of the remaining 282 cases:-108 suffered significant illness-96 suffered accidents-24 were dismissed, demoted, or suspended from their jobs-30 were arrested or indicted-24 were sentenced to imprisonment or death
The Chain of Command
Among the 507 cases, only 92 people are civilians. The remaining 82% hold government positions, organized and promoted the persecution of Falun Gong, and directly committed crimes against practitioners. The communist regime's persecution campaign compels active participation of officials of all ranks.
The masterminds executing Jiang's campaign to eradicate Falun Gong are the Political and Legal Affairs Committees (PLAC) and the 610 Office, an agency with the power to override police forces and courts to carry out this task.
Under the direction of the PLAC and 610 Offices, government officials at different levels carry out and enforce the persecution policy.
Police departments are charged with arresting practitioners, court officials sentence them, and guards and officers in prisons and detention centers are given incentives to torture practitioners to try to force them to renounce their belief.
Finally, the general population is mobilized to participate in the persecution. Managers of state-owned enterprises are charged with monitoring and turning in practitioners in their organizations, as well as providing financial assistance to brainwashing centers and other illegal detention facilities. Even normal citizens are compelled to report practitioners, who are then arrested and tortured.
Jiang Zemin's Allies
Among the highest ranked officials in Henan Province is Xu Guangchun, former Secretary of the provincial Party Committee. Xu has been an active participant in the persecution of Falun Gong and caused many deaths of practitioners in Henan. He has been sued in the U.S. and Taiwan for genocide and torture in 2005 and 2009.
Other high-ranking officials include Li Xinmin, former Secretary of the Henan Provincial PLAC; He Zaigui, former Chief of Henan and Qinghai Police Departments; and Qin Yuhai, former Vice Chair of the Standing Committee of the Henan Provincial People's Congress.
All of these high-profile officials were close political allies with Jiang Zemin, the former Chinese dictator who launched the persecution of Falun Gong, and Zhou Yongkang, the former security czar who actively assisted Jiang in the arrest and torture of Falun Gong practitioners nationwide.
These officials actively participated in the persecution of Falun Gong to curry favor with Jiang to advance their political careers.
A Reminder to Perpetrators
Articles such as this one are meant to serve as a compassionate reminder of the principle that whoever does evil will eventually be held responsible for their actions.
The Minghui website has received copies of 34,581 criminal complaints against Jiang Zemin from 43,404 people between late May and early July. This wave of lawsuits is gaining momentum as Jiang's chief accomplice Zhou Yongkang received a life sentence on June 11.
As more and more Falun Gong practitioners exercise their legal right to bring Jiang to justice, we urge those who are still "following orders" to reverse their course of wrongdoing so as to secure a better future for themselves.