Nurses from China: Organ Harvesting and Illegal Transplants Are No Myth
July 01, 2015 | By a Falun Dafa practitioner in South Korea
(Minghui.org) The illegal transplantation of organs sourced from imprisoned Falun Gong practitioners in China became public in 2006, the same year that former diplomat David Kilgour and human rights lawyer David Matas began their investigation into such atrocities.
The investigation by Mr. Kilgour and Mr. Matas culminated in the report "Bloody Harvest." They have since been traveling to expose the organ harvesting crimes worldwide.
Witnesses Speak Up
Twenty-eight illegal organ transplant cases were reported at the bi-annual International Council of Nurses (ICN) conference held in Seoul, South Korea from June 19 to 23, 2015. These numbers were given to conference organizations by medical staff from Japan, South Korea, Malaysia, and China.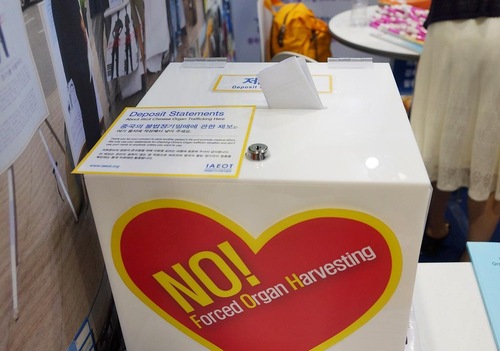 A total of 28 cases were collected from the deposit box for reporting cases of illegal organ transplants at the ICN conference.
Two nurses from China, who asked to remain anonymous, verified that the harvesting of organs from unwilling participants are really happening in China.
"It is true that doctors in China harvest organs from living people. We know it was illegal, but still we had to participate, since the order came from government agencies," said the nurses.
Organs Harvested from Imprisoned Falun Gong Practitioners
The organs are harvested mostly from imprisoned Falun Gong practitioners. These practitioners are persecuted and illegally detained because they refuse to give in to the communist authorities' demands to give up their belief.
Jiang Zemin, former head of the Chinese Communist regime, launched the persecution of Falun Gong, a spiritual practice, in 1999 and sanctioned the organ harvesting atrocities.
Practitioners became prime targets because they live a healthy life, as they neither drink alcohol nor take drugs, and their organs are considered to be very healthy.
The International Association for Organ Ethics (IAEOT) and Doctors Against Forced Organ Harvesting (DAFOH) hosted a booth at the conference. The main purpose of their attending this conference was to expose to the 12,000 conference attendees the systematic killing of practitioners for their organs in China.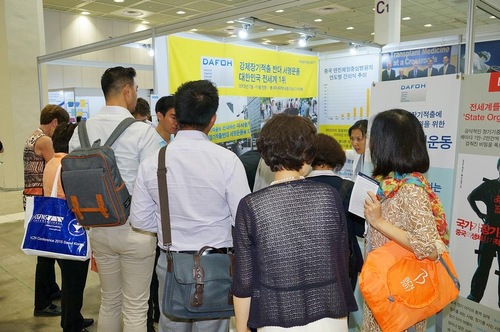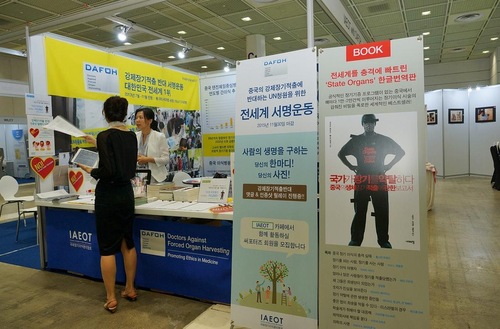 IAEOT and DAFOH booth at the ICN conference
IAEOT and DAFOH collected over 900 signatures for their petition to the United Nations, which calls for China to immediately stop harvesting organs from Falun Gong practitioners.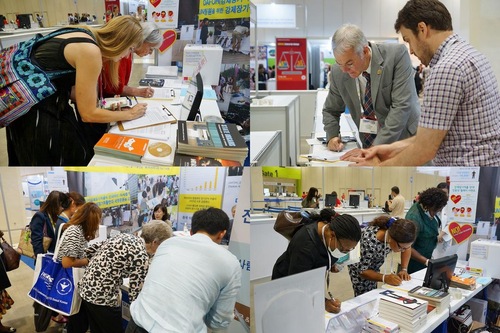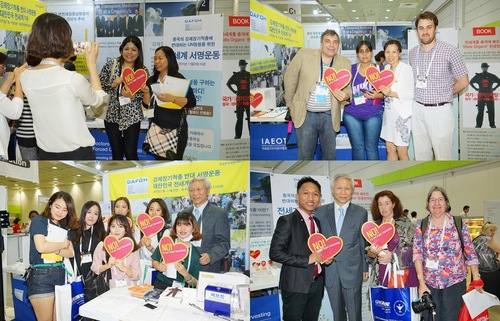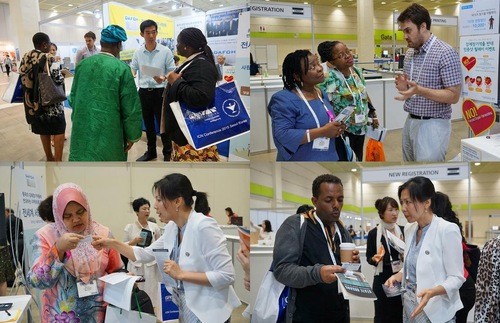 ICN attendees learn about illegal transplants in China and sign a petition calling on the Chinese regime to immediately stop harvesting organs from living Falun Gong practitioners imprisoned for their belief.
Medical Staff from Around the World: This Crime Must Stop
Li Eunji from DAFOH spoke at the conference. She stated that armed police hospitals and military hospitals in China are the major users of organs harvested from living Falun Gong practitioners. The annual revenue from illegal organ transplants sums to over 100 billion yuan.
Furthermore, she said, the Chinese regime is promoting organ transplants because of its lucrative profits. However, no mention is made in China that the organs are harvested from living Falun Gong practitioners.
Professor Robert Simon (middle) calls for action to stop illegal organ harvesting in China.
Professor Robert Simon, a conference speaker from the Netherlands, learned about organ harvesting after listening to Li's speech. He said that ICN should raise awareness of this atrocity and that he would take action to help stop it.
A reporter from a Spanish medical journal suggested that the book State Organs should be translated into Spanish so that more Spanish speakers can learn about the organ harvesting atrocities being committed in China. He believes that the UN should intervene in such a crime.
A midwife from Japan, who practices in both Japan and the U.S., said that she would help raise awareness of the crime in both countries.
An editor of International Emergency Nursing says she wants to publish the issue in the journal and hold conferences on this topic.
A professor of Daegu Health College in South Korea brought her friends and family to sign the petition to help end the atrocity in China.