Nine Falun Gong Practitioners from Hebei Province Sue Jiang Zemin
June 22, 2015 | By a Minghui correspondent
(Minghui.org) Nine Falun Gong practitioners from Wuji County, Shijiazhuang City have filed criminal complaints against Jiang Zemin, former leader of the Chinese Communist regime.
The individual complaints were submitted to the Supreme People's Procuratorate and Supreme People's Court in Beijing between June 1 and 3, 2015.
The practitioners charge Jiang with launching the persecution of Falun Gong, causing them and their families tremendous suffering, illegal detention, torture, ransacking of homes, confiscation of personal property, and more.
Mr. Zhang Held in Labor Camp, Detention, and Brainwashing Center
Mr. Zhang Shuangpai, a 74-year-old farmer, had been arrested, detained more than 10 times, sentenced to forced labor, tortured, and had his house ransacked and personal belongings confiscated.
Mr. Zhang was tortured, beaten, and deprived of sleep during his seven months at the Dingzhou Detention Center. The metal rings of shackles on his legs cut into his flesh.
Officers at the Shijiazhuang Brainwashing Center forced him to sit with legs crossed and tied to a chair for two hours, ignoring his painful screams.
After arresting him in July 2004, police ransacked his home and seized a computer, a printer, and Falun Gong informational materials. Mr. Zhang was then sentenced to forced labor.
Several months after his release, his home was ransacked for his putting up Falun Gong couplets during the 2005 Chinese New Year. He escaped and was destitute for three years to avoid further persecution.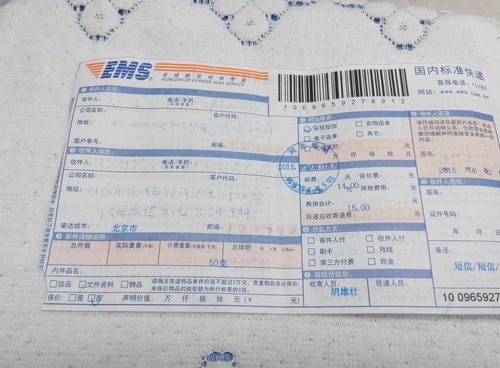 Express mail receipt of the criminal complaint mailed to the Supreme People's Procuratorate
Ms. Wang: Husband Threatened to Strangle Her
Ms. Wang Cuiyan, a 56-year-old farmer, was harassed and her home was ransacked by local police and government officials.
Her harmonious family life was also destroyed after her husband and children listened to and believed the defamation of Falun Gong by the Communist regime.
Ms. Wang's husband beat and berated her, slapped her in the face, and threatened to strangle her if she continued to practice Falun Gong. Her children refused to get near her after believing the Chinese regime's propaganda against Falun Gong practitioners.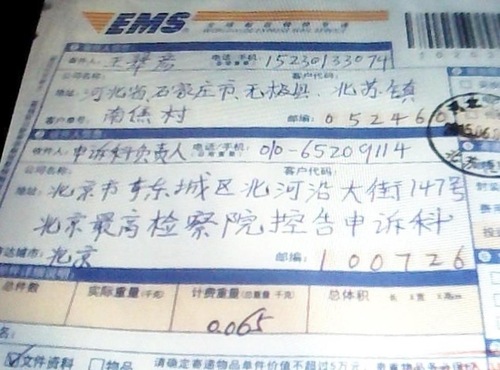 Express mail receipt of the criminal complaint mailed to the Supreme People's Procuratorate
Ms. Cao: Economic Loss and Demotion
Ms. Cao Junting, a 61-year-old retired teacher, was arrested many times, her home was ransacked, and her family was traumatized.
She was arrested in March 2007 for talking to people about the persecution of Falun Gong.
Officials threatened to sentence her to three years of forced labor unless her family bribed them. It took gifts worth nearly 20,000 yuan to get her out on bail.
The director of the Education Bureau announced her dismissal at a conference for the county's principals. Her family had to bribe officials with gifts worth several thousand yuan to save her job. Nevertheless, she was demoted and received a pay cut. Her economic losses are close to 60,000 yuan because of the persecution.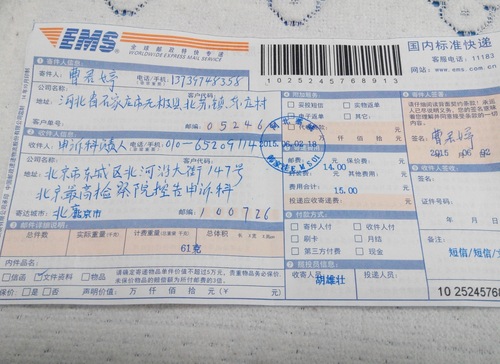 Express mail receipt for the criminal complaint mailed to the Supreme People's Procuratorate
Ms. Liu: Family Life Destroyed
Ms. Liu was arrested on October 8, 2000. Officials also extorted 1,500 yuan from her family.
Her family life was destroyed because local police harassed her many times, especially on "politically sensitive" days. Her husband threatened her with divorce, beat her, and tore up her Falun Gong books.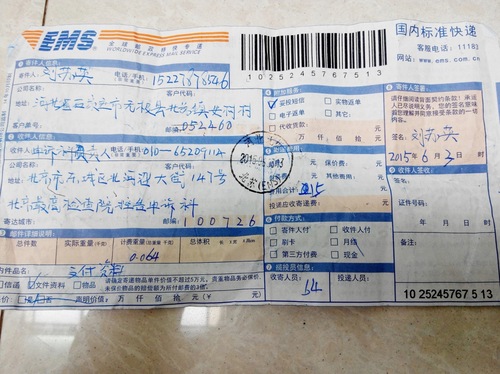 Express Mail receipt for the criminal complaint mailed to the Supreme People's Procuratorate
Selected Persecution Accounts
Mr. Zhao Pen was repeatedly arrested and detained. His home was ransacked, and police confiscated Falun Gong books and currency marked with messages about the persecution of Falun Gong. Officials extorted over 6,000 yuan from his family.
Ms. Liu Yuxiao was arrested on January 1, 2015 for talking about Falun Gong. Police extorted 3,000 yuan before she was released.
Ms. Xu Junying was secretly monitored by village cadres and suffered financial losses.
Background
In 1999, Jiang Zemin, as head of the Chinese Communist Party, overrode other Politburo standing committee members and launched the violent suppression of Falun Gong.
The persecution has led to the deaths of many Falun Gong practitioners in the past 16 years. More have been tortured for their belief and even killed for their organs. Jiang Zemin is directly responsible for the inception and continuation of the brutal persecution.
Under his personal direction, the Chinese Communist Party established an extralegal security organ, the "610 Office," on June 10, 1999. The organization overrides police forces and the judicial system in carrying out Jiang's directive regarding Falun Gong: to ruin their reputations, cut off their financial resources, and destroy them physically.
Chinese law allows for citizens to be plaintiffs in criminal cases, and many practitioners are now exercising that right to file criminal complaints against the former dictator.