Snapshots of Four Falun Gong Practitioners Who Filed Lawsuits Against Jiang Zemin
(Minghui.org) Many Falun Gong practitioners are now exercising their legal right to sue Jiang Zemin for launching the persecution against their spiritual belief and causing them tremendous suffering for 16 years. The wave of lawsuits against the former Chinese dictator filed with the Supreme People's Court is gaining strength by the day.
The Minghui website receives copies of criminal complaints against Jiang from practitioners every day. In this report, we present four snapshots of lawsuits received by Minghui on June 13, 2015.
Case 1: Ms. Liu Guiying (刘桂英)
Profession: Senior EngineerHometown: Chengdu City, Sichuan ProvinceDate filed: June 1, 2015
Key Facts
Ms. Liu was held in a brainwashing center twice: in 2000 and 2007.She was put in prison for six months and forced labor camp for six months in 2001.Her workplace withheld her salary and employee benefits for eight years.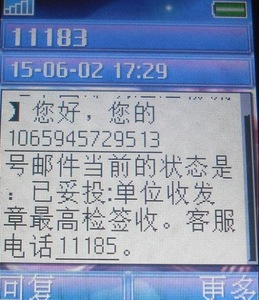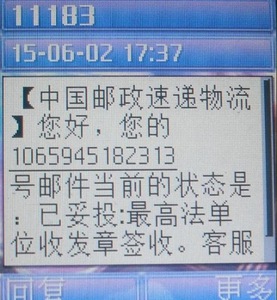 Confirmation of delivery of criminal complaint
Current Condition
Ms. Liu lives at home without an income.
Related Report
Senior Engineer Ms. Liu Guiying from Chengdu City Arrested and Endures Brainwashing Attempts for Over Three Months
Details of Ms. Liu's criminal complaint in Chinese language
Case 2: Mr. Wang Lidi (汪礼迪)
Profession: Lecturer at Hubei Institute of TechnologyHometown: Xianning City, Hubei ProvinceDate filed: May 24, 2015
Key Facts
Mr. Wang was held under administrative detention and criminal detention three times each.
He was held in a brainwashing center four times, forced labor camp twice, and prison once.
His wife and son were missing when he was imprisoned.
Current Condition
Mr. Wang was released on April 11, 2009. His college refuses to restore him to his former position. He is paid as a temporary worker, and his wife was diagnosed with schizophrenia and his son shows signs of mental instability.
Details of Mr. Wang's criminal complaint in Chinese language
Case 3: Ms. Wang Shuzhen (王淑珍)
Profession: Police officer at the Jilin Municipal Prison, Jilin ProvinceHometown: Jilin City, Jilin ProvinceDate filed: June 3, 2015
Key Facts
Ms. Wang was imprisoned in a forced labor camp in 2000.
She lost her job as an officer at Jilin Prison.When she found new jobs, agents from the Jilin "610 Office" harassed her new employer, causing her to lose her job twice.
Current Condition
Ms. Wang is free.
Mailing Receipts of Criminal Complaint
Details of Ms. Wang's criminal complaint in Chinese language
Case 4: Ms. Yang Xiaomin (杨小敏)
Hometown: Heyuan City, Guangdong ProvinceDate filed: May 30, 2015
Key FactsMs. Yang's uncle and aunt were detained, sentenced to prison for two years, and to forced labor camp for another two years.
Their home was ransacked multiple times.
Mailing Receipt of Criminal Complaint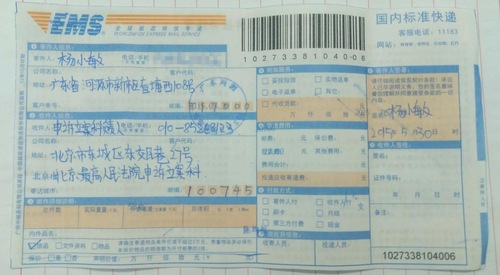 Details of Ms. Yang's criminal complaint in Chinese language
Background
In 1999, Jiang Zemin, as head of the Chinese Communist Party, overrode other Politburo standing committee members and launched the violent suppression of Falun Gong.
The persecution has led to the deaths of many Falun Gong practitioners in the past 16 years. More have been tortured for their belief and even killed for their organs. Jiang Zemin is directly responsible for the inception and continuation of the brutal persecution.
Under his personal direction, the Chinese Communist Party established an extralegal security organ, the "610 Office," on June 10, 1999. The organization overrides police forces and the judicial system in carrying out Jiang's directive regarding Falun Gong: to ruin their reputations, cut off their financial resources, and destroy them physically.
Chinese law allows for citizens to be plaintiffs in criminal cases, and many practitioners are now exercising that right to file criminal complaints against the former dictator.