Retired Teacher and Daughters File Lawsuits Against Former Dictator Jiang Zemin
June 18, 2015 | By a Minghui correspondent from Shandong Province
(Minghui.org) Ms. Song Guixiang, a retired teacher from Jiaozhou City, Shandong Province, along with her two daughters, Ms. Li Mei and Ms. Li Xue, each filed lawsuits against former Chinese dictator Jiang Zemin.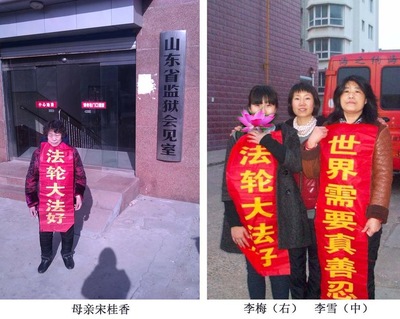 Ms. Song Gui Xiang (Left) and her daughters, Li Mei and Li Xue (Right and Center)
The three criminal complaints were mailed to the Supreme People's Court and the Supreme People's Procuratorate in Beijing on May 28, 2015, through the EMS express mail service. They charge Jiang with launching the brutal persecution of Falun Gong, and bringing grave physical and mental injury to Ms. Song and her family.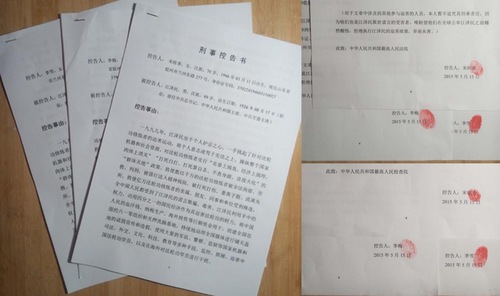 The criminal complaints
EMS mail confirmation receipts
Ms. Song has been brutally tortured over the past 16 years, during more than 20 detentions. Ms. Li Mei was detained multiple times, and Ms. Li Xue served seven years in prison. Their financial losses are estimated in the hundreds of thousands of yuan.
Ms. Song's Personal Account of Her Persecution
I went to Beijing to seek justice for Falun Gong in 1999 after the persecution began. There I was arrested, brought back to my hometown, and detained in the warehouse of an elementary school for two years. I was brutally beaten during the detention.
Officials from the Jiaozhou City 610 Office sent me to a brainwashing center in 2003, where I was brutally tortured for a year. My front teeth were knocked out during one such torture session.
Over a dozen police officers, along with people from the 610 Office, broke into my home on October 16, 2006. They ransacked my home and seized personal belongings and cash, totalling more than 100,000 yuan in value.
I was arrested five times in 2006. My younger daughter Li Xue was sentenced to seven years in prison in 2006, after she was arrested for telling people about the persecution of Falun Gong. (Please see Ms. Li Xue from Jiaozhou City, Shandong Province Secretly Sentenced to Seven Years in Prison.)
I was arrested by local police on July 20, 2011, and taken to a mental hospital. When I was unconscious and incontinent, my family was called to take me home.
My husband Li Yuzhen was secretly sentenced to a three-year prison term in 2011. (Please read the report As Mr. Li Yuzhen Is Illegally Sentenced, His Wife Condemns the Court for detailed information.)
My daughters and I were arrested again on December 9, 2014. (Please refer to report Mother and Two Daughters Arrested When Visiting a Relative for the details.)
My elder daughter Li Xue has been detained multiple times during the past decade.
Background
In 1999, Jiang Zemin, as head of the Chinese Communist Party, overrode other Politburo standing committee members and launched the violent suppression of Falun Gong.
The persecution has led to the deaths of many Falun Gong practitioners during the past 16 years. More have been tortured for their belief and even killed for their organs. Jiang Zemin is directly responsible for the inception and continuation of the brutal persecution.
Under his personal direction, the Chinese Communist Party established an extralegal security organ, the 610 Office, on June 10, 1999. The organization overrides police forces and the judicial system in carrying out Jiang's directive regarding Falun Gong: to ruin their reputations, cut off their financial resources, and destroy them physically.
Chinese law allows for citizens to be plaintiffs in criminal cases, and many practitioners are now exercising that right to file criminal complaints against the former dictator.