New York: Spectators Impressed and Informed by World Falun Dafa Day Parade in Manhattan
May 25, 2015 | By Minghui correspondent Xia Chunqing in New York
(Minghui.org) On May 15, a grand parade in Manhattan, New York, with 8,000 Falun Dafa practitioners, provided a unique opportunity for people to learn about the practice and persecution in China.
The parade was one of the week-long events that Falun Dafa practitioners from around the world participated in to mark Falun Dafa's 23rd anniversary since it was introduced to the public.
Retired diplomat Frank Mayo
Mr. Frank Mayo, who is a 90-year-old retired diplomat, was impressed by the parade. "I haven't seen this before, it's interesting!" he told our reporter. "It's good to know what's happening around the world."
He commended the parade participants for walking so many miles holding banners while appearing energetic the entire time.
Mr. Mayo said freedom of belief is something everyone around the world should enjoy, "Freedom is very important. A free world is for everybody, but it is not for one person. You cannot have people dictating what you have to do. Fighting for freedom [peacefully] is very important."
Mr. Mayo also praised Falun Dafa practitioners' efforts to raise awareness about the persecution, calling their initiative "excellent." He said that the more people learn about what is happening in China, the more that China will be urged to follow the rules of the international community.
Such a Healthy Practice Should Be Known by Everybody in the World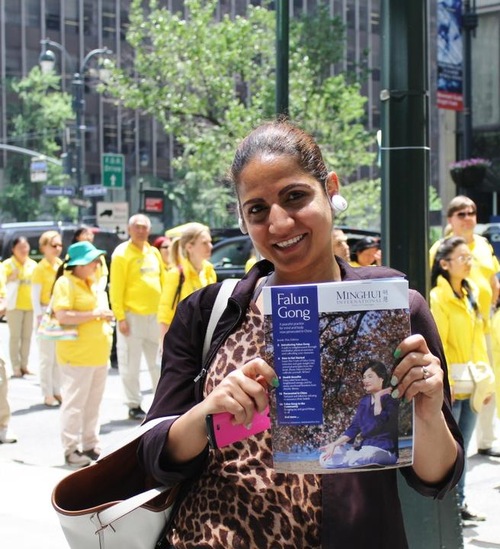 Ms. Hedda Sa
Ms. Hedda Sa was born in Portugal and immigrated to the United States more than a decade ago. The parade was also the first time she heard about Falun Dafa. Once she learned about the 16-year-long persecution, she said, "I'm sad because I never knew about this. I don't see anything wrong with meditation. It's healthy for your mind and body. I don't practice it, but I know it's good."
She said practitioners' efforts to raise awareness was worthwhile. "I didn't know about it before, but now, I'm really like 'Wow!'" she said. "It should be spread all over the world."
International Community Should Take Action to Stop the Persecution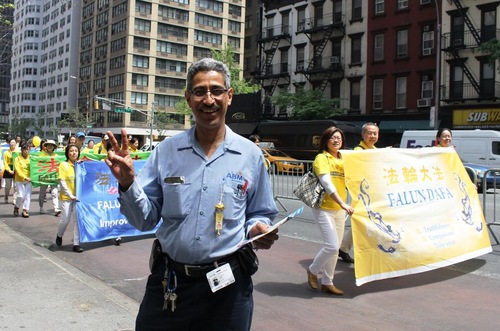 Engineer Miguel Cardona
Mr. Miguel Cardona, an engineer at an international company in the U.S., took many photos of the parade. "The flags and traditional dresses that the women wear are very pretty," he said.
Upon learning that the parade had 8,000 Falun Dafa practitioners from around the world, he exclaimed, "Wow! This is a great effort to bring goodness and peace."
He said that he had heard about Falun Dafa a long time ago, and he also knew about the persecution, but he had no knowledge of the Chinese Communist regime's state-sanctioned forced organ harvesting from living Falun Dafa practitioners.
"It's unbelievable," he said, referring to the barbaric practice of organ harvesting. "Such a regime should be gone. The international community should stop the violence against Falun Dafa practitioners."