City Mayors in Canada Extend Congratulations on World Falun Dafa Day and Commend Practitioners' Contributions
(Minghui.org) Nine mayors in Canada sent letters to the Falun Dafa Association to express their congratulations on the 16th World Falun Dafa Day on May 13 and the 23rd anniversary of Falun Dafa's public introduction. They also commended practitioners for their contributions to their local communities.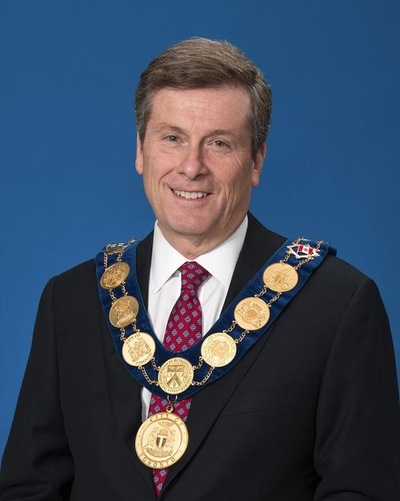 Mayor John Tory of Toronto
Message from Mayor John Tory of Toronto to the Falun Dafa Association
"It is my pleasure to extend a warm welcome to everyone attending Falun Dafa Association Canada's 23rd anniversary celebration taking place at Nathan Philips Square," wrote Mayor John Tory of Toronto, the biggest city in Canada.
"Toronto is one of the world's most multicultural cities and home to people from all over the world. Events such as these celebrate the culture and traditions that make our city so unique."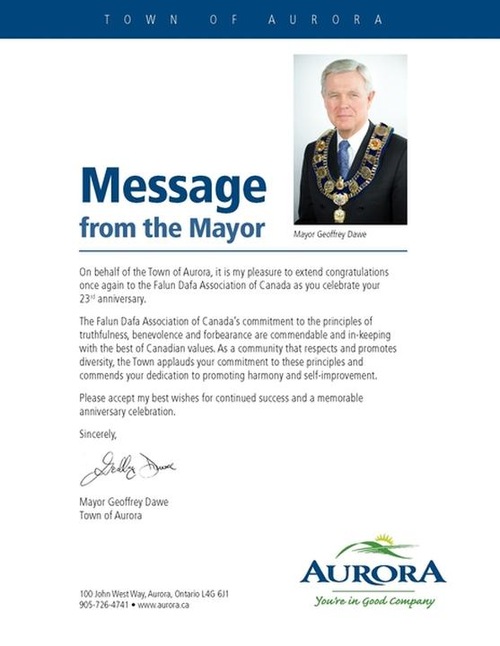 Letter of Greeting from Mayor Geoffrey Dawe of Aurora, Canada
"The Falun Dafa Association of Canada's commitment to the principles of truthfulness, benevolence and forbearance are commendable and in-keeping with the best of Canadian values. As a community that respects and promotes diversity, the Town applauds your commitment to these principles and commends your dedication to promoting harmony and self-improvement," wrote Mayor Dawe.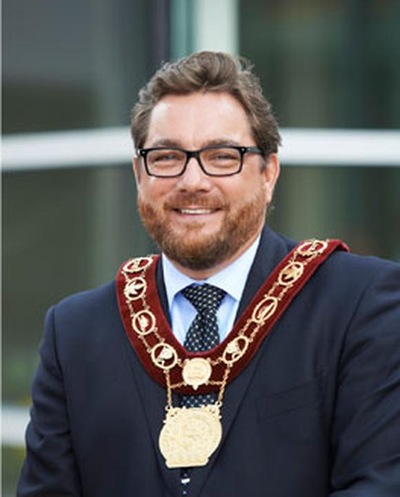 Mayor Chris Friel of City of Brantford, Canada
In his letter, Mayor Chris Friel of City of Brantford wrote that he was pleased to express sincere greetings to practitioners committed to openness, tolerance, conscience, and freedom of belief.
Other mayors who sent greeting letters were: Mayor Greg Dinonne of Prince Albert, Saskatchewan; Mayor Adrian Foster of Clarington, Ontario; Mayor John McCharles of Petrolia, Ontario; Mayor Al McDonald of North Bay, Ontario; Acting Deputy Mayor Janice Lukes of Winnipeg, Manitoba; and Acting Mayor Randy Cooper of Stratford, Prince Edward Island.