Qiqihar Resident Sues Jiang Zemin for Torture, Imprisonment
December 10, 2015 | By a Minghui correspondent from Heilongjiang Province, China
(Minghui.org) Mr. Tian Yong, 39, a resident from Qiqihar, Heilongjiang, filed a criminal complaint in July 2015 against Jiang Zemin, former head of the Chinese Communist regime, for initiating the persecution of Falun Gong.
Mr. Tian began to practice Falun Gong in May 1994 and credited the practice for improvements in his health and character. Because he refused to give up the practice, despite the nationwide persecution, he was repeatedly arrested and sentenced to one year of forced labor in 1999 and five years in prison in 2003. He was tortured and was on the verge of death several times.
While imprisoned, he, his parents and his brother were fired by their employers. The entire family practiced Falun Gong except for his father. This financial persecution impoverished the family.
Difficult Period
Mr. Tian joined several hundred Falun Gong practitioners in a peaceful demonstration in front of the Qiqihar city government. They appealed for the right to practice Falun Gong at the onset of the persecution in July 1999. More than 100 police officers punched and kicked the practitioners, dragged them into buses and took them to a police holding facility. They were released later that day.
The leadership from Mr. Tian's workplace demanded that he give up Falun Gong, but he refused.
"For a month, they kept talking to me and demanded that I sign a statement renouncing Falun Gong," he said. "Meanwhile, the Chinese media pounded out propaganda attacking Falun Gong. It was a really trying period."
Despite the onslaught, Mr. Tian did not want to remain silent. Therefore, he and his brother went to Beijing to appeal for justice for Falun Gong on September 15, 1999. They were arrested and detained at the police station overnight. The police confiscated their personal belongings, worth more than 8,000 yuan (about 1,250 USD). They were taken back to Qiqihar and held in the No.1 Detention Center in Qiqihar on September 17.
In the detention center, the guards beat him when he did the Falun Gong exercises. They forced him to wear a torture instrument that locked his hands and feet together for three days. The shackles on his feet weight over 40 pounds.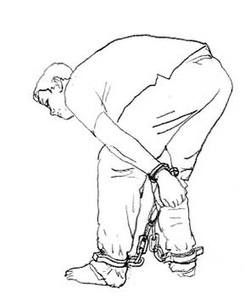 Torture illustration: hands and feet locked together
Hard Labor and Brainwashing
He was sentenced to one year of forced labor after two months of detention, and taken to the Fuyu Forced Labor Camp on December 7, 1999.
He was forced to perform hard labor, and if he failed to meet his quota, the guards beat him with leather belts or a hard wooden board.
The labor camp began intensive brainwashing sessions for practitioners in the No.4 ward in May 2000.
As he refused to renounce Falun Gong, the labor camp extended his term by 10 months. He was released on July 16, 2001.
Tortured With Lit Cigarette Butts
He was arrested again three months after he was released. He attempted to escape, but failed.
The police tortured him by hanging him from the wall. They stretched and tightened the restraints on his feet frequently to increase his suffering.
After he was taken down, the police inserted lit cigarette butts into his nostrils. He almost suffocated. They also covered his head with a plastic bag and tied it around his neck, from 20 seconds to 1 minute each time.
The police took turns to torture him for four nights. Some officers struck his head and back with a leather belt.
He was sentenced to five years in prison a few months later. He appealed, but the higher court upheld the term. He was taken to Tailai Prison on March 2, 2003.
Tortured During Five-year Imprisonment
Mr. Tian was subjected to military style training and hard labor in the prison.
He went on a hunger strike to protest the persecution in July 2004. The guards chained his feet and hands to a long metal bar and exposed him to the baking sun. His ankles were injured and his legs were swollen for more than a month.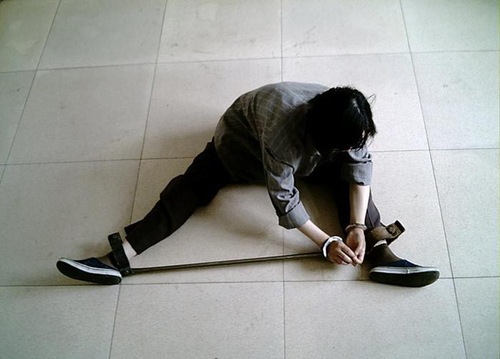 Torture reenactment: chained to a metal bar
Then, while on another hunger strike, he was held in solitary confinement for a week. The guards locked his hands and feet to a metal ring fixed on the ground and he had to bend his body into a U shape.
The guards handcuffed him to a pillar and hung a metal sign weighing more than 30 pounds from his neck, which read "Resisting Reform," when he refused to do hard labor in February 2005.
The guards chained him to the metal bar again for hand-copying Falun Gong books for other detained practitioners. The inmates hit his head, bit his fingers and force fed him, and his clothes was covered with blood.
He was near death on the 16th day of his hunger strike. The guards took him to the prison hospital and continued to force feed him for three months.
On the Run Since 2014
While on a business trip, he was arrested on April 1, 2014. The police confiscated his cell phone and other personal belongings.
When he attempted to escape from the police station, he fell out of a window and was severely injured. When his family visited him at the hospital and demanded that he be released, the police threatened to arrest them.
He escaped from the hospital when the guards fell asleep, and has become homeless since then.
Family's Dire Situation
Not only did Mr. Tian suffer from the persecution, but because of the Chinese Communist's regime guilt by association policy, his family also fell on hard times.
Because of the great mental pressure, his father, not a practitioner, attempted to commit suicide in 1999 when Mr. Tian and his brother went to Beijing to appeal for the right to practice Falun Gong.
Deceived by the propaganda attacking the practice, his father was pressured by those around him to divorce his wife, because she refused to give up Falun Gong.
Mr. Tian was fired when he was held in a detention center in 2001. Meanwhile, his parents and brother also lost their jobs. Without any income, the family had to struggle to make ends meet.
His mother and brother left their home and went from place to place to escape arrest. Despite that, the labor camp demanded regular deposits to cover Mr. Tian's living expenses.
"The persecution simply brought too much pain and suffering to our family. I hope that Jiang is brought to justice." said Mr. Tian in his complaint.
Background
In 1999, Jiang Zemin, as head of the Chinese Communist Party, overrode other Politburo standing committee members and launched the violent suppression of Falun Gong.
The persecution has led to the deaths of many Falun Gong practitioners in the past 16 years. More have been tortured for their belief and even killed for their organs. Jiang Zemin is directly responsible for the inception and continuation of the brutal persecution.
Under his personal direction, the Chinese Communist Party established an extralegal security organ, the 610 Office, on June 10, 1999. The organization overrides police forces and the judicial system in carrying out Jiang's directive regarding Falun Gong: to ruin their reputations, cut off their financial resources, and destroy them physically.
Chinese law allows for citizens to be plaintiffs in criminal cases, and many practitioners are now exercising that right to file criminal complaints against the former dictator.
Previous report:
Qiqihar City: Mr. Tian Yong Unlawfully Detained and Severely Injured after Falling from Third Floor Window