Australia: Falun Dafa Float Wins First Place in Sydney's Granny Smith Festival
October 25, 2015 | By Hua Qing in Sydney
(Minghui.org) The Falun Dafa float won first place in float decoration in the 30th Granny Smith Festival parade on October 17, 2015. The Granny Smith Festival is the largest celebration in Eastwood, a suburb in northern Sydney.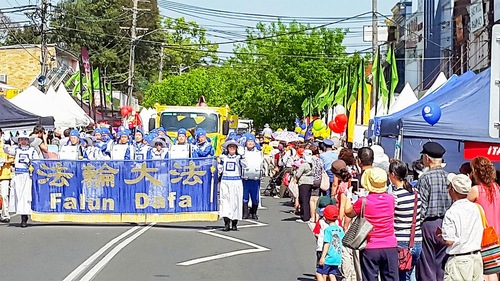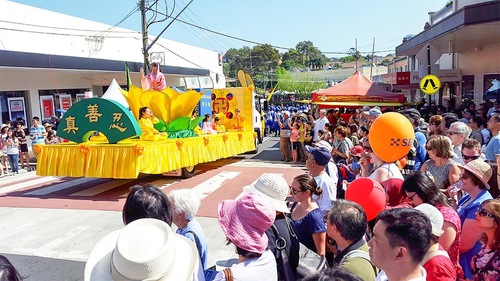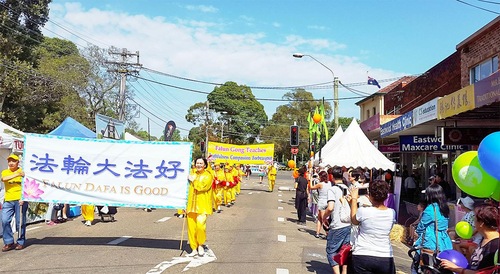 Falun Dafa practitioners in Sydney participated in the annual Granny Smith Festival parade in Eastwood, and won first place for float decoration.
The Granny Smith Festival is regarded as the largest street art festival in Sydney, and attracts more than 100,000 visitors each year.
The Falun Dafa procession was led by the Divine Land Marching Band, followed by a decorated float, and waist drum team.
The decorated float focused on the Falun Dafa practice. On the front was a banner reading "Falun Dafa." At the center was a large blue model of the primary book of Falun Dafa, "Zhuan Falun." On the rear of the float was a banner written in Chinese characters, "Truthfulness-Compassion-Forbearance." Nine practitioners of different ages, races, and genders demonstrated the Falun Dafa exercises on the float.
Spectators cheered and applauded as the Falun Dafa procession passed by, and many took photos and videos.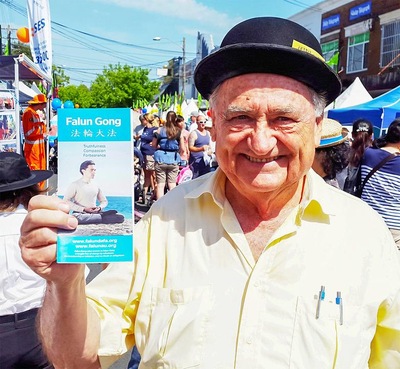 Mr. John F. Booth is the owner and chief editor of the community's weekly newspaper, "The Weekly Times."
Mr. John F. Booth is owner and chief editor of the community newspaper. "The Weekly Times," and participates in the festival every year. He has become very familiar with Falun Dafa practitioners.
"They (Falun Dafa) are impressive. They are colorful and have a rich content. I saw that people responded to them enthusiastically," said Mr. Booth.
He also remarked that the Australian government should speak up for Falun Dafa practitioners' human rights. "Almost every Australian knows that the Chinese government has done something very bad, an atrocity... If we are willing to go to Iraq or Afghanistan to help the people there, we certainly should do something to help Chinese people too. They are persecuted severely. We shall make our voice heard."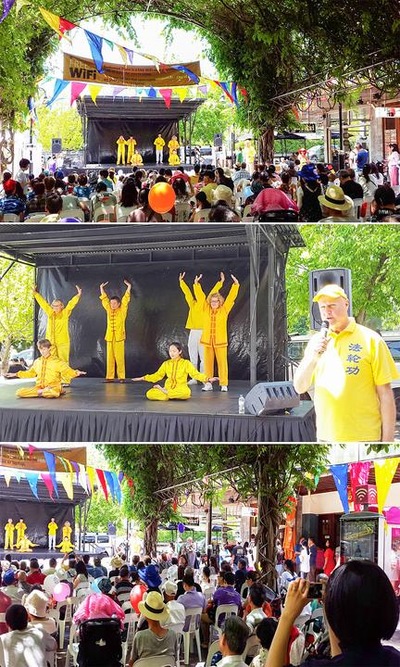 Falun Dafa demonstration
Falun Dafa practitioners were invited to demonstrate the exercises on the festival's largest stage. Six practitioners in golden yellow exercise uniforms demonstrated the exercises while a westerner practitioner introduced the practice. More than 100 people watched.
Mr. Zhao, a Chinese visiting his children in Sydney, watched the exercise demonstration and said it was a good exercise that the Chinese government had no reason to persecute. He said, "People ought to have the freedom of speech and belief. I totally agree!"
Some Chinese tourists who had not seen any Falun Dafa activity in China for years, were surprised to see the demonstration on the large stage at the festival.
One Chinese man said to his friends excitedly, "It's Falun Gong! See? Three westerners and three Chinese are demonstrating Falun Gong!"