Los Angeles: Falun Gong Adds to the Refreshing Atmosphere of Santa Monica Pier
October 21, 2015 | By Minghui correspondent Ying Zi in Los Angeles
(Minghui.org) Falun Gong practitioners in bright yellow t-shirts performing the tranquil exercises at Santa Monica Pier seemed to fit right in with the backdrop of the sparkling ocean, sunny sky, and cheerful palm trees.
Whether they traveled across the globe, country, or region for recent Falun Gong events in Los Angeles, participants shared a mission to raise awareness about the ancient spiritual discipline and the brutal persecution of the practice in China.
This group practice of the exercises on the beach on October 17, 2015 was a part of a series of events to raise awareness that included a rally and a march in downtown Los Angeles.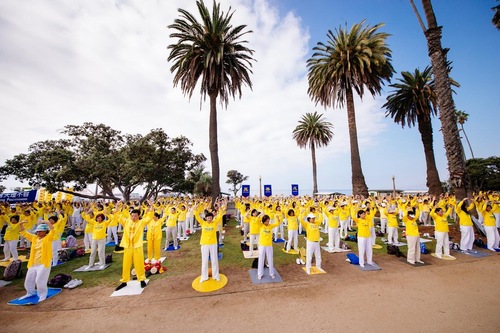 Falun Gong practitioners exercise together at Santa Monica Pier in southern California.
Falun Gong Principles Bring People Together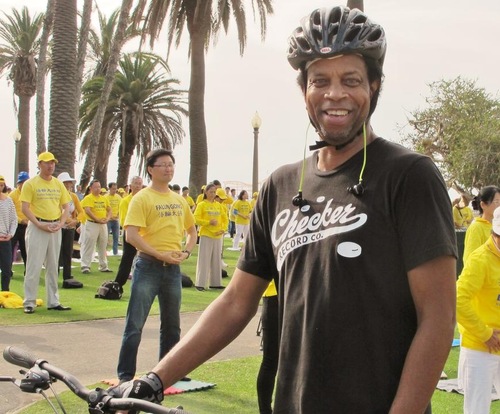 Stephen Boykin said he was drawn to the peaceful Falun Gong exercises.
"Exercises that connect one with the universe's energy is magnificent," said Stephen Boykin, a local musician and painter who was drawn to the peaceful exercises as he passed by. "Meditation calms people and allows them to communicate with nature and gain energy," he said.
Boykin believed that Falun Gong's core principles of Truthfulness-Compassion-Forbearance helps bring people together by making them realize that they are part of nature and a larger body.
He was indignant when he heard that the practitioners in China are being persecuted for these beliefs. However, he was glad to know that the victims in the persecution are now filing lawsuits against former Chinese dictator Jiang Zemin who started the persecution 16 years ago.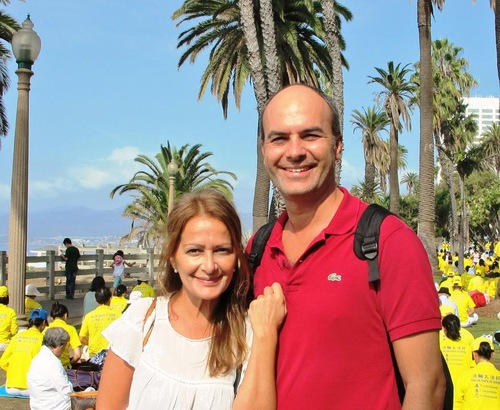 Luca (right) supports the lawsuit against Jiang Zemin.
Luca, a tourist from Italy, said that he'd seen news about the persecution of Falun Gong on television and believed that whoever tortured innocent people must be punished under the law.
Chief Culprit Should Be Brought to Justice "the Sooner, the Better"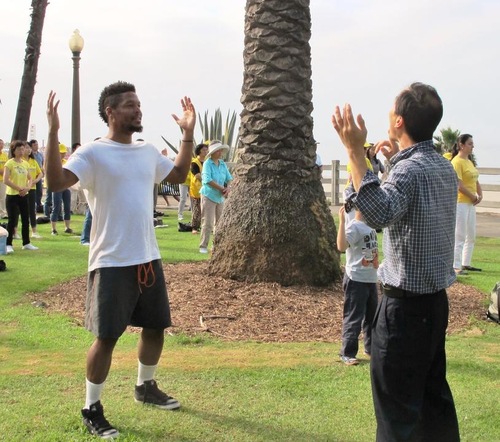 Painter Robert J. Jenkins (left) learns the Falun Gong exercises.
"This is so great," said Robert J. Jenkins, who said he felt a strong energy field while watching the exercise demonstration. He said he believed Truthfulness-Compassion-Forbearance are important values for society.
Jenkins said that those who started the persecution of Falun Gong should be brought to justice "the sooner, the better." He added, "I hope more countries of the international community can take actions and do the right thing."
He stayed to learn all five of the Falun Gong exercises from one of the practitioners at the event.
Wholehearted Support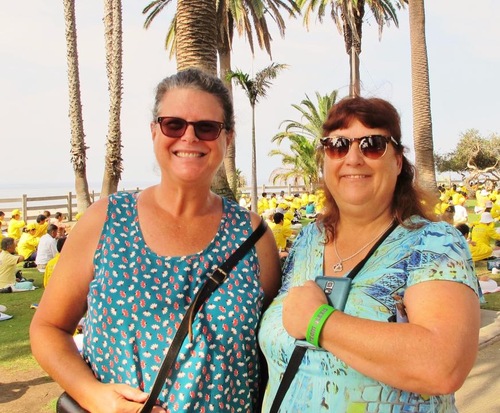 Naval veteran Romana Harrison (right) and Connie Seidman show their support for Falun Gong.
Naval veteran Romana Harrison had heard about Falun Gong a few years ago. "Falun Gong is amazing and I support it a hundred percent. The persecution by the Chinese Communist Party is insane," said Harrison.
Her friend, Connie Seidman, had a hard time believing what has been happening in China to peaceful Falun Gong meditators. "This is heartbreaking," said Seidman. "I believe Falun Gong will succeed in taking the culprits to court."