Taiwanese College Student Learns Falun Gong and Finds the Guidance He'd Been Seeking (Photos)
January 08, 2015 | By Minghui correspondent Cheng Yu-yan
(Minghui.org) "I can find the meaning of life from this book. It is my hope. I really want to read this book," said Chang Chia-sheng, an undergraduate student from the National Taiwan University of Science and Technology. This was Chia-sheng's response to hearing about the Falun Gong book Zhuan Falun at a seminar on December 5, 2009.
He ordered the book and got it the next day. He read it for five hours non-stop. "I enjoyed reading it and couldn't put it down. Everything in it was new to me. The content is very good!" He finished reading the first six lectures in one sitting.
Chang Chia-sheng practices the fifth set of Falun Gong exercises.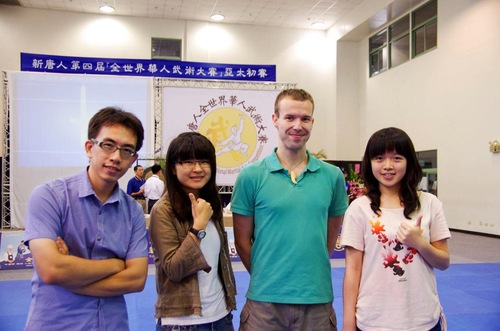 Chang Chia-sheng (first on the left) and friends watch NTD's International Chinese Martial Arts Competition.
Chang Chia-sheng (middle in back row) shares his cultivation experience with other students on campus.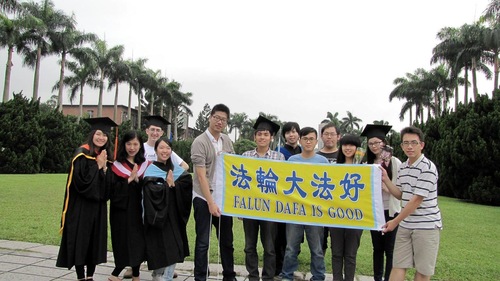 Chang Chia-sheng (first on the right) participates in commencement and takes a group photo with other students.
Chia-sheng first saw Shen Yun Performing Arts when came to Taiwan in March 2010. "I was so touched! I felt a warm wave fly into my body and purify my whole body. I was full of energy after watching the show. It seemed all my worries were gone. I felt very peaceful and refreshed."
The day after seeing Shen Yun he finished Zhuan Falun. He found a practice site in Yonghewanghsi Primary School in mid-April. He was so excited that he went to the practice site at 4:10 a.m. the next day to wait for practitioners to arrive. He learned all five sets of exercises that morning.
Falun Gong's core principles are Truthfulness-Compassion-Forbearance, and Chia-sheng strives to follow them in his daily life. He reads the teachings, practices the exercises, sends forth righteous thoughts, and writes letters to inform mainland Chinese about the facts of the persecution of Falun Gong. Through the Falun Gong club at his university, he's held seminars, a Falun Gong study camp and a movie screening to let people know about the practice. He said, "This is how I came to the practice. Doing these things will let others know about Falun Gong."
Chia-sheng grew up in a well-off family in central Taiwan and has always loved Chinese martial arts. He won a lot of Taekwondo championships and boxing matches starting in the fourth grade all the way up to high school. He was well-known in his school.
He worked hard on his studies and got admitted to the National Taiwan University of Science and Technology, an excellent school in engineering and business management. He was proud of himself. Yet in his first semester, his grades were poor.
He was frustrated and wanted to find ways to make money. He participated in various clubs and became involved in the insurance business while being a student. For the next two years, he didn't make much money and borrowed money from his friends. He was frustrated and felt lost, that is, until he came across Falun Gong
Chang Chia-sheng (first on the left) participates in the 11th Falun Gong undergraduate student camp in 2014.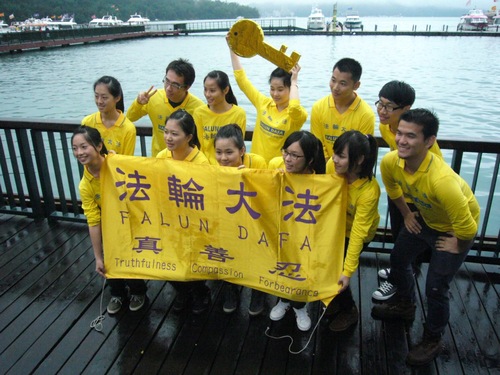 Chang Chia-sheng (first from right in back row) participates in an activity held by the Falun Gong club.
Chia-sheng participated in a group study and experience sharing gathering in Jiantan in 2012 and learned what it meant to cultivate Falun Gong there. He understands the importance of looking inward. "I am pleased that every day I can discover many of my shortcomings. I understand the importance of cultivating diligently and feel like I've improved myself daily."
Chia-sheng got to know student practitioners from other universities and colleges in Jiantan. They decided to set up an intercollegiate Falun Gong club to better arrange activities to promote Falun Gong and tell people about the persecution. Chia-sheng became the overall coordinator for this effort. He can focus on his academic studies even though he's busy. He knows how to balance school and Falun Gong activities.
Chia-sheng's academic achievement is a reflection of his cultivation state: he does well in class when he follows Truthfulness-Compassion-Forbearance; school work gets harder when he becomes more relaxed with his cultivation. He said, "Though there are many tests, wisdom will come naturally and many things are easy to complete when I get rid of the attachments to fame and achievement."
Falun Gong has become a guiding force in his life. Chia-sheng said, "I was confused and frustrated by fame, self-interest and sentiment before. Since practicing Falun Gong, I now look inward to find my attachments and follow Truthfulness-Compassion-Forbearance. I no longer feel lost when facing problems. Dafa is my guide."